Why did EduRev make this guide?

We wanted to answer the question "How to Prepare for Banking exams" once and for all in the best / perfect way possible.

Since students waste a large amount of time, effort, and money while preparing for banking exams just because of a lack of the right direction. We believe it will be very valuable for every aspirant.
This guide was made to teach and help students to follow a direction while preparing for the banking exam by making sure they STUDY WHAT MATTERS. We did the hard work of building the strategy for your banking exam so that you can achieve your dream.
How was this guide made for banking exam aspirants?
This guide has been made by EduRev experts with the help of toppers of some of the banking exams Ashwin Verma ( SBI PO, IBPS PO, RRB CLERK, SBI CLERK 2021), Richa Kumari (IBPS 2020, Third attempt), Abhishek Chowdhury (IBPS RRB 2016) and many more.
Why Banking exams?
Bank exams are often considered in high regard for candidates aspiring to make their career in banking.
The banking sector is a popular choice of employment among fresh graduates as well as experienced professionals.
The reasons are attractive salaries, perks, benefits, allowances, and job security. Multiple banking exams are conducted by various banks and testing agencies across the country every year.
Now let's move on to the step-by-step guide for banking exam aspirants.
Step-by-step Guide to Clear the Banking exam:
Step 0: What should you do before starting your preparation?
Step 1: Understand the syllabus of banking exams
Candidates who want to prepare for the banking exams must be aware of the Bank Exam Syllabus.
Knowing the syllabus is the foremost thing to do before you go through your preparation journey.

Read through the notification of the exam carefully in order to acquaint yourself with the exam syllabus, exam pattern, exam timeline, and eligibility criteria.

Understanding dates, timelines, and the pattern is critical for you to plan YOUR timelines and strategy for achieving your dream. For your ease, the experts at EduRev has compiled the notification in a simplified way.

Prioritize each section and then start preparing accordingly.

Going through the above points dedicatedly will save a considerable amount of time through your preparation journey for your dream.

Identify your weak & strong areas: Once you understand the syllabus, you get an idea on what areas you need to work harder than the others. You should focus more on subjects that you are completely ignorant of.
Step 2: Make a Study Plan
The preparation strategy should include a well-planned schedule of study. You should aim to cover portions of the bank exam syllabus sequentially and include revision of topics periodically.
The study plan should also include analyzing previous years' bank exam question papers and identifying important topics for the exam.
From various toppers guidance, we have provided you with a weekly schedule that will help you in accomplishing your goal. One can use the following schedule for their preparation:
Weekly Schedule:
Monday: Online mock test for Prelims + Quantitative Aptitude
Tuesday: Online mock test + Reasoning and GK
Wednesday: Online mock test + English and computers
Thursday: Online test + evaluate performance + detect weaker areas and work on them
Friday: Work on sections you scored less
Saturday: Work on sections you scored less
Sunday: At least 3 Mock tests and revision.
EduRev has compiled Previous Year Questions and Mock tests for Banking exams. Check them out here.
Step 3: Planning Sections One by One

Once you have identified your strengths and weaknesses, you move on to understand those sections in depth. There is so much information available online, which sometimes poses a hurdle in clarification. The following are the subject-wise strategies you can adopt:
Step 3.1 How to prepare for Reasoning Ability section?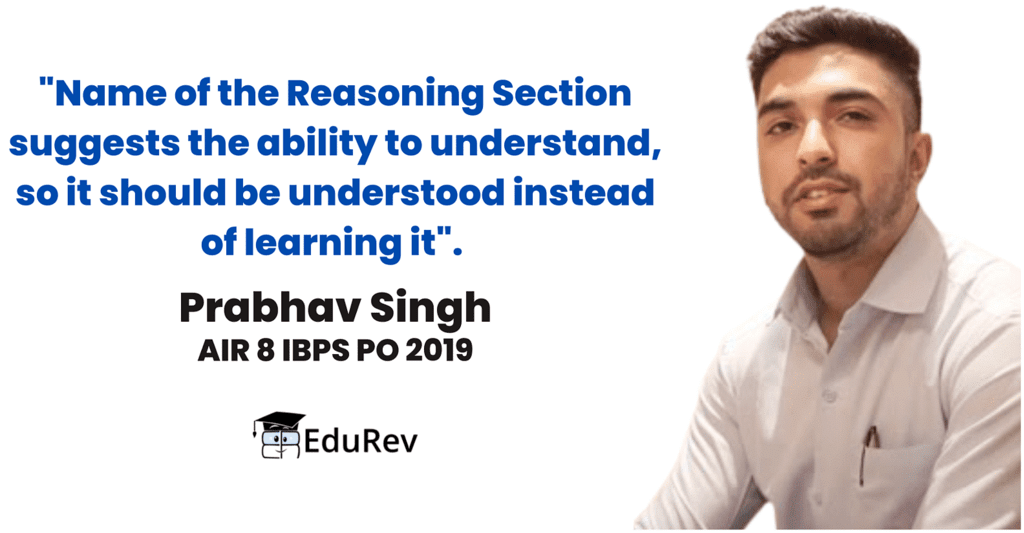 Step 3.2 How to prepare for Numerical Ability section?
Clear the foundation first:

It is important to have clarity of the concepts before starting any topic/chapter. Make sure you clear all the basic concepts to have a good hold on the important topics required to learn.

Cover the fundamental chapters first, such as Percentage, average, and ratio-proportion. Also keep in mind tables,

cube roots

, and square roots. Then go on to the chapters on DI and Math. Don't forget to take practice exams.
Memorize the following: Squares up to 30, Cubes up to 20, Tables up to 30, and Percentage fractions up to 1/30.
Once you have mastered the fundamentals, go on to Number series, Quadratic equations, and Simplification.
Regular Practice:

Regular practice is the key to success in the Numerical Ability section, as it will increase your speed and improve your accuracy. You should devote at least one to two hours daily to solving questions in this section.

Learn Shortcuts:

When it comes to mathematics, learning shortcuts to solve questions and calculations becomes extremely important as you will be able to solve the questions much more quickly than before, thereby saving ample time to attempt other sections.

Click here

to learn Tips & Tricks for banking exam.
Focus on Accuracy:

You must ensure that the calculations that you do in this section are accurate because silly mistakes can affect your scores.



Attempt Mock tests: Practice your abilities through mocks and analyze the questions thoroughly.
Step 3.3 How to prepare for English Language section?
For both the preliminaries and the main exams, the English Language section's syllabus is essentially the same. The English language is divided into two main categories: Grammar & vocabulary, and comprehension.
EduRev has compiled a course for 100 RC's for banking exam. Click here to check out.
Simply read through the grammar rules in a reliable book before practicing as many questions as you can.
Read newspapers: Make it a practice to read one English newspaper or article every day to improve your vocabulary and understanding.

Additionally, you can review your vocabulary and grammar from the high school grammar books.
It becomes simple to receive respectable grades if you have a solid command of the language. Simply read the newspaper every day and study hard for the practice exams.
Step 3.4 How to prepare for General Knowledge/Banking Awareness/Financial Awareness section?
All you need to do to get 100% on

current affairs

is study for an hour each day. Yes, some individuals enjoy taking notes, and they can be useful during revision, but this is a very private matter.
You may select any newspaper, whether it be in English or a regional tongue, but we encourage you to select one in English since it will benefit both your English language area and the descriptive component.
First, read through the RBI website's FAQs. Once you've finished, go through the banking awareness modules.
You ought to concentrate on

Indian Static GK

, rivers and dams, national parks and WLS, nuclear, thermal, and hydro power plants, CMs and governors, a nation's capital and currency, and the headquarters of significant organizations.
Reading about basic static banking ideas, full forms, significant dates, current events, etc.
Prior to the exam, try to review the last five months' worth of

current events

. These would be sufficient for you to receive high grades in this section.
Step 3.5 How to prepare for

Computer Awareness

section?
There is a scoring window in this section. You merely need to study the material and keep doing so.
You must understand the fundamental principles underlying how computers operate.
Learn the frequently used keys and shortcuts.
Learn about MS Office, Internet, networking, and computer hardware and software.
Step 4: Practice! Practice! Practice!

Once you're done with planning, it's time to implement it. Now you need practice. You can take the topic-wise approach and then move on to the section-wise approach. Lastly, the previous year's question papers and mock test series come in handy.
1. Topic Wise Approach:
It has been stated by many toppers that first you need to clear your basics instead of practicing high-level questions.
You can also use a three-day strategy: On the first day, focus on simple questions; on the second, go on to moderately difficult material; and on the third day, switch to challenging material.
2. Section Wise Approach:
Once you have completed the topics, you can evaluate your performance section-wise.
Try solving sections and pay close attention to the analysis process.
You need to focus on all types of questions, correct, incorrect, and unattempted.
3. Previous year questions and Mocks
EduRev has compiled Previous Year Questions and Mock tests for Banking exams. Check them out here.
Now that you have prepared both topic and section wise, it'll be easy for you to attempt all the sections.
For this, you practice previous year's question papers. Going through the previous years' bank exam question papers always gives an insight into the important topics.
Step 5: Revise over and over

Preparing for banking exams doesn't only include the "gaining knowledge" phase; it also requires you to relearn the material you've prepared.
Revise the syllabus regularly. It takes a lot of practice to excel at something. Therefore, it is important that you revise your syllabus regularly.

Fix for Silly Mistakes: Make a list of all the careless errors you committed. Before you take the next mocks, pour over them. Taking two extra practice tests in the past ten days will be beneficial. Being aware of the typical stupid errors you frequently commit will undoubtedly help you to prevent them.
Analyze and re-attempt the PYQs: Once you are done with the revision, revisit the questions that you found important while attempting the mock tests and PYQs. EduRev has the option to review marked questions and even reattempt the tests. Check them out

here

.
Fix for pacing better: Make a list of the questions that took you longer than the typical 2 minutes. Be honest with yourself about your ability to answer a question of this nature in just 2 minutes if you encounter it again.
Step 6: The last 15 days prior to the exam

For 15 days before the exam, you should adhere to the following:
1. Frame a schedule and adhere to it:
The first and foremost step is to frame a 15-day plan in advance.
This should not be a section-focused plan. It should include all the topics of your preparation.
A vow to study for at least 8-9 hours a day.
Give adequate time to all the sections with consistent breaks.
2. The last 15 days should be focused on preliminary exam level questions rather than mains level questions.
3. Revise Fundamentals: The basics and fundamentals will help you prepare well. Revisit and revise them again during the last 15 days.
4. Mocks are to be analyzed thoroughly: You should take mocks on a regular basis and should pay close attention to the analysis part. Check them out here.
Step 7: Strategy on the day of exam
Step 7.1 Before Exam
Sleep well the night before. To be able to stay alert during the exam, it is important to sleep well the night before. Sleep for at least 8 hours before the exam for a calm and relaxed mind during the test.
Reach Exam Center on time. You should check all the documents like Admit Card, ID proof, etc. before proceeding towards the exam center. You should ensure that they leave early so that they can reach the exam center on time. This will help you to stay calm and focused on the exam.
Avoid last minute revision. In order to avoid any confusion just before entering your exam center, avoid last minute revision. Studying more does not mean more knowledge.
Step 7.2 During the exam
Follow the pattern and your strategy. You must keep in mind the pattern and strategy you have been framing since the start. Follow it with confidence.
Time management. Speed with accuracy is the key to cracking any exam.
It must be noted that attempting all the questions is not the only criteria here. One should answer them correctly. Therefore, if you are unsure about anything, do not spend more than 1.5–2 minutes on it.
Read the questions carefully.
Step 7.3 After Exam
Solely focus on mains-level questions.
Do not wait for prelims result. Biggest mistake made by students is that they wait for prelim results and waste their time over useless things
Focus on building up speed and accuracy. Your main focus should be on concept building and accuracy. Once you've mastered these skills, your speed will automatically increase.
Primary calculations should be revised over and over again. For instance changes from fractions to percentages and vice versa should be on your tips.
Review the videos or Docs for conceptual clarity.
Solve at least 2-3 DI's on a daily basis
The topics in which you have clarity and accuracy, solve at least 20 QUESTIONS daily.
Typical errors committed by candidates
1. Prepare for Prelim and Mains separately


Don't focus on Prelims alone or Mains alone. Club Prelims and Mains together.
If you spend all your time focusing on Prelims only, you will have no time to prepare for Mains after the result declaration.
Make a plan that incorporates the syllabus for both Prelims and Mains.

2. Only Focus on weak areas


Aspirants start their preparation by categorizing their subjects into strong and weak and then only focus on weak.
They tend to forget to focus and revise on the strong areas.
Therefore it is very important to note that although weak areas may require more attention, you need to focus on the strong areas as well.
3. Start taking mocks left, right and center


Aspirants believe that mocks can give you anything they want.
Without a doubt, using mock exams is a necessary part of learning, but relying too much on them is not the best way to go about things.
4. Having over expectations of yourself and getting overwhelmed in first 15-20 days


The key to cracking any banking exam is conceptual clarity.
You should be clear with the concepts first even if you are not able to perform well in the first few days.
Aspirants tend to get overwhelmed when the pressurize themselves with the syllabus. The main aim of the aspirant should be clarity of concepts and maintain their calm while solving anything.
5. Avoiding topics you think you are good at


While studying for bank exams, never overlook any topics or subjects.
Always put a lot of effort into practicing each subject, and make sure you understand all the fundamental ideas,
This will reduce the likelihood that you will attempt the material as effectively as you might if you had practiced it thoroughly.
6. Listening and trying to follow hundreds of strategies


Never rely on another person's plan since it might have worked for them but not for you.
Students continue to adopt the toppers' tactics, which leads to a chaotic scenario.
Always develop your own strategy and record it on the sheet.
7. Lacking consistency


When they begin their preparation, students are enthusiastic, but as they progress, they may face numerous difficulties that can occasionally demotivate them.
So they stopped doing daily preparation. Your level of preparation and consistency is crucial.

It is necessary to plan your approach and preparation for bank exams to ensure that nothing crucial is overlooked.
8. Collecting heaps of useless study material
Most often, students end up stressed out and confused after gathering all the unnecessary study material from numerous sources.
As you gather materials for your revision, make sure they are current and follow the format of the bank exam.
Final words: KEEP CALM and GOOD LUCK on your journey.