Detailed Solution for Centre Of Mass MSQ - Question 8
The acceleration of the centre of mass is

The displacement of the centre of mass at time t will be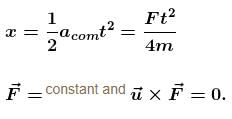 Therefore initial velocity is either in direction of constant force or opposite to it. Hence the particle will move in straight line and speed may increase or decrease. When F and u are antiparallel then particle will come to rest for an instant and will return back.

Initial velocity is perpendicular to constant force, hence the path will be parabolic with speed of particle increasing.

means instantaneous velocity is always perpendicular to force. Hence the speed will remain constant. And also

constant. Since the particle moves in one plane, the resulting motion has to be circular.

Hence initial velocity is in same direction of constant acceleration, therefore, particle moves in straight line with increasing speed.
The correct answers are: The displacement of the centre of mass at time t is

The displacement of the right block, if the extension of the spring is x0 at time t, is

The displacement of the left block, if the extension of the spring is x0 at time t, is