Detailed Solution for Centre Of Mass NAT Level - 2 - Question 2

Let u and v be speed of wedge A and block B at just after the block B gets off the wedge A. Applying conservation of momentum in horizontal direction, we get.
mu = mv ...(1)
Applying conservation of energy between initial and final state as shown in figure (1), we get

solving (1) and (2) we get
...(3)
At the instant block B reaches maximum height h' on the wedge C(figure 2), the speed of block B and wedge C are v'.
Applying conservation of momentum in horizontal direction, we get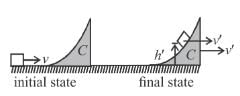 Applying conservation of energy between initial and final state

Solving equations (3), (4) and (5) we get
The correct answer is: 25