Solution:
Central atom: O
At. no. = 8,
No. of valence electrons in oxygen is 6
Lewis dot structure of O atom

No. of electrons required for completing the octet = 8 - 6 =2
Atoms attached to the central atom: two H atoms
At. no. of H = 1
H atoms need one electron each for getting fully-filled K shells.
Representation of Lewis dot structures of H2O, which satisfies these conditions: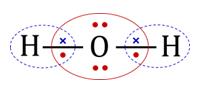 No. of valence shell electron pairs on the central atom O, after forming two covalent bonds with two H atoms = 4.
Geometry of 4 pairs, as predicted by VSEPR theory = Tetrahedral.
No. of lone pairs = Two.
Type, according to VSEPR theory:
So, geometry of pairs and geometry of atoms are different.
The geometry of atoms is derived from the geometry of pairs. At two of the four corners of the tetrahedron, there are no atoms.
Diagrams showing the geometry of 2 H atoms and two lone pairs: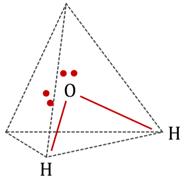 Geometry of atoms in H2O is V-shaped. i.e. H2O molecule has a bent geometry