Comprehension Type
Direction (Q. Nos. 16-18) This section contains a paragraph, describing theory, experiments, data, etc.
Three questions related to the paragraph have been given. Each question has only one correct answer mong the four given options (a), (b), (c) and (d).
Passage
When aldehydes lacking a-hydrogen is treated with concentrated solution of a strong base, Cannizaro reaction takes place. In this reaction, one molecule of aldehyde is oxidised while other is reduced. The widely accepted mechanism is

Step II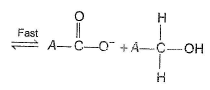 Q.
What is the rate law derived from the above mechanism?