Detailed Solution for Test: Combinational Logic Circuits - Question 6
Combinational Logic circuits:
The Combinational Logic circuits are circuits for which the present output depends only on the present input.
There is no memory element to store the past output.
It performs an operation that can be specified logically by a set of Boolean functions.
A combinational circuit can have 'n' number of inputs and 'm' number of outputs as shown:

Hence, All the above statements are correct.
Sequential Circuits: The block diagram shown below explains this: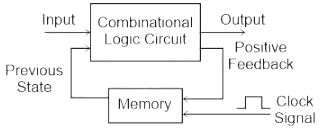 The memory elements used are flip flops or latches.