Read the passage given below, study the graph that follows and answer the three items given below the figure.
During a party, a person was exposed to contaminated water. A few days later, he developed fever and loose motions. He suffered for some days before going to a doctor for treatment. On starting the treatment, he soon became better and recovered completely a few days later. The following graph shows different phases of the person's disease condition as regions A, B, C, D and E of the curve.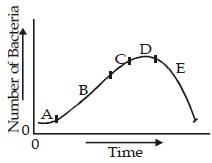 Q. Which region/regions of the curve correspond/corresponds to incubation phase of the infection?
[2011