Detailed Solution for Test: Phase Controlled Rectifiers - Question 1
Three-Phase Full Converters:
If all diode is replaced by thyristor, a three-phase full converter bridge formed as shown below,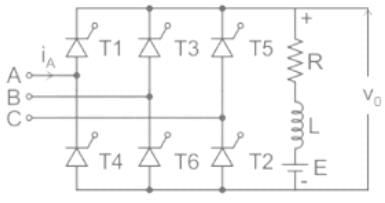 A three-phase input supply is connected to the terminal A, B, C, and RLE load is connected across the output terminal.
It worked as three-phase AC to DC converter for firing angle delay 0 <α ≤ 90.
The positive group of SCRs is fired at an interval of 120° and a similarly negative group of SCRs fired at an interval of 120°, but SCR of both groups are fired at an internal of 60° or commutation occurs at every 60°.
At any time tow SCRs, one from the positive group and one from the negative group must be conducted together for the source to energize the load.
Waveform: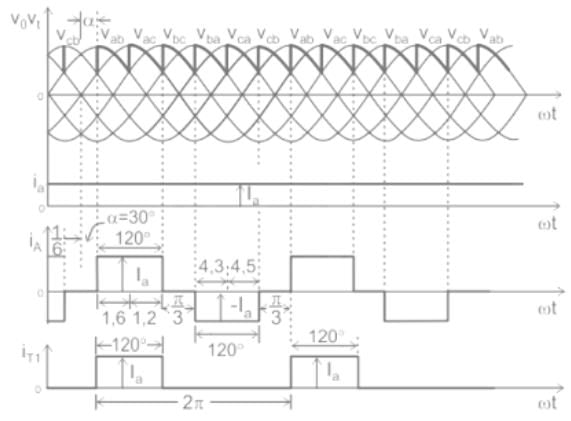 Voltage and Current Equation:
The average output voltage (V0) is given by,

Where Vm is the maximum value of line voltage.
Voltage and current waveform for α = 30° and for constant current can be drawn as,
From waveform RMS value of Thyristor current (IT = iT1) will be,


Where I0 is constant DC load current.