Solution:
This is a repeating question on continuity. Let me solve it a non-standard way -- which should be useful in GATE.
From the question f is a function mapping the set of real (or rational) numbers between [0,1] to [0.4,0.6]. So, clearly the co-domain here is smaller than the domain set. The function is not given as onto and so, there is no requirement that all elements in co-domain set be mapped to by the domain set. We are half done now. Lets see the options:
A

False, as we can have f(0.5) = 0.4, continuity does not imply anything other than all points being mapped being continuous.
C. Again false, we can have

for all .
D. False, same reason as for A.
D. False, same reason as for A.
Only B option left- which needs to be proved as correct now since we also have E option. We know that for a function all elements in domain set must have a mapping. All these can map to either 1 or more elements but at least one element must be there in the range set. i.e., f(x) = y is true for some y which is in [0.4,0.6]. In the minimal case this is a single element say c. Now for x = 1/0.8, option B is true. In the other case, say the minimal value of f(x) = a and the maximum value be f(x) = b. Now,
as per Intermediate Value theorem between and are also in the range set as f is continuous. Now, we need to consider x in the range [0.5, 0.75] as then only f(x) can be 0.8x and be in [0.4,0.6]. In our case we have

Lets assume

Now, for all other points in

must be between a and b and all points between a and b must be mapped by some x.
Moreover,for

aand for

So, if we plot

this line should cross


must be above or equal to the line 0.8x (shown below) and for x = 0.75 it must be belowor equal which means an intersection must be there.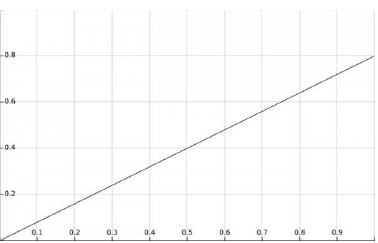 This shows there exist some

a stronger case than option B. So, B option is true. Now please try for

and see if it is true.