Solution:
The ball has v', component of its velocity perpendicular to the length of rod immediately after the collision. u is velocity of COM of the rod and is angular velocity of the rod, just after collision. The ball strikes the rod with speed v cos 53° in perpendicular direction and its component along the length of the rod after the collision is unchanged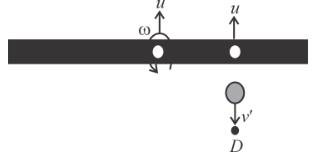 using for the point of collision.
Velocity of separation = Velocity of approach
Conserving linear momentum (of rod + particle), in the direction ⊥ to the rod.

Conserving angular moment about point 'D' as shown in the figure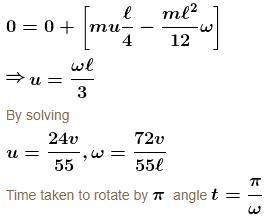 In the same time, distance travelled

Using angular impulse-angular momentum equation.

The correct answers are: The angular velocity of the rod will be

The centre of the rod will travel a distance

in the time in which it makes half rotation, Impulse of the impact force is