The given graph shows O2 consumption and ventilation during exercise so we can infer from this graph :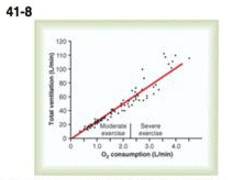 i. During exercise, oxygen consumption rate in our body increases.
ii. Neural stimulus allows abdominal muscles , which are a kind of smooth muscle to contract to facilitate ventilation while exercising.
iii. Increase in ventilation during exercise prevents large changes in the partial pressure of O2 or CO2
iv. The overall impact is breathing rate increases.