Consider two liquids 'B' and 'C' that form an ideal solutlion. We hold the temperature fixed at some value T that is above the freezing points of 'B' and 'C' .We shall plot the system's pressure P and against XB' the overall mole fraction of B in the system :

Where nbl and nbv are the number of moles of B in the liquid and vapor phases, respectively. For a close system xB, is fixed, although nBl and nBv may vary.
                Let the system be enclosed in a cylinder fitted with a piston and immersed in a constant-temperature bath.To see what the P-versus-xB phase diagram looks like, let us initially set the external pressure on the piston high enough for the system to be entirely liquid (point A in figure) As the pressure is lowered below that at A, the system eventually reaches a pressure where the liquid just begins to vaporizes (point D). At point D, the liquid has composition xlb where xlb at D is equal to the overall mole fraction xB since only an infinitesimal amount of liquid has vapourized. What is the composition of the first vapour that comes off ? Raoult's law, Pb=xvbPob relates the vapour-phase mole fractions to the liquid composition as follows:

Where Pob and  Pocare the vapour pressures of pure 'B' and pure 'C' at T, where the system's pressure P equals the sum PB + Pc of the partial pressures, where

 and the vapor is assumed ideal.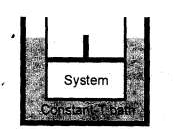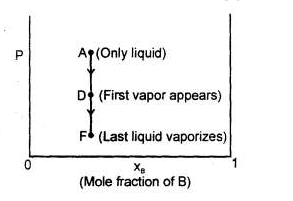 Let B be the more volatile component, meaning that Pob>Poc Above equation then shows that Xvb/Xvc>Xlb/XlcThe vapor above an ideal solution is richer than the liquid in the more volatile component. Equations (1) and (2) apply at any pressure where liquid -vapor equilibrium exists, not just at point D.
                Now let us isothermally lower the pressure below point D, causing more liquid to vaporize. Eventually, WE reach point F in figure, where the last drop of liquid vaporizes. Below F, we have only vapor. For any point or the line between D and F liquid and vapor phases coexist in equilibrium.
Q.
Two liquids A and B have the same molecular weight and form an ideal solution. The solution has a vapor pressure of 700 Torrs at 80°C. It is distilled till 2/3rd of the solution (2/3rd moles out of total moles) is collected as condensate.The composition of the condensate is x'A = 0.75 and that of the residue is X"A= 0.30. If the vapor pressure of the residue at 80°C is 600 Torrs, find the original composition of the liquid.