Clearly, we need to bifurcate the employees into males and females to proceed.
> The number of women who like at least 2 out of 3 preferences are 65
> 55 Women only like Italian
> Overall 25 employees like only Chinese out of which 40% are male. Thus 10 male and 15 female employees only like Chinese
> Number of Employees liking only Continental is the same as the number of women liking only Italian = 55. Thus 25 are female and 30 are male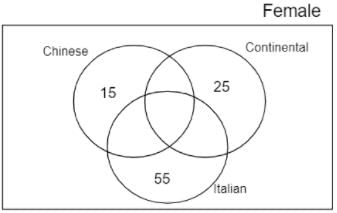 Let the total number of females be F. Then the number of females who do not like any of the 3 options = 0.2F.
Total number of Female = Females who like none + Females who like exactly one+ Female who like atleast 2
F = 0.2F + 15+25+55+65 or 0.8F = 160. Thus F = 200. Females who like none of the option = 0.2F = 40
Thus number of male employees who did not like any of the 3 option = 20 which is also equal to number of females liking all 3 options.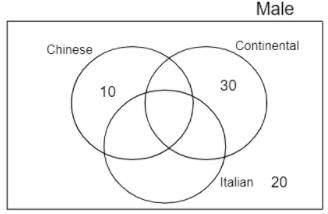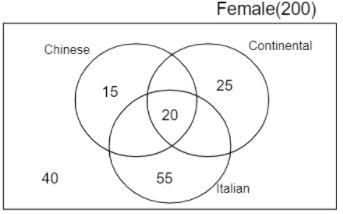 > 175 of the employees like exactly one of the 3 options. Thus number of males liking only Italian = 175-(10+30+15+25+55) = 40
> Total number of male employees = 7 times the number of males liking only continental = 210
> Number of male employees like only Italian is same the number of male liking Chinese and Continental but not Italian = 40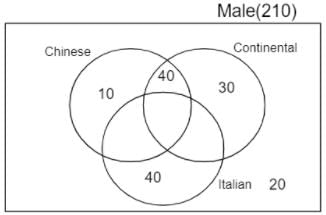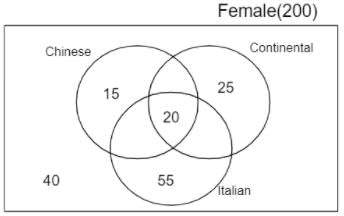 Number of male employees liking Italian = 210-(10+40+30+20) = 110