UPSC : 4. River of Rajasthan and Drainage Basins, Source of Irrigation, Geography of Rajasthan UPSC Notes | EduRev
All you need of UPSC at this link:
UPSC
Rajasthan: Rivers of Rajasthan and Drainage Basins
Location of the great Indian watershed and the existence of the Aravalli axisgreatly influence the drainage system of Rajasthan. The drainage to the Bay of Bengaland the Arabian Sea gets divide due to the Great Indian watershed which runs alongthe Aravalli axis from the Sāmbhar Lake southward to Ajmer. From herebefore proceeding towards the southwest of Udaipur city the line runs to southwest, afew kilometres east of Beawar and to Deogarh and Kumbhalgarh further extending toin the west, past Udaisagar and runs to southeast to Bari Sadri, from Choti Sadri to Pratapgarh.
Drainage of Rajasthan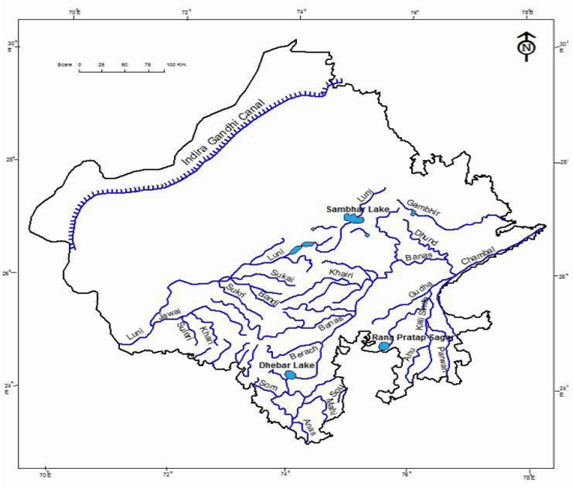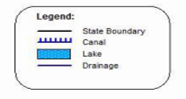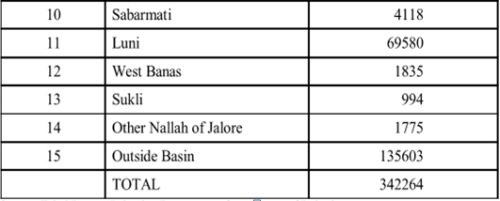 Rajasthan: Sources of Irrigation and Major irrigation projects
| | | | |
| --- | --- | --- | --- |
| 1 | Mahi Bajaj Sagar Project | Banswara | Multipurpose |
| 2 | Som Kamla Amba Irrigation Project | Udaipur | irrigation |
| 3 | Rajsamand Irrigation Project | Rajsamand | Multipurpose |
| 4 | Jakham Irrigation Project | Pratapgarh | Irrigation |
| 5 | Meja Dam Irrigation Project | Bhilwara | Kothari river |
| 6 | Jaisamand Irrigation Project | Udaipur | Gomti |
| 7 | Haro Tank Mahi Project | Ghatol | Haro |
| 8 | Jawai Irrigation Project | Sumerpur | Jawai |
| 9 | Sardar Samand Irrigation Project | Pali | Sukri |
| 10 | Jawahar Sagar Dam Project | Kota | Chambal |
| 11 | Rana Pratap Sagar Dam | Rawatbhata | Chambal |
| 12 | Kota Barrage | Kota | Chambal |
| 13 | Gudha Project | Hindoli | |
| 14 | Kalisindh Major Multi-Purpose Irrigation Project | Jalarpatan,Jhalawar | |
| 15 | Irrigation Project Galwa | Tonk | Galwa |
| 16 | Parbati Irrigation Project | Dholpur | Parbati |
| 17 | Chhaperwara Irrigation Project | Dudu,Jaipur | Banas |
| 18 | Kalakh Irrigation Project | Phulera,Jaipur | |
| 19 | Ramgarh Dam | Ramgarh,Jaipur | Benganga |
| 20 | Bisalpur Project | Devli,Tonk | Banas |
| 21 | Morel Major Irrigation Project | SawaiMadhepur | Morel |