Rajasthan: Railways of Rajasthan
At the time of independence, the western portion of Jodhpur and Bikaner Railway was ceded to the government of Pakistan. The rest portion was taken over by Rajasthan state in 1949. The Western Railway was created on 5th November 1951 by the merger of several state-owned railways, including the B.B. &C.I. Railway and the Saurashtra Railway, Rajput Ana Railway and Jaipur State Railway. The Narrow gauge lines of Cutch State Railway was also merged into it. The divisions of railway in Rajasthan were Jaipur division, Ajmer division and kota division.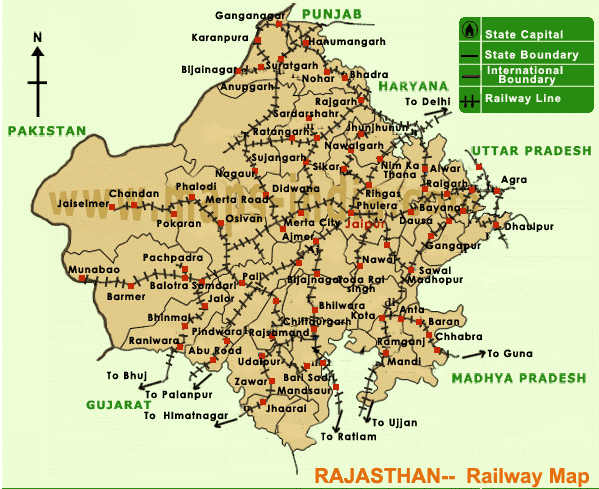 NORTHERN RAILWAY
The Northern Railway came in to existence in 1952. It was one of the Indian Railways largest zones. Bikaner division and Jodhpur division were attached with it.
NORTH-WESTERN RAILWAY
The Jaipur and Ajmer divisions of the Western Railway, and Jodhpur and Bikaner divisions of Northern railway became part of newly created North Western Railway in 2002. The total length of this railway in Rajasthan is 5,459 kms.
WEST-CENTRAL RAILWAY
Kota division of the Western Railway became part of the newly created West Central Railway in April 2003.
PRESENT SCENERIO
Today, there is 5780.06 kms of railway track available in Rajasthan, out of which 4465.12 kms of broad gauge, 1228.24 kms of metre gauge and 86.70 kms of narrow gauge. Rail is playing an important role in gross state domestic product and providing employment to lacs of people in Rajasthan. Life cannot be imagined without rail.
Rajasthan: Air Transport of Rajasthan
As far as air transport is concerned, Jaipur airport is Rajasthan's only international airport. There are other airports atJodhpur Udaipur while the one at Jaisalmer is only open from October to March. Indian Airlines and Jet Airways operate regular flights to Rajasthan from New Delhi and Mumbai. Most foreign tourists land either at New Delhi or Mumbai and then take a convenient connecting flight to any of the above-mentioned destinations of Rajasthan.
Name of Airports of Rajasthan are:-
Jaipur-Sangner
Udaipur-Dabok
Jodhpur-Ratananda
Kota-Kota
Rajasthan: Industries of Rajasthan
Rajasthan State Industrial Development and Investment Corporation (RIICO) is an apex organization engaged in fostering growth of industrialization in the state.
Various schemes and initiatives:-
PM Employment Generation Programme-by promoting rural and urban commercial activities
Industrial Promotion Camps- at district and panchayatsamiti level
Household industry scheme- to make women self-dependent
Mahatma Gandhi BunkarBimaYojna
Rajasthan Investment Promotion Scheme-2014– Exemption and subsidies to investors in stamp duty, land tax,conversion charges and electricity bills
Rural Non-Farm DevelopmentAgency(RUDA)- promoting self-employment of rural artisans by cluster approach
GI Indicator for – Blue pottery, Bangru Hand Block Prints and Kota Dorian
Resurgent Rajasthan Partnership Submit 2015-314575 crore proposed investment and 239244 employment generation.
Scheduled Caste and Tribal Sub Plan- 50% rebate in allotment of plots up to 2000 Sq.
Japanese Park at Neemrana(Alwar)
Korean Investment Zone at Ghiloth(Alwar)
Two SEZ for gems and jewellery at Sitapur and Jaipur
Rajasthan Start-up Fest 2015
Rajasthan: Population distribution and census of Rajasthan
| | | |
| --- | --- | --- |
| Description | 2011 | 2001 |
| Approximate Population | 6.86 Crores | 5.65 Crore |
| Actual Population | 6,85,48,437 | 5,65,07,188 |
| Male | 3,55,50,997 | 2,94,20,011 |
| Female | 3,29,97,440 | 2,70,87,177 |
| Population Growth | 21.31% | 28.33% |
| Percentage of total Population | 5.66% | 5.49% |
| Sex Ratio | 928 | 921 |
| Child Sex Ratio | 888 | 909 |
| Density/km2 | 200 | 165 |
| Density/mi2 | 519 | 428 |
| Area(Km2) | 3,42,239 | 3,42,239 |
| Area mi2 | 1,32,139 | 1,32,139 |
| Total Child Population (0-6 Age) | 1,06,49,504 | 1,06,51,002 |
| Male Population (0-6 Age) | 56,39,176 | 55,79,616 |
| Female Population (0-6 Age) | 50,10,328 | 50,71,386 |
| Literacy | 66.11% | 60.41% |
| Male Literacy | 79.19% | 75.70% |
| Female Literacy | 52.12% | 43.85% |
| Total Literate | 3,82,75,282 | 2,77,02,010 |
| Male Literate | 2,36,88,412 | 1,80,47,157 |
| Female Literate | 1,45,86,870 | 96,54,853 |
Rajasthan: Population Density,Growth,Sex Ratio and Literacyof Rajasthan census 2011 (District wise)
| | | | | | | | |
| --- | --- | --- | --- | --- | --- | --- | --- |
| District | Population | Male population | Female population | Growth | Sex ratio | Literacy | Density |
| Ajmer | 2584913 | 1325911 | 1259002 | 18.48 | 950 | 70.46 | 305 |
| Alwar | 3671999 | 1938929 | 1733070 | 22.7 | 894 | 71.68 | 438 |
| Banswara | 1798194 | 908755 | 889439 | 26.58 | 979 | 57.2 | 399 |
| Baran | 1223921 | 635495 | 588426 | 19.8 | 926 | 67.38 | 175 |
| Barmer | 2604453 | 1370494 | 1233959 | 32.55 | 900 | 57.49 | 92 |
| Bharatpur | 2549121 | 1357896 | 1191225 | 21.32 | 877 | 71.16 | 503 |
| Bhilwara | 2410459 | 1224483 | 1026650 | 19.7 | 969 | 62.71 | 230 |
| Bikaner | 2367745 | 1243916 | 1123829 | 41.42 | 903 | 65.92 | 78 |
| Bundi | 1113725 | 579385 | 534340 | 15.7 | 922 | 62.31 | 193 |
| Chittaurgarh | 1544392 | 784054 | 760338 | 16.09 | 970 | 62.51 | 193 |
| Churu | 2041172 | 1053375 | 987797 | 6.1 | 938 | 67.46 | 148 |
| Dausa | 1637226 | 859821 | 777405 | 24.31 | 904 | 69.17 | 476 |
| Dhaulpur | 1207293 | 654344 | 552949 | 22.78 | 845 | 70.14 | 398 |
| Dungarpur | 1388906 | 698069 | 690837 | 25.39 | 990 | 60.78 | 368 |
| Ganganagar | 1969520 | 1043730 | 925790 | 10.06 | 887 | 70.25 | 179 |
| Hanumangarh | 1779650 | 933660 | 845990 | 17.24 | 906 | 68.37 | 184 |
| Jaipur | 6663971 | 3490787 | 3173184 | 26.91 | 909 | 76.44 | 598 |
| Jaisalmer | 672008 | 363346 | 308662 | 32.22 | 849 | 58.04 | 17 |
| Jalor | 1830151 | 937918 | 892233 | 26.31 | 951 | 55.58 | 172 |
| Jhalawar | 1411327 | 725667 | 685660 | 19.57 | 945 | 62.13 | 227 |
| Jhunjhunun | 2139658 | 1097390 | 1042268 | 11.81 | 950 | 74.72 | 361 |
| Jodhpur | 3685681 | 1924326 | 1761355 | 27.69 | 915 | 67.09 | 161 |
| Karauli | 1458459 | 784943 | 673516 | 20.57 | 858 | 67.34 | 264 |
| Kota | 1950491 | 1023153 | 927338 | 24.35 | 906 | 77.48 | 374 |
| Nagaur | 3309234 | 1698760 | 1610474 | 19.25 | 948 | 64.08 | 187 |
| Pali | 2038533 | 1025895 | 1012638 | 11.99 | 987 | 63.23 | 165 |
| Pratapgarh | 868231 | 437950 | 430281 | 22.84 | 982 | 56.3 | 211 |
| Rajsamand | 1158283 | 582670 | 575613 | 17.35 | 988 | 63.93 | 302 |
| SawaiMadhopur | 1338114 | 706558 | 631556 | 19.79 | 894 | 66.19 | 297 |
| Sikar | 2677737 | 1377120 | 1300617 | 17.04 | 944 | 72.98 | 346 |
| Sirohi | 1037185 | 535115 | 502070 | 21.86 | 938 | 56.02 | 202 |
| Tonk | 1421711 | 729390 | 692321 | 17.33 | 949 | 62.46 | 198 |
| Udaipur | 3067549 | 1566781 | 1500768 | 23.66 | 958 | 62.74 | 242 |