Agro-climatic Regions of Rajasthan
Variable Climatic condition throughout the state has led to the development of different agricultural practices. Scientists have divided the state into following agro-climatic regions:-
Western Agricultural Region:-
It covers the sandy arid plains with low rainfall and thus about 70% of the net cropped area is under Kharif crops of bajra and pulses. This region extends to the districts of Jaisalmer, Barmer,Bikaner,Jodhpur ,Pali and Churu.
Availability of irrigation facility has divided the region into two types of crop combination.
Bajra-Jowar-Sesamum-Wheat region (where irrigation facilities are provided like Pali district by Jawai dam canal) and Bajra mono culture where irrigation facilities are limited. Success of Indira Gandhi Canal could be viewed from the fact that Sriganganagar and Hanumangarh are the only districts in western Rajasthan where Ravi crops dominate the cropping pattern.
Central Agricultural Region
Most of the area in this region is a part of Banas basin and covers the districts of Ajmer,Jaipur and Bhilwara.
During Kharif season bajra,jowar,maize,pulses,oil seeds and cotton are cultivated while Barley and wheat are cultivated in the Ravi season.
South- Central Agricultural Region
It covers the districts of Chittorgarh,Udaipur and Rajsamand with a general crop combination of Maize-Wheat and Gram-Jowar.
South-Eastern Agricultural Region
This region is generally covered by the Black soil and is is an important Jowar growing area of the state.It covers the districts of Jhalawar, Bundi ,Kota,Baran and Tonk.
Kharif crops are:- Jowar,Maize,oil seeds,cotton and Sugarcane
Ravi crops are:- wheat and gram
North-Eastern Agricultural Region
This region is a predominately Ravi growing area covering the districts of Sawaimadhopur, Alwar and Bharatpur.
Kharif crops are:- Bajra,Jowar,Oilseeds,Pulses and Rice
Ravi Crops are:- Wheat,Barley and Oil seeds
South-Western Agricultural Region
It covers the predominately rice and maize growing districts of Dungarpur and Banswara.
Metallic Minerals of Rajsthan

Rajasthan ranks second only to Jharkhand in the availability of minerals and is blessed with 79 different minerals.
Rajasthan has a monopoly in Non-Metallic Minerals ,while Rajasthan is not so rich in metallic minerals but the quality of metallic minerals available in the state is high.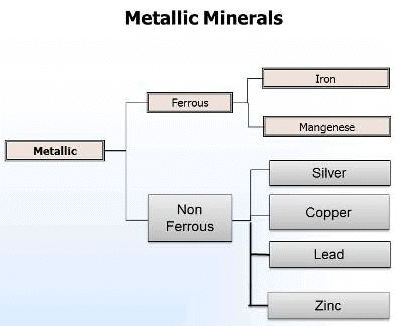 Iron
Although Rajasthan is not rich in Iron ore deposits but the available deposits of iron ore are of high quality. Various iron ore fields of Rajasthan are as follows:-
1- North Eastern Fields: - It has following areas
Morija-Banol Area in Amber tehsil of Jaipur
Nimalo-Raisalo Area near Dausa
Dabla-Singhana-NeemKa Thana in Jhunjunu
2- South Easter Fields: - It has following areas
NathraKa Pal -east of Udaipur
ThurHunder Deposits- north-west of Udaipur
Manganese
Rajasthan is poor in Manganese resources which are used in preparation of steel, fertilizers,chemical pigments, paints and vanishes.
The deposits of manganese are found in Banswara and Sawaibandhopurdistricts
new deposits have been surveyed in Jaipur and Alwar districts
Copper
State has third rank after Bihar and Andhra Pradesh in Copper production. Themajor copper mining belts are:-
Khetri-Singhana Belt-Jhunjhunu
Kho-Dariba Belt- South west of alwar
DelwaraKevroli- Sirohi District
Zinc and Lead
Zinc and Lead are found together and separated through process of refining process. Rajasthan is ranked 1st in zinc with 75 million tonnes of reserves in the state. Udaipur district has the maximum concentration of resources followed by Bhilwara. Various Zinc and Lead mining regions of the state are:-
South eastern region- near Udaipur
North eastern region- SawaiMadhopur and Alwar Districts
Central Region- Bhilwara District
Tungsten
Rajasthan is the only producer of Tungsten which is used in making iron alloys, bulbs.
The only source of mineral is Degana in Nagaur District.
Non-Metallic Minerals of Rajasthan
Rajasthan has a monopoly over the non-metallic mineral resources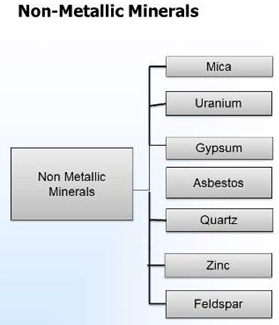 Gypsum
Gypsum has great use in fertilizers,plaster of Paris, cement, paints and medicine.
Deposits of Gypsum are found in the riverbeds of ancient rivers.
Different gypsum producing areas of state are:-
Nagaur District
Bikaner-Gangnagar District
Churu District
Jaisalmer-Jodhpur-Barmer Districts
Mica
Mica forms a major constituent of pegmatite and is chiefly used in electrical insulation.
The major mica producing belt of Rajasthan runs from NE-SW direction
Major belts are:-
North Eastern Mica Belts- Tonk and Jaipur
South Western Mica Belt- Bhilwara and Rajsamand
Scattered Mica Belt- Sikar
Feldspar
It's used in Glass, Pottery and enamel industries.
Rajasthan is the chief producer of feldspar in the country
Major areas are- Jaipur,Ajmer,Pali,Tonk and Sikar
Asbestos
It's mainly an insulating mineral and is used for cement,roofing sheets and pipes.
Kherwara and Rikhabdeo are the main areas of Asbestos production