Major Forts of Rajasthan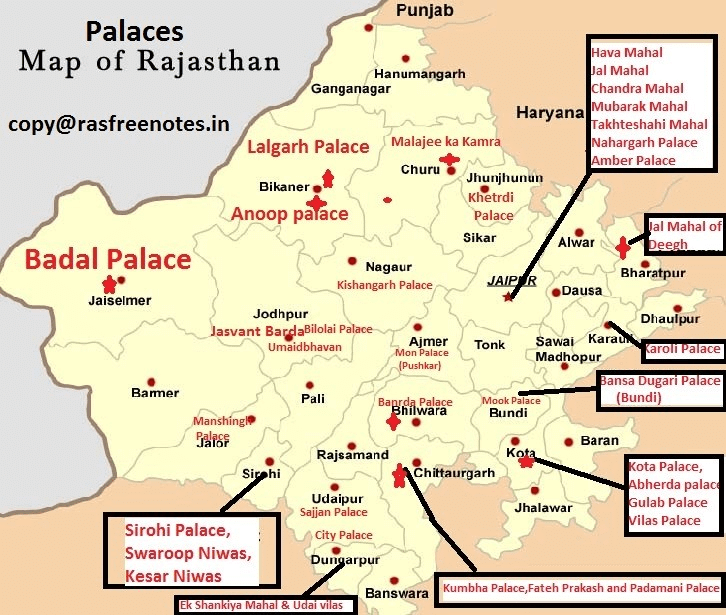 Hill Forts of Rajasthan. The serial site, situated in the state of Rajastahan, includes six majestic forts in Chittorgarh; Kumbhalgarh; Sawai Madhopur; Jhalawar; Jaipur, and Jaisalmer are included in the list of UNESCO World heritage sites
| | | | | |
| --- | --- | --- | --- | --- |
| Serial No | Name of Fort | Constructed by | Location | Related Dynasty |
| 1 | Mehrangarh | Rao Jodha | Jodhpur | Rathore |
| 2 | Taragarh | Ajay Pal | Ajmer | Chauhan |
| 3 | Gagron | Dord Parmar | Jhalawar | Parmar |
| 4 | Bhatner | Bhupat Bhati | Hanumangarh | Rathore |
| 5 | Nahargarh | Sawai Jaisingh | Jaipur | Kachwah |
| 6 | Lohagarh | Surajmal | Bharatpur | Jat |
| 7 | Ranthambore | Ranthamban Dev | Sawai Madhepur | Chauhan |
| 8 | Junagarh | Raja Raisingh | Bikaner | Rathore |
| 9 | Kumbhalgarh | Maharana Kumbha | Kumbhalgarh | Sishodiya |
| 10 | Chittord | Chitrangad Mori | Chitorgarh | Sishodiya |
| 11 | Achalgarh | Maharana Kumbha | Mount Abu | Parmar |
| 12 | Jaigarh | Mirja Raja Jai Singh | Jaipur | Kachwah |
| 13 | Jalore | Nagbhat | Jalore | Parmar |
| 14 | Jaisalmer | Rawal Jaisal | Jaisalmer | Bhati |
| 15 | Taragarh | Rao Barsingh | Bundi | Hada |
| 16 | Nagore | Samant Kaimas | Nagore | Rathore |
| 17 | Bala | Aldhurai | Alwar | Kachwah |
| 18 | Mandalgarh | Chauhans | Bhilwara | Chauhan |
| 19 | Churu | - | Churu | Kayamkhani |
| 20 | Kuchaman | - | Nagore | Rathore |
Main centers for Handicraft
THEWA ART
The art of setting gold on glass is known as Thewa Art. Thewa is a rare and distinct skill of Rajasthani Rajsonia of Pratapgarh. Necklace sets,pillboxes, photoframes,pendent,earings are main products.
SANDAL WOOD CARVING
Based on ivory crafts shifted to sandalwood items. Beautiful carved work and wonderful finishing makesd this craft worldwide popular. Gods,Ambabadi, Elephant,Chess pieces and Jewellary items are main product. This craft is practiced in Jaipur and Churu.
TIE & DYE
Bandhani is the local name for the Tie & Dye process. It is a resics technique. Parts of fabric remain un-dyed because they are covered by "Tied Threads" and knots before dying. Cotton,Silk,Chiffon,Sarees,dress materials and bed covers are made at Jaipur,Churu,Jodhpur and Sikar. Tradition based items are worn on the particular occasions and a particular group of ladies and by no other one. Gents turbans are made in different designs and colours.
TEXTILES HAND BLOCK PRINTING
Various techniques of printing and dying are used in the textiles of Rajasthan. Eco-friendly dye stuffs and chemicals are used. The printings are named on the basis of their practicing towns.
a) Dabu Textiles Hand Block Printing – Dabu is the local name for the racist print process,mud, racist paste is applied by hand,using wooden blocks to seal the fabric from the effect of further treatment. This type of printing is done in Bagru, Baotra and Akola mainly.
b) Bagru – Fabous for its alizarinered, ironblack, oval, beigethecharacteristics of this type of painting. Very often the ground is dyed in indigo blue, green and black.
c) Azrak Print – Traditonally the products were by Sindhi Muslims as loongies and headgears, in the indigo blue and aligrine red colours are used.
d) Sanganer – Exclusive and fine printing is in subdued colours were patronized by royalty. It has a large export market tioday. Screen printing fast taking over. However, Sanganer prints for royal use had a distinctive fineness. Motifs are based on flowers, which were not necessarily native.
TOYS & DOLLS
The Rajasthani toys &dolls,puppets are more popular. They are printed in colours to add to their attractiveness and charm for the children. There attractive dresses make them more charmful. Material in making these items are stuffed cotton,wood and paper machie. Jaipur and Jodhpur are main production centers.
LAC BANGLES & DECORATIVE ITEMS
Lac items are mainly based on tradition like Bangles in different designs, other decorative articles are images of God &Goddesses, K Kings& Queens and different kind of birds and animals. These are decorated with glass beeds. Main production center is Jaipur.
KOFTKARI
Koftkari is a craft of silver wire inlay in a iron plate, swordhandle, shields. This craft is now a lesser known one and practiced by a very few craftsman at Jaipur and Ajmer.
MOTHER OF PEARLS
Pieces of sea shells are stucked together around wood to form a mosaic like outer layer. This art is also been done on bone and brass items. The craft is practiced in Jodhpur.
CAMEL HIDE
The art of pure gold and stone colours, on camel leather, vessels is known as camel hide. This craft is practiced at Jodhpur and Bikaner.
EMBROIDERY
Little shiny mirrors and embroidering beautiful skirts,jackets,Wall hangings and cushion covers etc. traditional Rajasthani motifs and heart warmingcolours are blended well in these master pieces. Jaisalmer, Barmer and Jodhpur are the main production centers.
IRON CRAFT
Practiced in Jaisalmer &Tillonia by way of twisting iron wires and cutting the sheets. Main products are animal figures and decorative kitchenware stands and corners. Good potential for exports.
WOOD CARVING
This craft is practiced in Jaisalmer,Barmer,Jodhpur and Jaipur. Finest quality of carving is made on furniture, windows,partitions,beds and sofas. The seasoned wood is used, so these products are quite sturdy and long lasting. Painting on wooden furniture is done at Krishangarh and Ajmer.
LACQUARE WARE
The richly painted lacquered furniture of Rajasthan is an instant crowd puller. The vibrant colours, the shiny gloss and the basic rounded forms of lacquered designing/setting.
JEWELLARY
Rajasthan has a rich culture of kundan (Precious Stone with Emeralds), gold and silver jewellery. Both men & women worn jewellery. Gem cutting, polishing and setting in Jaipur are renowned the worl wide. The art of Meenakari (Enameling) dates back to early 17th Century. Meenakari is often combined with Gems cutting jewellery. Hewa art of Pratapgarh is well guarded secret of Rajasthani families. Thewa art of Pratapgarh is well guarded secret of Rajasthani families.
It consists of delicate gold leaf work embedded into glass or enamel framed with silver or gold. Silver has always been a popular metal for Jewellery – also in Rajasthan where it is very often combined with village rituals and faith.
TERRACOTA
Look for decorative clay work at the main centers. The terracotta images and voitives of Molela near Udaipur, are made for the tribal and villages. January is its peak season. Beautiful terracotta horses for religious offerings, 2.5 ft. in heaght are made in Jallore, Ahora districts. Terracotta toys of BU(Nagaur District) and Merta are popular articles in local fairs. Pottery is made all over Rajasthan. Centers – Alwar, Bharatpur,Jaipur,Bikaner,Dausa& Kota etc.
LEATHER
Leather products are rich in design and display,highskill,majris or jutties(Leather Shoes) for local needs and some embroidered with silk threads, applique or bead work. Camel hide increasingly popular because it is soft and flexible,embroidered hand bags,coinpurses,belt and pouches, seats and back rest of chairs. Bikaner is known for its beautiful gesso work on camel hide, lampshades, traditional flasks and perfume bottles are painted in bright colours and gold,using a special technique .Membrophonic instruments – Dholak,Tabla etc. are made by the Dabgar community using camel hide. Look for them in almost every major towns. Centers – Jaipur,Ajmer, Bharatpur, SikarSawaimadhopur etc.
PAPER MACIE
The combination of aesthetic with frugality and utility is no where more evident than in simple village life. Decorative shelves and containers of paper mache is highly evolved craft in West Rajasthan. Made out of waste paper and clay, the big containers or kothis are light and lasting, decorated with pieces of glass paint and relief work. Today paper machine is a commercial craft – marriages,decorations,pops and back drops for Jhankis (Festive Occasions) are made at Jaipur , Bharatpur and Ajmer,Palai (District Tonk) has a unit for making furniture out of PapierMachie.
BLUE ART POTTERY
The Persian art of glazed blue pottery found its way to Jaipur via the Moghul courts. Later the art was revived with the help of Master Craftsman Kripal Singh Shekhawat, who continues to add and design and colours to it. Jaipur, Sanganerm Mahalan and Neota are known for blue pottery. Specially notable are the painted tiles,vases, bowls,soap dishes and door knobs.
METAL CRAFT
Damascening, Lac colouring, Enameling, Engraving, Inlay, punching and casting – all techniques are known and practiced in Rajasthan, Jaipur, Jodhpur and Udaipur are the main centers for metal craft.
Swords and shields, essential for rituals, Jaipur, Udaipur and Sirohi are the main centers to damascening in which gold or silver wire is hammered into grooves chiseled out on an iton or steel surface. Koftakari , a lesser work, where silver or gold is simply stuck on the ground. Metal field is a craft at Jaipur, Ajmer and Pushkar.
Jaipur is known for its engraved, laqered or enameled brassware for decorative purposes. Jodhpur is a very big centre for metal craft today mainly for handicrafted iron. Also known for its aluminium shields and trophies.
STONE/MARBLE WORK
Rocks of various hues have provided raw material not only for Rajasthan's unique architecture but also for the Taj Mehal, Agra and RashtrapatiBhawan at Delhi. The art of Jail or trellis work converts stones into lace. Pillers, Jali work and stone carving for buildings is a living craft in Rajasthan and craftsmen are specially commissioned for work outside. This is also an export item in Jaisalmer. Known for marble idons in many temples in North India, Khazane-Walon-ka-rasta in Jaipur is the centre for this flourishing craft. Carved marble bowls, vases, plates decorated with meenakari are emerging trend in the market Jaisalmer, Nagaur, Sirohi, Udaipur, Nathdwara etc.
Rajasthani Costumes and jewellery
Costumes of Rajasthan can basically be classified as Paridhan,which is a lower garment and achhadan which is an upper garment.Pag as an headgear is a symbol of noble and still practiced as an integral part of rajasthani culture.
Various Traditional Dresses are:-
Potia
Dhoti
Bandha
Angrakhi
Bugatari
Pachewara
Khol
Dabla
Lahariya
Chera
Chundari
Ekdali
Tikunti
Chaubandi
Satbandhi
Dhamak
Jalidar
Beldar
Various ornaments and jewellery are:-
Earings:-Kundan,Patti,Surliya
Necklace:-Kanthi,Muttar mala,Bara,Hasli,Pachlari,Timania,Jalaro
Armlet:- Bajuband, Takya,Butta
Finger:-Mudrika,Binti,Hathpan and Damna
Forehead:-Borla,Fini, tika,Mangtika,Sankali
Nose: Laung,nath,Vesar
Wriest: Nagri, Gajra, Dasthana,Bangandi ,Gokharu,Tagardi
Religious Movements in Rajasthan
Rajasthan is blessed with multi-religious society and all the religions found in the country are practiced in Rajasthan in Harmony to each other. Vedic Religion has been practiced in the state since ancient times and worship of sun has been center of religious practice for several communities.
Religious movements in Hinduism:-
Ancient vedic religion was rejuvenated by the Sancracharya and sevral cults were developed within the hindu religion which are as follows:-
Jasnathji Cult:-Jat origin, detached people, followers tie black wollen thread in neck and practice undergroung meditation.The cult has code of cunduct with 36 norms.
Vaishnav Cult:-They worship Lord Krishna in his childhood forma and are called Bhaktimargi.Followers worship Vishnu, the Supreme Lord and his ten avatars, including Rama and Krishna. The adherents of this sect are generally monastic and devoted to meditative practice and ecstatic chanting.
Ramanuj Cult :- They worship Lord Rama,and believe in the the epistemic and soteriological importance of bhakti, or the devotion to a personal God as a means to spiritual liberation.
Nimbhark Cult:- They propogated the Vaishnava Theology of Dvaitadvaita (dvaita-advaita) or "dualistic non-dualism".They worship Radha-Krishna.
Gauriya Cult:- Special influence in Radha Krishna worship in the region of Jaipur,Sawaimadhopur and Karauli.
Dadupanti Cult:- Dadu Dayal was a brahmin of Ahemdabad who founded the Dadhupant, his sermons of 5000 verses are found in Daduvani.The followers of Dadupant wear saffron clothes and main seat is at narena. The chief goal of the cult is attainment of untainted formless through the blessing of the preceptor by the way of following the path of knowledge and opposition to idolatry and discrimination.
Ram Snehi Cult: - worshiper of lord Rama with main seat at Banswara.
Kabirpanthi Cult: - They worship formless god, The saints belloging to Kabirpant do not marry and make people of all caste as their people.
Bishnoipanth Cult: - Jambaji is the pioneer of the cult and is thought to be incarcination of Lord Vishnu.
Nath Cult:-Prevalent in Jodhpur.
Saints of Rajasthan
Saints of Rajasthan can be characterized as Bhakti saints and Warior saints.
Famous Bhakti Saints of Rajasthan are:-
Dadu Dayal
Mira Bai
Lal Das
Charan Das
Mavaji
Warrior Saints of Rajasthan took the responsibility to protect the Dharma from the invaders and finally emerged as the protector of Brahmans,women, Cows and poor people from the invaders particularly the Muslims.They emphasized on the Karma.
Lok Devtas and Devis of Rajasthan
Tejaji
Pabuji
Ramdeoji
Gagoji
Mehaji
Harbhuji
Jambheshwarji
Mallinath
Mavaji
Makadji Devji
Mahavir
Bhomiya
Khetrapal
Mahamayas
Sheetla Mata
Aaiji
Sachiya Mata
Sakariya Mata
Holika Mata
Unification of Rajasthan in seven stages
| | | |
| --- | --- | --- |
| Matsya Union | Alwar, Bharatpur, Dholpur, Karauli | 17-03-1948 |
| Rajasthan Union | Banswara, Bundi, Dungerpur, Jhalawar, Kishangarh, Kota, Pratapgarh, Shahpura, Tonk. | 25-03-1948 |
| United State of Rajasthan | Udaipur also joined with the other Union of Rajasthan. | 18-04-1948 |
| Greater Rajasthan | Bikaner, Jaipur, Jaisalmer & Jodhpur also joined with the United State of Rajasthan. | 30-03-1949 |
| United State of Greater Rajasthan | Matsya Union also merged in Greater Rajasthan | 15-05-1949 |
| United Rajasthan | 18 States of United Rajasthan merged with Princely State Sirohi except Abu and Delwara. | 26-01-1950 |
| Re-organised Rajasthan | Under the State Re-organisation Act, 1956 the erstwhile part 'C' State of Ajmer, Abu Road Taluka, former part of princely State Sirohi which was merged in former Bombay, State and Sunel Tappa region of the former Madhya Bharat merged with Rajasthan and Sironj subdistrict of Jhalawar district was transferred to Madhya Pradesh. | 01-11-1956 |
Major Tribal Comunities of Rajasthan
Tribes of Rajasthan constitute 12% of the total population.The main tribal communities of Rajasthan are Bhil tribe and Meena tribe. The major concentration of these tribes of Rajasthan is found mainly in the foothill of Vindhya, Aravalli mountain ranges. Each and every tribes of Rajasthan have contributed with their unique customs and rituals, thereby making the whole of the culture of Tribes of Rajasthan are quite enriched. Their styles of making houses, festivals, costumes all bear witness to the cultural exquisiteness of the tribes of Rajasthan.
Major Tribal Comunities of Rajasthan are:-
1. Meena Tribe :-
Mina TribeMeena, also spelled as Mina, is a community principally found in the state of Rajasthan. The name of this community has been derived from the word Meen, which means fish in Sanskrit language. The Minas mainly reside in northern part of Rajasthan including some areas like Sawai Madhopur District, Dausa District, Jaipur, Dholpur and Karauli districts in Jaipur and Bharatpur region. The ancient Indian scripture Rig Veda depicts that the kingdom of the Meenas was called Matsya Kingdom in Sanskrit. The people of Meena tribe of Rajasthan had been worshipping Lord Shiva, Lord Hanuman and Lord Krishna as well as the Devis (Mother goddesses) till date. Meena tribal community shares space with other tribes including the community of Bhil tribe.The Mina community was ramified primarily in four basic sectors the Zamindar Mina, the Chaukidar Meenas, Parihar Meenas and the Bhil Meena.
2. Garasia Tribe :-
are basically concentrated in different parts of this state namely Kotra, Abu Road tehsil of Sirohi, Bali and Desuri tehsils of Pali districts, Gogunda and Kherwara tehsils of Udaipur.The word 'Garasias' is derived from the Sanskrit word 'gras' that signifies the substance.the houses of these Garasia tribes are small, a Garasia male of the household can perform all the household chores on his own. These Garasia tribes in general reside in one-room houses prepared from mud and bamboo. The society of the Garasia tribe is controlled by the Panchayet and the village head Patel takes the major decisions related to the village and the villagers. The position of a woman is not high in a Garasia tribal community. Like any other patriarchal society, the Garasia tribal females also are not permitted to possess property.
3. Bishnoi Tribe :-
Bishnoi tribe inhabits the area around Barmer and traces their ancestry to a saint and ascetic named Jambhaji, regarded by them as an incarnation of Lord Vishnu, whom they worship. The Bishnois are strict vegetarians and also ardent protectors of trees and wildlife. Ten doctrines among the twenty nine are directed towards personal hygiene and maintaining good basic health, seven for healthy social behaviour, and five tenets to worship God. Eight tenets have been prescribed to preserve bio-diversity and encourage good animal husbandry. The Bishnoi tribe worship the animals as god and maintain a healthy ecological balance of nature.Its important to mention the initiative by bishnoi community in preservation kejri tree.
4. Gadia Lohar Tribe :-
Gadia Lohar is a nomadic community of Rajasthan and this community literally means 'blacksmith in a vehicle'. Tattoos are popular among the Gadia Lohars and believed to ward off misfortune.
5. Meghval :-
This community has hailed from Marwar in Rajasthan.The primary occupation of Meghval community was weaving fabric specially Khadi.
6. Rabari Tribe :-
Rabari are the worshippers of Mata Devi and they worship her in all her natural elements, the most popular being the peacock feather and the conch shell.
7.Sahariya Tribe :-
Sahariya Tribe is the only primitive tribe of the Rajasthan state, residing in the Shahabad and Kishanganj Panchayat Samitis of Baran District.
8. Kalbeliya :-
The Kalbelias were known for their frequent movement from one place to another in ancient times. Their main occupation is catching snakes and trading snake venom. Hence, the dance movements and the costumes of their community bear a resemblance to that of the serpents. They are also known as Sapera, Jogira or Jogi. They follow Hinduism. They trace their ancestry from Kanlipar, the 12th disciple of Guru Gorakhnath.
Fairs of Rajasthan
1. Banganga Fair:-
It is said that the stream of Banganga was formed when Arjun, one of the Pandavas, shot an arrow to quench the thirst of dying Bhishma Pitamah, who was a brave warrior and had been badly wounded in the battle of Mahabharata.
2. Chandrabagha Fair:-
Thousands of devotees gather here at the time of fair to take a holy dip in the sacred waters of river Chandrabhaga.
3. Gogaji Fair:-
Gogaji is regarded as a saint by the Kayam Khani Muslims who are beieved to be his descendants. He is an eminent warrior-hero of the region. Hindus called him by the name of Goga Veer while Muslims call him Jahar Peer.
4. Jambheswar Fair:-
Jambheswar ji is considered an in carnation of Lord Vishnu himself, by the Bishnois. He always stood for self-control, truth and non-violence. Two temples of Jambheswar ji are situated near the town of Nokha – one in village Mukam and the other on the sand dune of Samarthal.
5. Kaila Devi Fair:-
One of the most venerated fairs of Rajasthan, Kaila devi fair is hels at the temple of Kaila Devi, who is worshipped as the guardian deity by the Yadavas, the Khinchis, and the princess of Karauli.
6. Kapil Muni Fair:-
The largest fair of Bikaner, Kapil Muni Fair is named after the Kapil who was a great sage, believed to have done 'tapasya' here for the redemption of mankind. Kapil Muni has been mentioned in Puranas and has been said to descend from Lord Brahma (the creator of the world) himself.
7. Karni Mata Fair:-
Karni Mata led an ascetic life and dedicated herself to the service of the poor and downtrodden and is believed to possess supernatural powers. She laid the foundation of Deshnok and her main followers are 'Charans'.
8. Khatu Shyamji Fair:-
Thousands of devotees visit the temple during this annual fair, many of them for performing the 'Jadula' ceremony of their children, where the child's head is shaven clean for the first time.
9. Khetlaji Fair:-
There are shops and festivity that is characteristic of all Rajasthani fairs. The bubbling people who throng to the fair in their colorful attire certainly add the charms to this gala occasion.
10. Mallinath Fair:-
One of the biggest cattle fairs of Rajasthan, Mallinath Fair is just the right place to visit to look out for highly popular breeds of cattle such as cows, camels, sheep, goats and horses.
11. Nagaur Fair:-
The famous Nagaur fair is known for the cattle tradesmen with colorful turbans and long mustaches that come there with their fine breed of camels, horses, cows, and bullocks.
12. Pushkar Fair:-
One of the most sought-after fair in Rajasthan, a lot of tourists come to Pushkar Fair on pilgrimage as well as to see the display of a mystifying array of items.
13. Ramdevra Fair:-
Baba Ramdev was a Tanwar Rajput who took 'Samadhi' (left his mortal body for the heavenly abode) in 1458 AD. He was believed to have miraculous powers and is considered an incarnation of Lord Krishna.
14. Sheetla Mata Fair:-
It is said that if the wrath of Sheetla Mata is let loose, then epidemics spread. This fair is held to make offerings and worship the deity to please her and keep her pacified. In the shrine, a red stone represents the deity.
15. Shri Mahavirji Fair:-
A sacred place to Digambar Jains, followers of Mahavir ji, they come from far off places to pay their homage to the venerated saint at the Mahavirji temple, situated in an enclosure known as 'Katala'.
16. Sitabari Fair:-
As the legend goes, Sita, the wife of Lord Ram, was left by Lakshman here to serve the period of her banishment. He also shot an arrow from where a stream of clear water sprouted for Sita.
17. Urs Fair:-
The remains of Sufi saint Khwaja Moin-ud-din Chishti lie buried in 'Dargah Sharif' in Ajmer and are held in held in great reverence by devotees of all communities. Khwaja had come from Persia and established Chishtia order of 'fakirs' in India.
Festivals of Rajasthan
Holi
Diwali
Bhai Dooj
Rakhi
Dushera
Muharram
Hadoti Festival, Kota
Braj Festival, Bharatpur
Desert Festival, Jaisalmer
Summer Festival, Mt. Abu
Marwar Festival, Jodhpur
Camel Festival, Bikaner
Gangaur Festival, Jaipur
Teej Festival, Jaipur
Mewar Festival, Udaipur
Folk Music of Rajasthan
Rajasthan has a diverse collection of musician castes, including langas, sapera, bhopa, jogi and Manganiar. There are two traditional classes of musicians: the Langas, who stuck mostly exclusively to Muslim audiences and styles, and the Manganiars, who had a more liberal approach.
Manganiar are professional hereditary caste musicians. They mostly live in Jaisalmer and Barmer districts of Rajasthan.They play an interesting string instrument played with a bow. It is know as Kamaicha.
Manganiars (Though Muslims) sing invariable among Hindu patron families. They serve during childbirth, weddings and other ceremonies. Manganiars are very good are rhythmic instruments like Dholak and Khadtal. Their musical compositions are very complex and have improvisatory rules build into it. Virtuoso rhythm playing has largely added to their success in music.
Langas are professional caste musicians. They live in western Rajasthan and provide musical service to Sindhi Sipahi community. They sing songs related to life-passage ceremonies i.e. birth, marriage and related ceremonies or festivals.
Historically for at least four hundred years the group has been providing music on Gujratan and Sindhi Sarangi. This evolved chordophone, the Sindhi Sarangi has helped them to enhance the quality of compositions.
The Langas continue to serve their patrons but for the last two decades, they have become a big force in representing folk music of Rajasthan on all types of electronic and other popular medias. They are widely travelled artists in the whole world. They have a strong voice and have an improvisatory technique to improve the quality of songs.
Folk Dances of Rajasthan
Ghoomar Dance
Kachi Ghori Dance
Gair Dance
Panihari Dance
Sekhawati's Geendada Dance
Chang Dance
Dandiya Dance
Dhol Dance
Bum Dance
Tera Taali Dance
Chari Dance
Folk Dances of Nomadic Tribe:-
Kalbeliya Dance
Shankaria Dance
Panihari Dance
Idoni Dance
Sankhiyas Dance
Banjara Dance
Bagariya Dance
Bhawai Dance