The document About CAT - Eligibility Criteria, Test Pattern, Exam Format, Important Dates, Colleges under it etc. CAT Notes | EduRev is a part of the
CAT
Course
CAT Mock Test Series
.
About CAT
The Common Admission Test (CAT) is an all-India test conducted by the Indian Institutes of Management (IIMs) as an entrance exam for admission to the Post-graduate and Fellow Programs in management courses of several management institutes all over India including the IIMs.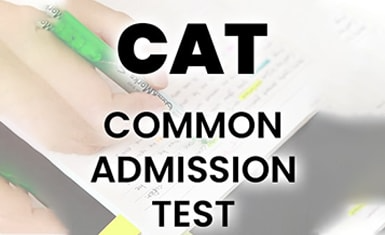 The CAT score is used separately by each institute along with other parameters, i.e. academic performance, work experience, group discussion, written assessment and interview performance etc. to select candidates.
The weightage assigned to CAT score may differ for each institute. Candidates are advised to read the weightage, process, and breakup for each institute on its respective website.
➢ CAT 2021 Exam Overview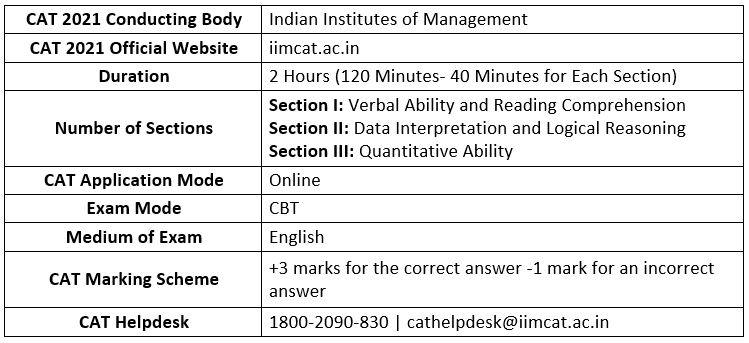 ➢ CAT 2021 Notification
The official notification for CAT 2021 will be out in the last week of July 2021.
The conducting body announced the schedule for CAT at the official website, i.e. iimcat.ac.in.
All exam-related events and dates are mentioned below. Make sure you do not miss any of these.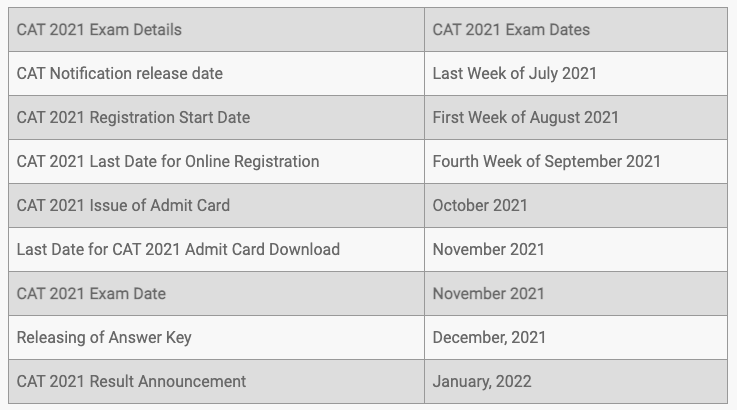 ➢ CAT 2021 Eligibility Criteria
In order to be eligible for CAT Exam, an aspirant must be a graduate degree holder in any stream.
Candidates appearing in the final year/semester of their degree program can also apply for CAT 2021.
Candidates with CA/CS/ICWA degree (Gen: 50% & SC/ST/ PWD: 45%) are also eligible.
As for CAT Age Limit, there is no minimum/ maximum limit defined. There is also no restriction on the number of attempts.
The percentage requirement for the exam is different for different categories. It is explained in the table below:

➢ CAT Reservation Criteria: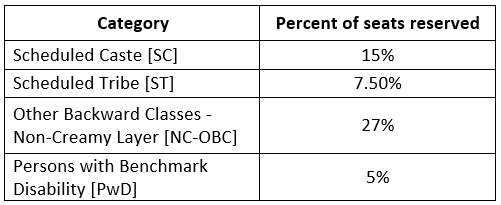 As defined in The Rights of Persons with Disabilities Act, 2016 (RPwD Act 2016), "person with benchmark disability" means a person with not less than forty percent (40%) of a specified disability where specified disability has not been defined in measurable terms and includes a person with a disability where specified disability has been defined in measurable terms, as certified by the certifying authority.
"Specified Disability" means the disabilities as specified in the Schedule of the RPwD Act 2016.
The categories of disability are:
(a) Blindness and low vision.
(b) Deaf and hard of hearing.
(c) Locomotor disability including cerebral palsy, leprosy cured, dwarfism, acid attack victims, and muscular dystrophy.
(d) Autism, intellectual disability, specific learning disability, and mental illness.
(e) Multiple disabilities from amongst persons under clauses (a) to (d).
(f) Other 'specified disabilities' mentioned in 'The Schedule' of the RPwD Act 2016.
For the purpose of being considered for reservations, the applicable Central Government list as of the last date of CAT registration shall be binding. No subsequent changes will be effective for CAT 2019 and any subsequent selection process of the IIMs.
➢ Registration
The candidates are required to register themselves within the time the registration window remains open.
At the time of registration, the candidates have to select any four Test Cities as per their preference from the drop-down menu.
After the last date of registration, candidates will be allotted one among the four preferred cities subject to availability.
In the rare case that a candidate is not allotted any of the preferred cities, he/she will be allotted a nearby city.
➢ Payment of CAT Registration Fee
Please note that a candidate needs to pay a registration fee only once, irrespective of the number of institutes he/she is applying for.
SC, ST, and PwD candidates must upload a copy of their SC/ST/PwD certificates at the time of registration.
Fee once paid cannot be refunded under any circumstances.
➢ Test Duration & Pattern of CAT
The duration of the test will be 120 minutes.
There will be three sections:
Section I: Verbal Ability and Reading Comprehension
Section II: Data Interpretation and Logical Reasoning
Section III: Quantitative Ability

Candidates will be allotted exactly 40 minutes for answering questions in each section and they will not be allowed to switch from one section to another while answering questions in a section.
Some questions in each section may not be of multiple-choice type. Instead, direct answers will have to be typed on the screen. The tutorials will clearly explain this. Also, we will allow the use of the basic on-screen calculator for computation.

➢ Exam Format
CAT is a computer-based test, conducted in multiple cities. A candidate can select his / her test date and slot as per choice and availability.
➢ CAT Syllabus
There is no specific syllabus for CAT 2021. The experts have laid out the CAT syllabus 2021 based on the previous years' exam analysis and the topics covered. While there might be a few topics that will be added to the syllabus and some topics might get omitted, the overall syllabus is likely to remain the same.
➢ Admit Card of CAT 2021
Admit Cards for the management exam will be available from October 28 onwards at the official website of CAT 2021.
CAT Hall Ticket contains personal details and exam-related details such as test venue, session.
It is a provisional document and must be supported at the test center with a valid photo id issued by the Govt of India.
➢ Documents Required with Admit Card
Aadhaar Card
Voter ID Card
Passport
PAN Card
Driving License
Photo ID issued by current education institute or employer among others
➢ CAT 2021 Result
CAT 2021 Result is expected in the 2nd week of January 2022. The conducting body of CAT 2021 will release the scorecards on the official website. An SMS will also be sent to all test-takers, informing them about their CAT Percentile. CAT Score is valid for 1 year.
The step-wise process to obtain CAT result is given below:
Visit the official website of CAT.
Click on 'Download CAT Score Card'.
You will be redirected to the login page.
Enter your User Id and Password.
You will be redirected to your candidate's account page.
Click on the Download Scorecard link and download it for future correspondence.
➢ Normalization in CAT Scores
CAT is conducted in two sessions. Two different Test Forms are administered in two Test Sessions. In order to ensure fairness and equity in comparison of performances of the candidates across different test sessions, the scores of the candidates are subjected to a process of Normalization.
The Normalization process adjusts for location and scale differences of score distributions across different forms. After normalization across different forms, the scores are further normalized across different sections. The scaled scores obtained by this process are converted into percentiles for the purposes of shortlisting.
For reporting purposes, Scaled Scores for each section (Section I: Verbal Ability and Reading Comprehension (VARC), Section II: Data Interpretation and Logical Reasoning (DILR), and Section III: Quantitative Ability (QA)) and Total along with the Percentiles are published.
The process of Normalization is an established practice for comparing candidate scores across multiple Forms and is similar to those being adopted in other large educational selection tests conducted in India, such as the Graduate Aptitude Test in Engineering (GATE).
Top Colleges Under CAT

IIMs: IIMs are the member institutes that conduct and accept CAT scores by default and do not need any Institutional registration for CAT.
Non-IIMs: All the Non-IIMs whether Government or Private University Department; university affiliated college; Autonomous MBA college; Private PGDM college, they have to sign the MoU to accept CAT score and have to pay the requisite Institutional CAT Registration fee to IIMs. There are at present 20 IIMs.
Other prominent B- Schools (not in any particular order) that accept CAT scores are: