Acrylonitrile, Acrylic Fibre, Modified Acrylic Fibre, Polyurethane
Acrylic fibres are third largest class of synthetic fibre after polyester and nylons. Commercial acrylic fibre was developed by Dupont in US as Orlon while modified acrylic fibre was developed by Union carbide as Dynel. In acrylic fibre monomer is acrylonitrile while in case of modified acrylic fibre acrylonitrile is co polymerised with Vinylidiene chloride vinyl chloride. The halogenated monomers impart flame resistance and are suitable for home furnishing, protective coatings, sleepwear, and hospital blankets. Characteristics of acrylic fibre and modified acrylic fibre are mention in Table M-VIII 7.1.
Acrylic fibres are soft, light weight, durable strong, high crease recovery, color fastness to both washing & sunlight, easy care- easy laundry &low maintenance cost, high abrasion resistance, good aesthetics-high lustre, good wicking action- helps in quick transfer of moisture & sweat resulting in quick drying, no allergic and non toxic, resistance to mild & insects, oils, chemicals. It is very resistant to deterioration from sunlight exposure.
Polyurethane are another important polymer which find application in manufacture of flexible, high resilience foam seating; rigid foam insulation panels, microcellular foam seals and gaskets; durable elastomeric wheels tires; automotive suspension bushings, electrical potting compounds; high performance adhesives; surface coatings and surface sealants; synthetic fibre
Table M-VIII 7.1: Major Synthetic Fibers and Their Characteristics
Name of the synthetic fiber

Monomer

Basic

chemicals

Properties of the synthetic fiber

Characteristics

Den

sity

Moist

ure

regai

n

Meltin g point

Acrylic Fiber

Acrylonitrile

Propylene,

ammonia

1.17

1.5­

2.5

Sticking

point=

235 oC

Silk like lustre,

good resistance to weathering, alkalies and acids, high bulking, tensile strength 2-3 gm/denier.

Elongations at break 16-21%.

Modified

Acrylics

Acrylonitrile,

vinyl

chloride,

vinylidene

chloride

Propylene,

ammonia,

ethylene

1.5­

2.5

Sticking

point=

235 oC

Good resistance to

weathering, alkalies and acids, high bulking, good resistance to

combustion.

Polypropylene

Propylene

Propylene

0.85­

0.94

< 0.1

168­171 oC

Good resistance to

bacteria, chemical and water.
Acrylonitrile(CH2=CH-CN)
Acrylic nitrile is one of the important monomer for manufacture of acrylic fibres, however, earlier routes of acrylonitrile manufacture by acetylene, ethylene oxide or acetaldehyde route has being replaced by propylene route due to availability of cheaper propylene from steam cracker plant. This involves ammono-oxidation of propylene. Other uses of acrylonitrile are in the manufacture of nitrile rubber, ABS and SAN plastics, adiponitrile and acrylamide. In addition it is also used in the manufacture of acrylates, intermediates for flocculants, pharmaceuticals, antioxidants, dyes and surface active agents. Various route of acrylonitrile manufacturing shown in Figure M-VIII 7.1.
Acetylene Route

Ethylene Oxide Route


Acrylonitrile (CH2=CH-CN)


Figure M-VIII 7.1: Various Routes for the Manufacture of Acrylonitrile
Acrylonitrile by Ammoxidation of Propylene
Acrylonitrile by Ammoxidation of Propylene A typical acrylonitrile plant consists of reactor section, acrylonitrile recovery section, acrylonitrile purification section and HCN purification section. Propylene, ammonia and air are fed to fluidised bed catalytic reactor where ammoxidation of propylene – a highly exothermic reaction occurs. Manufacturing process technology shown in Figure M-VIII 7.2.
Process steps involve are
Catalyst preparation: bismuth and molybednum
Mixing of propylene, ammonia qnd oxygen in 1:1:6
Reaction section: Macrylonitrile acetonitrile, hydrogen cyanide , unreacted ixture of propylene, ammonia and oxygen are fed to fludised bed reactor. Various product from reactor are qnd oxygen. Reaction is higly exothermic.
Removal of ammonia
Absorption of absorbable component from ammonia free gas in water to separate the non-condensable and unconverted propylene, propane, nitrogen, CO and CO2.
Stripping of organic components and separation of HCN
Separation of Acrylonitrile and acetonitruile which are close boiling boiling compounds. And are separated by extractive distillation using water as solvent. A dil solution of acrylonitrile is separated which is recovered and concentrated
Purification of acetonitrile
Final purification of acrylonitrile
Reactions:
Formation of acrylonitrile occurs by the following reaction:
Overall reaction:

Side reactions: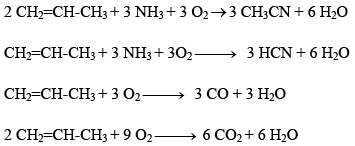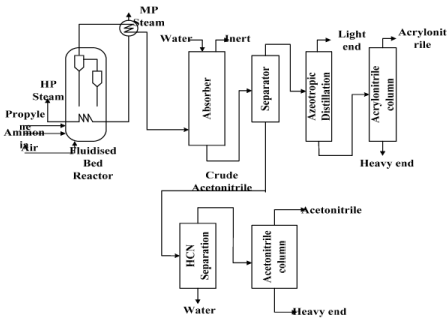 Figure M-VIII 7.2: Process Technology of Acrylonitrile Manufacture
Acrylic Fibre Manufacture
Acrylic fibres are third largest class of synthetic fibre after polyester and nylons. Commercial acrylic fibre was developed by Dupont in US as Orlon while modified acrylic fibre was developed by Union carbide as Dynel.
Process Technology
Manufacturing process shown in Figure M-VIII 7.3. The manufacturing process can be broadly divided into two parts:
Polymerisation: Polymerisation includes copolymer composition, catalyst system, polymerisation reaction and monomer recovery. Major polymerisation processes are bulk polymerisation, suspension polymerisation, emulsion polymerisation and solution polymerisation. Most of the acrylic polymers manufactured for fiber grade are made through suspension polymerisation that gives high percentage of conversion, better product whiteness, shorter residence time and easy control of polymerisation. Emulsion polymerization is used incase of modified acrylic fibre. Inorganic compounds such as persulphate, chlorates or hydrogen peroxide are used as radical generators.
Redox initiation is normaaly used in production of acrylic fibre. The most common redox system consist of ammonium or potassium persulphate (oxidizer), sodium bisulphate (reducing agent) and ferric or ferrous ion (catalyst)
Spinning: Spinning includes solution/dope preparation, spinning techniques and finishing operation including after treatment, cutting and bailing.
Dry Spinning: In dry spinning of acrylic fibre dimethyl formamide (DMF) is used. The DMF spin dope contains the polymer in the DMF, thermal stabilizers, delustrant. It passed through spinnerate placed at top of the solvent removal tower. The DMF evaporated by circulating inert gas through tower at about 300-35 oC to remove the solvent
Wet Spinning: In wet spinning sodium thiocyanate are commonly used as solvent. Wet spinning fiber is spun into a liquid bath containing a solvent non-solvent mixture called coagulant. Nonsolvent is usually water. The fibre emerging from spin bath are washed and dried followed by cutting and bailing.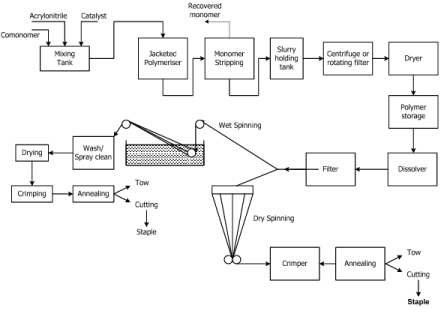 Figure M-VIII 7.3: Process Flow Diagram of Manufacture of Acrylic Fiber
Polyurethane
The polyurethanes which were discovered by Otto Bayer and co-workers in 1937 are versatile class of thermosetting polymers and offer the elasticity of rubber combined with toughness and durability of metal. Worldwide demand for polyurethane expected to grow at CAGR of 5.8percent from 12.0 million tones tones in 2010 to 116.88 million tones in 2016, with Asia pacific region accounting for over 60percent of this figure, according to GBI research. The global market value of polyurethane will rise in the coming years, with thermal insulation becoming a key material application. According to GBI research flexible and rigid polyurethane foams made up the bulk of the total endues segment in 2010, accounting for 60percent of the full amount .
Polyurethane is polymer formed by combining two or more isocyanate functional group and two or more hydroxyl groups. The alcohol and isocyanate groups combine to form a urethane linkage. Polyurethanes made by addition of polyols and polyfunctional isocyanates. Commonly used isocyanates are toluene di-isocyanate (TDI), diphenyl methane diisocyanate (MDI), Hexamethylene di-isocyanate (HDI).
Polyols may be either polyether polyols or polyester polyols. However, polyether polyols are more commonly used. Catalyst used in polyurethane manufacture are–aliphatic and cycloaliphatic tertiary amines and organic tin compounds. Typical reaction involved by reaction of poly isocynates and poly hydroxy compounds is:
NOC-R-NCO + NHO-R'-OH→(R-NH-COO-R'-OCO-NH)n
Diisocynate Diol Linear polyurethane
Polyurethane Foam
Poloyuretane rigid foam are characterized by good structural strength, excellent adhesion to most substance, processing flexibility and long life. Rigid polyurethane foams are most widely preferred insulation and find application in refrigerator, manufacture of thermo-ware, cold sore panel, refrigerated trucks and wagons. A rigid polyurethane foam is a cellular polymer in which the individual small cells are filled with a gaseous blowing agent which imparts the remarkably low thermal conductivity to these foams