Computer Science Engineering (CSE) : Addressing sequencing - Computer Organization and Architecture | EduRev Notes
Addressing sequencing
Microinstructions are stored in control memory in groups, with each group specifying a routine.
Each computer instruction has its own microprogram routine in control memory to generate the microoperations that execute the instruction.
To appreciate the address sequencing in a microprogram control unit:

An initial address is loaded into the control address register when power is turned on in the computer.
This address is usually the address of the first microinstruction that activates the instruction fetch routine.
The control memory next must go through the routine that determines the effective address of the operand.
The next step is to generate the microoperations that execute the instruction fetched from memory.

The transformation from the instruction code bits to an address in control memory where the routine is located is referred to as a mapping process.
The address sequencing capabilities required in a control memory are:

Incrementing of the control address register
Unconditional branch or conditional branch, depending on status bit conditions
A mapping process from the bits of the instruction to an address for control memory
A facility for subroutine call and return

Fig. 3-2 shows a block diagram of a control memory and the associated hardware needed for selecting the next microinstruction address.
The microinstruction in control memory contains

a set of bits to initiate microoperations in computer registers
Other bits to specify the method by which the next address is obtained
Sequencing Capabilities Required in Control Storage
Incrementing of the control address register
Unconditional and conditional branches
A mapping process from the bits of the machine instruction to an address for control memory
A facility for subroutine call and return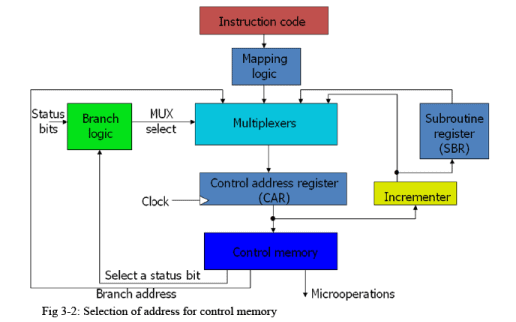 Conditional Branching
The branch logic of Fig. 3-2 provides decision-making capabilities in the control unit.
The status conditions are special bits in the system that provides parameter information.

e.g. the carry-out, the sign bit, the mode bits, and input or output status

The status bits, together with the field in the microinstruction that specifies a branch address, control the conditional branch decisions generated in the branch logic.
The branch logic hardware may be implemented by multiplexer.

Branch to the indicated address if the condition is met;
Otherwise, the address register is incremented.

An unconditional branch microinstruction can be implemented by loading the branch address from control memory into the control address register.
If Condition is true, then Branch (address from the next address field of the current microinstruction) else Fall Through
Conditions to Test: O(overflow), N(negative), Z(zero), C(carry), etc.
Unconditional Branch
Fixing the value of one status bit at the input of the multiplexer to 1
Mapping of Instructions
A special type of branch exists when a microinstruction specifies a branch to the first word in control memory where a microprogram routine for an instruction is located.
The status bits for this type of branch are the bits in the operation code part of the instruction.
One simple mapping process that converts the 4-bit operation code to a 7-bit address for control memory is shown in Fig. 3-3.

Placing a 0 in the most significant bit of the address
Transferring the four operation code bits
Clearing the two least significant bits of the control address register

This provides for each computer instruction a microprogram routine with a capacity of four microinstructions.

If the routine needs more than four microinstructions, it can use addresses 1000000 through 1111111.
If it uses fewer than four microinstructions, the unused memory locations would be available for other routines.

One can extend this concept to a more general mapping rule by using a ROM or programmable logic device (PLD) to specify the mapping function.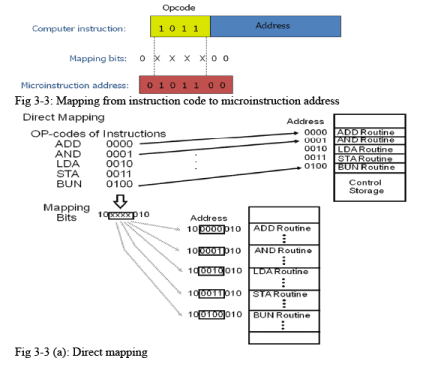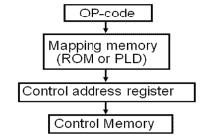 Fig 3-3 (b): Mapping Function Implemented by ROM and PLD
Mapping from the OP-code of an instruction to the address of the Microinstruction which is the starting microinstruction of its execution microprogram.

Subroutine
Subroutines are programs that are used by other routines to accomplish a particular task.
Microinstructions can be saved by employing subroutines that use common sections of microcode.
e.g. effective address computation
The subroutine register can then become the source for transferring the address for the return to the main routine.
The best way to structure a register file that stores addresses for subroutines is to organize the registers in a last-in, first-out (LIFO) stack.