Group II Elements (Alkaline earth Metals):
(1) The Elements are Be, Mg, Ca, Sr, Ba, Ra,
(2) Outermost Electronic configuration :- ns2
(3) Atomic and ionic sizes
* The atomic and ionic radii of the alkali earth metal are smaller than corresponding alkali metals.
Reason : higher nuclear charge (Zeff)
* On moving down the group size increase, as value of n increases.
Be < Mg < Ca < Sr < Ba
(4) Ionization Enthalpy
Be > Mg > Ca > Sr > Ba
Down the group IE decreases due to increase in size.
Q. IE1 of AM < IE1 of AEM
IE2 of AM > IE2 of AEM
[Where AM = Alkali metal, AEM = Alkaline earth metal]
Reason: IE1 to AEM is large due to increased nuclear charge in AEM as compared to AM but IE2 of AM is large because second electron in AM is to be removed from cation which has already acquired noble gas configuration.
(5) Melting and Boiling points
They have low m.p. and b.p. but are higher than corresponding value of group I.
Reason : They have two valence electrons which may participate in metallic bonding compared with only one electron in AM. Consequently, group II elements are harder and have higher cohesive energy and have much higher m.p./b.p. than A. M.
M.P. :Be > Ca > Sr > Ba > Mg
B.P. :Be > Mg > Ca > Ba > Sr
(6) Electropositive and Metallic character
Due to low IE they are strong electropositive but not as strong as AM because of comparatively high IE.
The electropositive character increases down the group.
Be < Mg < Ca < Sr < Ba
(7) Oxidation state
Show + 2 oxidation state.
Chemical Properties
(1) Reactivity towards Air or Oxygen
Be and Mg are kinetically inert towards oxygen because of formation of a film of oxide on their surface.
However powdered Be burns brilliantly.


*BeO, MgO are used as refractory, because these have high m.p.
*Other metals (Ba or Sr form peroxide)

(2) Reaction with H2O
AEM's have lesser tendency to react with water as compared to AM. They form hydroxides and liberate H2 on reaction with H2O.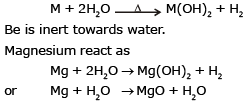 MgO forms protective layer, that is why it does not react readily unless layer is removed amalgamating with Hg. Other metals react quite readily (Ca, Sr, Ba).
Note: Be(OH)2 is amphoteric but other hydroxides are basic in nature.
(3) Reaction with Acids & Bases- AEM react with acids & liberate H2.
Mg + 2HCl → MgCl2 + H
Be is amphoteric as it also reacts with NaOH, other metals do not react as they are purely basic.

(4) Tendency to form Complexes-
AEM's have tendency to form some stable complexes. Among these Be and Mg have maximum tendency due to their small size and high charge density.

(5) Reactivity with NH3-
Like AM, the AEM (only Ca, Sr, Ba) dissolve in by NH3 to give deep blue -black solutions having ammoniated cations, and ammoniated electrons.
(6) Reaction with Carbon-
AEM when heated with carbon from carbides
*Be form Be2C
*Mg, Ca, Sr, Ba form carbides of the formula MC2.