Amino acids are building blocks of proteins. Proteins are composed of 20 different amino acids (encoded by standard genetic code, construct proteins in all species). Their molecules containing both amino and carboxyl groups attached to the same α-carbon (L-α-amino acids). Their chemical structure influences three dimensional structure of proteins. They are important intermediates in metabolism (porphyrins, purines, pyrimidines, creatin, urea etc). They can have hormonal and catalytic function. Several genetic disorders are cause in amino acid metabolism errors (aminoaciduria - presence of amino acids in urine).
Basic structure of amino acids:
Each amino acid (except for proline) has:
1. A carboxyl group (—COO–) .
2. An amino group (—NH3+) .
3. Side chain ("R-group") bonded to the α-carbon atom.
These carboxyl and amino groups are combined in peptide linkage.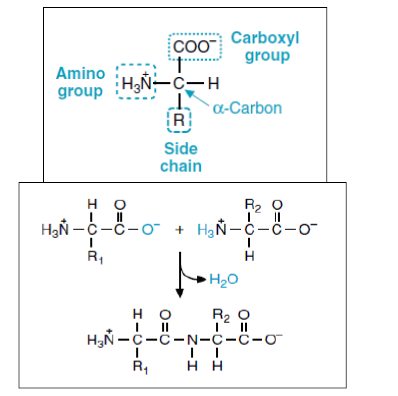 Classification of Amino Acids:
They classified according to the side chain:
1. Amino acids with Non-polar side chains.
2. Aromatic R Groups.
3. Amino acids with uncharged polar side chains.
4. Positively Charged (Basic) R Groups.
5. Amino acids with acidic side chains.
1. Non-polar side Chains
The side chain of proline and its α-amino group form a ring structure. Proline gives the fibrous structure of collagen, and interrupts the α-helices found in globular proteins.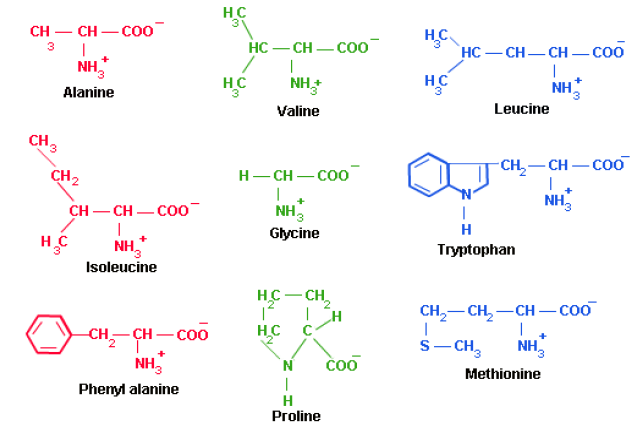 2. Aromatic (R) Groups
Aromatic side chains are non-polar so that they can participate in hydrophobic interactions. Tyrosine is an important in some enzymes. Most proteins absorb light at a wavelength of 280 nm due to aromatic groups.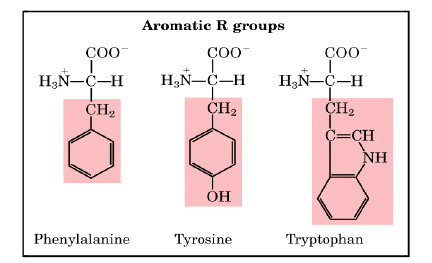 3. Uncharged polar side chains
More hydrophilic as they form hydrogen bonds with water. They include serine, threonine, cysteine, asparagine, and glutamine. Cysteine contains a sulfohydryl group (-SH), an important component of the active site of many enzymes.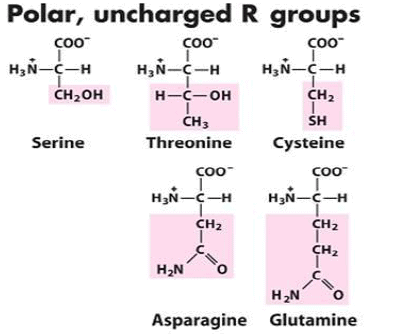 Two cysteines can get oxidized to form a dimmer cystine, which contains a covalent cross-link called a disulfide bond (—S—S—).
Serine and threonine contain a polar hydroxyl group. Amide group of asparagine, as well as the hydroxyl group of serine or threonine serve as a site of attachment for oligosaccharide chains in glycoproteins.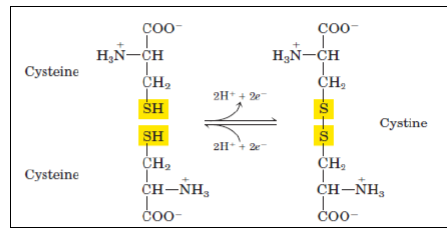 4. Basic (R) Groups:
The R groups have significant positive charge. Lysine has a second positive amino group at the ε position on its (R) chain. Arginine has a positively charged guanidine group. Histidine has a positive imidazole group which facilitates the enzyme-catalyzed reaction by serving as a proton donor/acceptor.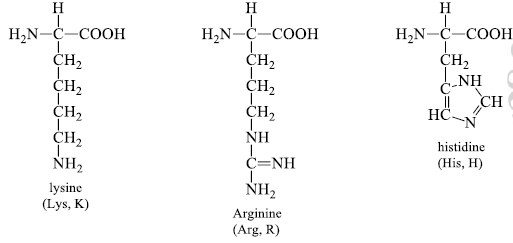 5. Acidic Side Chains
Aspartic and glutamic acid are proton donors. At neutral pH, the side chains of these amino acids are fully ionized. They have a negatively charged carboxylate group (-COO-) at physiologic pH.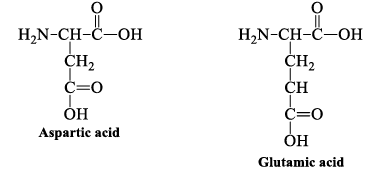 Optical Properties of Amino Acids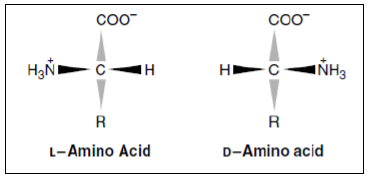 The α-carbon of amino acid is attached to four different chemical groups is chiral or optically active carbon atom. Glycine is the exception. Amino acids exist in two forms, D and L, that are mirror images of each other. All amino acids found in proteins are of the
L-configuration.
Zwitter ions
Amino acids exist as zwitterions, a dipolar ion that results from an internal acid-base reaction.
[Note that the net charge of the zwitterion is zero].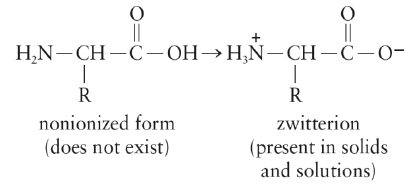 Isoelectric point
The isoelectric point is the pH at which an amino acid has a net charge of zero.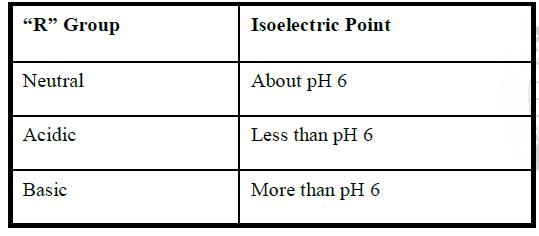 At pH values above the isoelectric point, the amino acid has a net negative value.
At pH values below the isoelectric point, the amino acid has a net positive value.

Amino acid solutions can act as buffers because they react with both H3O+ and OH-.
Properties that result from existing as zwitterions:
• White crystalline solids
• Relatively high melting points
• High water solubility
Amino acid analysis
1. Electrophoresis: Separation of Amino Acids
In electrophoresis, an electric current is used to separate a mixture of amino acids, and
The positively charged amino acids move toward the negative electrode
The negatively charged amino acids move toward the positive electrode
An amino acid at its pI does not migrate
The amino acids are identified as separate bands on the filter paper or thin layer plate
Example: With an electric current, a mixture of lysine, aspartate, and valine are separated.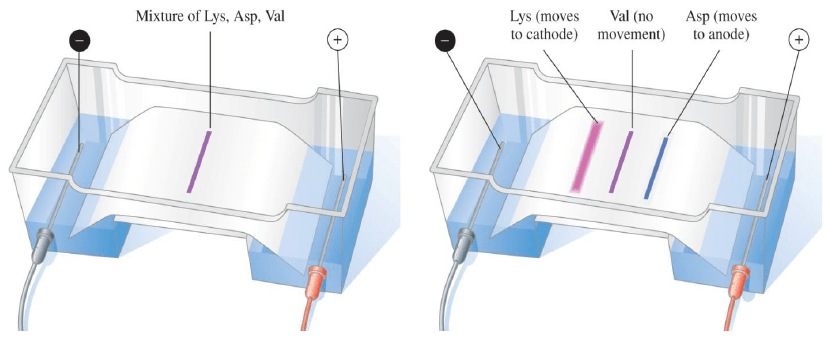 2. Acid-hydrolysis
Acid-hydrolysis of the peptide (6 M HCl, 24 hr) gives a mixture of amino acids. The mixture is separated by ion-exchange chromatography, which depends on the differences in pI among the various amino acids. Amino acids are detected using Ninhydrin. Automated method requires only 10–5 to 10–7 g of peptide.
Partial Hydrolysis of Peptides and Proteins
Acid-hydrolysis of the peptide cleaves all of the peptide bonds. Cleaving some, but not all, of the peptide bonds gives smaller fragments. These smaller fragments are then separated and the amino acids present in each fragment determined.Enzyme-catalyzed cleavage is the preferred method for partial hydrolysis.
Carboxypeptidase:
Carboxypeptidase is a proteolytic enzyme (catalyzes the hydrolysis of proteins). Carboxypeptidase is selective for cleaving the peptide bond to the C-terminal amino acid.

Trypsin
Trypsin is selective for cleaving the peptide bond to the carboxyl group of lysine or arginine.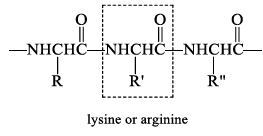 Chymotrypsin
Chymotrypsin is selective for cleaving the peptide bond to the carboxyl group of amino acids with an aromatic side chain.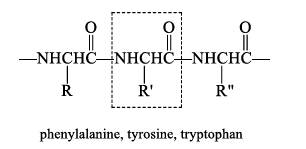 End Group Analysis
Amino sequence is ambiguous unless we know whether to read it left-to-right or right-to-left. We need to know what the N-terminal and C-terminal amino acids are. The C-terminal amino acid can be determined by carboxypeptidase-catalyzed hydrolysis. Several chemical methods have been developed for identifying the N-terminus. They depend on the fact that the amino N at the terminus is more nucleophilic than any of the amide nitrogens.
Sanger's Method
The key reagent in Sanger's method for identifying the N-terminus is 1-fluoro-2,4-dinitrobenzene.
1-Fluoro-2,4-dinitrobenzene is very reactive toward nucleophilic aromatic substitution.
1-Fluoro-2,4-dinitrobenzene reacts with the amino nitrogen of the N-terminal amino acid.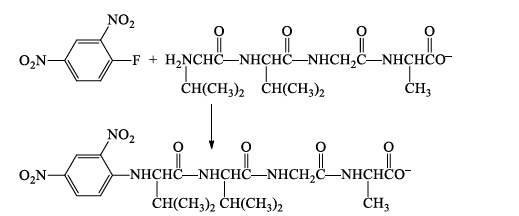 Acid hydrolysis cleaves all of the peptide bonds leaving a mixture of amino acids, only one of which (the N-terminus) bears a 2,4-DNP group.
Peptides
Proteins are instrumental in about everything that an organism does. Like structural support, storage, transport of other substances, intercellular signaling, movement, defense against foreign substances, Proteins are the main enzymes in a cell and regulate metabolism by selectively accelerating chemical reactions. Humans have tens of thousands of different proteins, each with their own structure and function.
Proteins are the most structurally complex molecules known.
They are polymers made up of amino acid units (residues) that are linked together through the formation of amide bonds (peptide bonds) from the amino group of one residue and the carboxylate of a second residue.

The amide (peptide) bond has C=N double bond character due to resonance resulting in a planar geometry.

The N-H bond of one amide linkage can form a hydrogen bond with the C=O of another.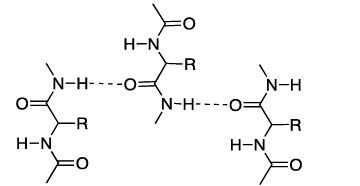 Disulfide bonds: the thiol groups of cysteine can be oxidized to form disulfides (Cys-S-S-Cys).