Atterberg limits
The physical properties of clays are significantly influenced by the amount of water present in the soil. Four states or stages are used to describe the consistency (the term used to describe whether soil is very soft, soft, medium, stiff or hard) of clayey soils depending upon the amount of water present in them, these are: Liquid State, Plastic State, Semi-Solid State and Solid State. The water contents at which soil changes its state from one to another is called consistency limits or Atterberg limits. If fine-grained soil is mixed with significant amount of water it is called Liquid State of the soil. In this state soil has practically no resistance to flow. If the amount of water is reduced from the soil then soil will change its state from liquid to plastic and from plastic to semi-solid and from semi-solid to solid. The water content at which soil changes it state from liquid to plastic is called Liquid Limit (wL), from plastic to semi-solid is called Plastic Limit (wP) and from semi-solid to solid is called Shrinkage Limit(wS). Figure 3.3 shows the variation of volume of soil with water content at different states or stages of the soil. As the water content decreases the volume of soil also decreases upto shrinkage limit and after that no volume change is observed due to the reduction of water content. This is due to the fact that upto shrinkage limit, the soil is fully saturated and beyond shrinkage limit the degree of saturation is 100%-0%. Thus, before shrinkage limit as the water content is reduced an equal amount of volume reduction takes place in the soil. In liquid state, in terms of consistency soil is liquid (does not have any shear strength), in plastic state, the state of soil varies from soft to stiff and in semi-solid and solid states it varies from stiff to very hard. In plastic stage, soil can be moulded to any shapes due to its plasticity. In semi-solid state, soil becomes brittle (does not have plasticity) and the brittleness further increases as it goes to solid state. The strength of the soil increases as the amount of water reduces from it.
Based on the various limits, some index properties of the soil are determined. Plasticity index (IP) of the soil is difference between liquid limit and plastic limit. Thus,

(3.2)
Plasticity index is used to indicate the degree of plasticity of the soil. If IP = 0, the soil is non-plastic (sand). For low plastic soil, IP <7, for medium plastic soil, IP value lies in between 7 to 17 and for high plastic soil, IP > 17 (Ranjan and Rao, 2000). When plastic limit is equal to or greater than liquid limit, Ip is considered as zero.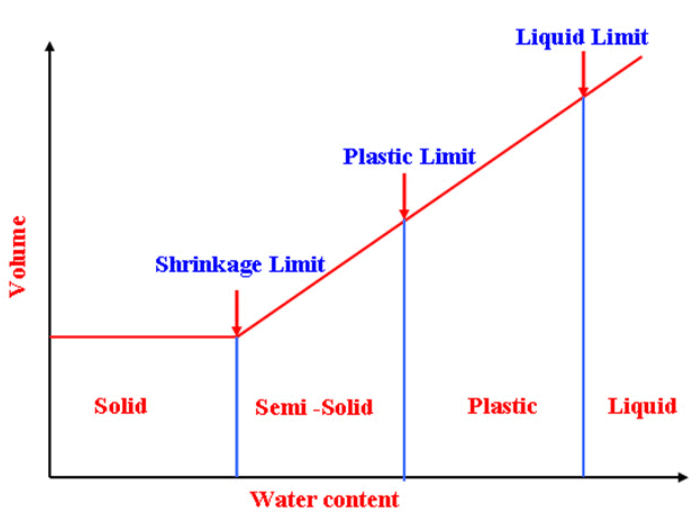 Figure 3.3. Atterberg limits
Consistency Index (IC) is the ratio of the difference between the liquid limit and natural water content of the soil to its plasticity index. Thus,