Benzene
The parent member of the family of aromatic hydrocarbons is benzene (molecular formula:C6H6). It has hexagonal ring of six carbon atoms with three double bonds at alternate positions. It is resonance stabilized and the structure may be represented as given below.

Methods of Preparation:
(i) Cyclic polymerization of ethyne (See alkyne)
(ii) Decarboxylation of aromatic acids
(iii)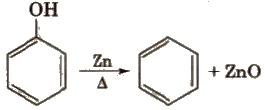 Physical Properties of Benzene:
Aromatic hydrocarbons are non-polar molecules and are usually colourless liquids or solids with a characteristic aroma.
Aromatic hydrocarbons are immiscible with water but readily miscible with organic solvents.
Aromatic compounds burn with sooty flame.
Chemical Reactions of Benzene:
Benzene gives electrophilic substitution reactions.
According to experimental evidences, electrophilic substitution reaction involve following three steps:
(a) Generation of electrophilie
(b) Formation of carbocation intermediate.
(c) Removal of proton from the carbocation intermediate.
(i) Nitration

(ii) Halogenation

(iii) Sulphonation

(iv) Friedel-Craft's alkylation reaction

When Friedel-Craft alkylation is carried out with CH3Cl, the product obtained is C6H5CH3. In case the alkylation is carried out with higher alkyl halide, e.g., n-propyl chloride, then the electrophile n-propyl carbocation (CH3 – CH2 – +CH2) which is a primary carbocation rearranges to form more stable secondary carbocation (iso-propyl carbocation), and the main product formed will be iso-propyl benzene.
(v) Friedel-Crafts acylation reaction
(vi) With Cl2: In excess of chlorine, benzene yields hexachlorobenzene [C6Cl6].

Benzene also undergoes addition reactions e.g.,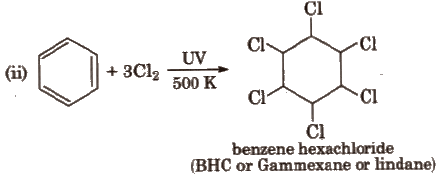 Combustion: 2C6H6 + 15O2 → 12CO2 + 6H2O
Reactions for Benzene: