Class -XII
Biology
Time - 3 hrs
M.M. - 70 Marks
General Instructions :
(i) All questions are compulsory.
(ii) The question paper has four sections: Section A, Section B, Section C and Section D. There are 33 questions in the question paper.
(iii) Section–A has 14 questions of 1 mark each and 02 case-based questions. Section–B has 9 questions of 2 marks each. Section–C has 5 questions of 3 marks each and Section–D has 3 questions of 5 marks each.
(iv) There is no overall choice. However, internal choices have been provided in some questions. A student has to attempt only one of the alternatives in such questions.
(v) Wherever necessary, neat and properly labelled diagrams should be drawn.
Section 'A'
Q.1. Why does endosperm development precede embryo development ?
Ans. The cells of endosperm are filled with reserve food materials and are used for the nutrition of the developing embryo.

Q.2. Name the combination(s) of sex chromosomes that depicts a male and a female bird?
Ans. Male- ZZ, Female- ZW

Q.3. When do the oogenesis and the spermatogenesis initiate in human females and males, respectively ?
Ans. Oogenesis starts in female in their foetal stage while spermotogenesis in males starts at puberty.

Q.4. Name the scientist who framed base complementarity rule.
Ans. The scientists who framed this rule were Erwin Chargaff and Watson and Crick.

Q.5. A Snapdragon plant with violet flowers was crossed with another such plant with white flowers. The F1 progeny obtained had pink flowers. Explain, in brief, the inheritance pattern seen in offsprings of F1 generation ?
Ans. The inheritance is an example of incomplete dominance. In this, a new intermediate phenotype between the two original phenotypes is obtained. One allele for a specific trait is not completely expressed over the other allele for the same trait.

Q.6. Mention two applications of DNA-polymorphism.
Ans. Genetic mapping & DNA-finger printing.
OR
Give an example of a polygenic trait in humans.
Ans. Skin colour/height in humans (any other suitable example)

Q.7. State the role of C peptide in human insulin.
Ans. C-peptide is an extra stretch of polypeptide. It makes the insulin inactive.

Q.8. Provide an instance where the population size of a species can be estimated indirectly, without actually counting them or seeing them.
Ans. Tiger census in National parks and Tiger reserves was done on the basis of counting pug marks/faecal pellets.
OR
Name the interaction that exists between cuscuta and shoe-flower plant.
Ans. Parasitism.

Q.9. Name the commonly used vector for cloning genes into higher organisms.
Ans. Retrovirus/Adenoviruses/Papilloma virus/Cauliflower mosaic virus/Tobacco mosaic virus

Q.10. Suggest a technique to a researcher who needs to separate fragments of DNA.
Ans. Gel electrophoresis is used to separate DNA fragments.

Q.11. Assertion (A) : Thermus aquaticus is used in PCR technique.
Reason (R) : It is a heat-stable DNA polymerase.
(a) Both assertion (A) and reason (R) are true and reason (R) is the correct explanation of assertion (A).
(b) Both assertion (A) and reason (R) are true but reason (R) is not the correct explanation of assertion (A).
(c) Assertion (A) is true but reason (R) is false.
(d) Assertion (A) is false but reason (R) is true.
Ans. (a) Thermus aquaticus, is the source of DNA polymerase because it is a heat-stable DNA polymerase.

Q.12. Assertion : The fusion of sperm and ovum to form zygote is called fertilization.
Reason : It occurs at ampullary isthmic junction of the fallopian tube.
(a) Both assertion (A) and reason (R) are true and reason (R) is the correct explanation of assertion (A).
(b) Both assertion (A) and reason (R) are true but reason (R) is not the correct explanation of assertion (A).
(c) Assertion (A) is true but reason (R) is false.
(d) Assertion (A) is false but reason (R) is true.
Ans. (b) Fertilization in humans occurs at ampullary-isthmic junction of the fallopian tube. The fusion of sperm and ovum to form zygote is called fertilization.

Q.13. Assertion : A community with more species is more stable than that with less species.
Reason : More the number of species, lesser the variation in the total biomass production year after year.
(a) Both assertion and reason are true, and the reason is the correct explanation of the assertion.
(b) Both assertion and reason are true, but the reason is not the correct explanation of the assertion.
(c) Assertion is true but reason is false.
(d) Both assertion and reason are false.
Ans. (a) Both assertion and reason are true, and the reason is the correct explanation of the assertion.

Q.14. Assertion : Sharing of injection needles between two individuals is not recommended.
Reason : This transmits STDs like AIDS and Hepatitis from the diseased person to the healthy person.
(a) Both assertion (A) and reason (R) are true and reason (R) is the correct explanation of assertion (A).
(b) Both assertion (A) and reason (R) are true but reason (R) is not the correct explanation of assertion (A).
(c) Assertion (A) is true but reason (R) is false.
(d) Assertion (A) is false but reason (R) is true.
Ans. (a) Sharing of injection needles is not recommended so as to avoid the transmission of STDs like AIDS and Hepatitis from the diseased person to the healthy person.

Q.15. Large quantities of sewage is generated everyday in cities and towns, which is treated in Sewage Treatment Plants (STPs) to make it less polluted. Given below is the flow diagram of one of the stages of STP.
Observe the given flow diagram and answer the questions accordingly.



(a) Why primary effluent is passed into large aeration tanks?
(b) Write the technical term used for the sediment formed?
(c) Write down the significance of the above sediment formed.
(d) Explain the final step that results in the formation of biogas in the large tank before the treated effluent is released into water bodies.
(e) The technology of biogas production from cow dung was developed in India largely due to the efforts of
(i) Gas Authority of India
(ii) Oil and Natural Gas Commission
(iii) Indian Agricultural Research Institute, Khadi and Village Industries Commission
(iv) Indian Oil Corporation
Ans. (a) Vigorous growth of useful aerobic microbes into flocs.
(b) Activated sludge.
(c) Some of the activated sludge is pumped back into the aeration tank to serve as the inoculum.
(d) During this digestion, a mixture of gases such as methane, hydrogen sulphide and carbon dioxide is produced. These gases form biogas.
(e) (iii) Indian Agricultural Research Institute, Khadi and Village Industries Commission

Q.16. Read the given passage and answer any of the four questions. 4 A group of youth were having a 'rave party' in an isolated area and was raided by police. Packets of 'smack' and syringes with needles were found littered around.
(a) Why is taking 'smack' considered an abuse?
(b) Write the chemical name of 'smack'.
(c) 'Smack' is a drug obtained from the
(i) Latex of Papaver somniferum
(ii) Leaves of Cannabis sativa
(iii) Flowers of Datura
(iv) Fruits of Erythroxylum coca
Ans. (a) An addictive substance / causes drug dependence / affects nervous system / used in amounts or frequencies that impairs ones physical and physiological or psychological functions.
(b) Diacetyl-morphine.
(c) (i) Latex of Papaver somniferum.
(d) They can acquire serious infections / transmission of HIV infections / AIDS / Hepatitis.
(e) (iii) The patient shows behavioural and social maladjustment.
Section 'B'
Q.17. State the composition and principle of oral pills as a contraceptive measure taking the example of Saheli.
Ans. The composition of oral pills comprises : Either progesterone alone or progesterone – estrogen combination. Saheli is a non-steroidal preparation. It inhibits ovulation and implantation. It also alters the quality of cervical mucus to prevent/retard the entry of sperms.

Q.18. Why is it not possible to study the pattern of inheritance of traits in human beings, the same way as it is done in pea plant? Name the alternate method employed for such an analysis of human traits.
Ans. Control crosses cannot be performed in human beings, Alternate method Pedigree analysis (study of the traits in several generations of a family).
OR
Differentiate between multiple allelism and pleiotropy with the help of an example each.
Ans. Multiple alleles : More than two alternate forms of a gene present on the same locus of a homologous pair of chromosomes in a population are called multiple alleles. They control the single trait. For example, ABO blood group in humans.
Pleiotropic genes : The gene having a multiple phenotypic effect because of its ability to control the expression of a number of characters is called pleiotropic gene. For example, skin pigmentation and phenylketonuria.

Q.19. Name the gas released and the process responsible for puffing up of the bread dough when Saccharomyces cerevisiae is added to it.
Ans. Gas – Carbon dioxide
Process – Fermentation

Q.20. Shark is eurythermal while polar bear is stenothermal. What advantage does the former have and what constraint the later has ?
Ans. Shark : Tolerates wide range of temperature so its species is wide spread / survives in all waters.
Polar bear : Restricted occurrence in narrow range of temperature so it is constraint to live in very cold icy environment.

Q.21. Explain the role of enzymes in the extraction of DNA from Rhizopus in its purest form.
Ans. The extraction of DNA from Rhizopus in its purest form can be done by treating the fungal cells with enzymes such as chitinase which will dissolve the cell wall. The RNA can be removed by treatment with ribonuclease whereas proteins can be removed by treatment with protease. Other molecules can be removed by appropriate treatments thereby purifying DNA.

Q.22. How do seed – bearing plants tide over dry and hot weather conditions ?
Ans. In higher plants, seeds and some other vegetative reproductive structures serve to tide over periods of stress. They reduce their metabolic activity and go into a state of 'dormancy'. They germinate under favourable moisture and temperature.

Q.23. Identify the areas labelled i, ii, iii and iv in the pie chart given below representing the biodiversity of plants showing their proportionate number of species of major taxa.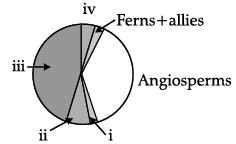 Ans. (i) Lichen, (ii) Algae, (iii) Fungi, (iv) Mosses

Q.24. Can a plant flowering in Mumbai be pollinated by pollen grains of the same species growing in New Delhi ? Provide explanations to your answer.
Ans. Yes, By artificial means. For artificial hybridization (e.g. bagging technique) pollen grain of one flower is introduced artificially on the stigma of another flower.
OR
Write down any three control measures to check population explosion?
Ans. Two control measures to check population explosion are :
(a) Motivate people to adopt smaller families. Couples with small families should be given some incentives.
(b) Birth control is an important step to control the population growth by motivating smaller families to use contraceptive methods.
(c) Raising the marriageable age to 18 years for female and 21 years for males. (Any two)

Q.25. The tropical regions are likely to have more biological diversity than the temperate ones. Give two reasons to justify the statement.
Ans. Some possible reasons are :
Speciation is generally a function of time, unlike temperate regions subjected to frequent glaciations in the past, tropical latitudes have remained relatively undisturbed for millions of years and thus, had a long evolutionary time for species diversification.
Tropical environments, unlike temperate ones, are less seasonal, relatively more constant and predictable. Such constant environments promote niche specialisation and lead to a greater species diversity.
There is more solar energy available in the tropics, which contributes to higher productivity; this in turn might contribute indirectly to greater diversity. (Any two reasons)
Q.26. Draw a labelled diagram to show interrelationship of four accessory ducts in a human male reproductive system.
Ans.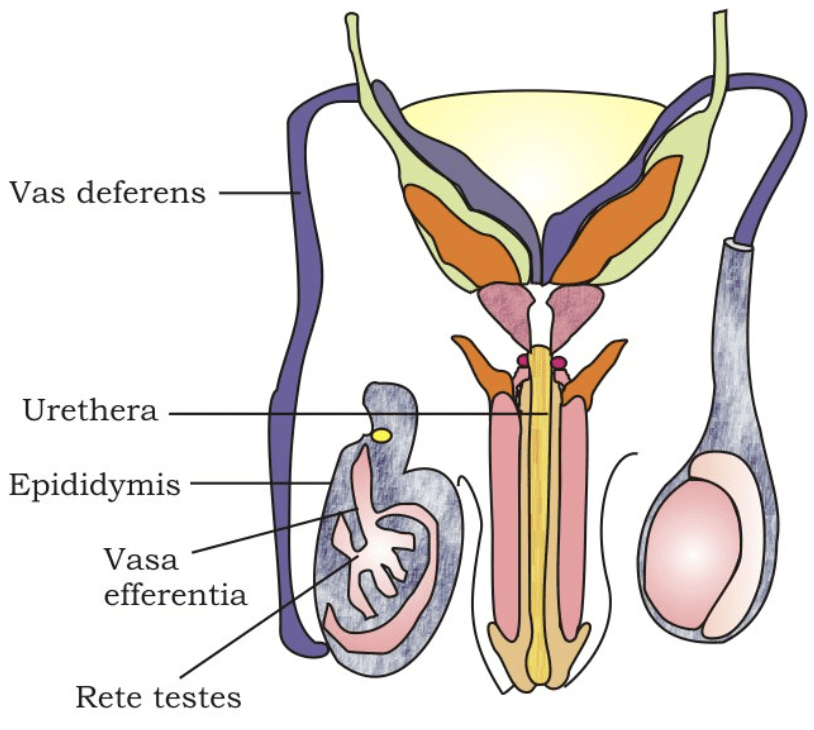 OR
Draw a sectional view of the human ovary showing the different stages of developing follicles, corpus luteum and ovulation.
Ans.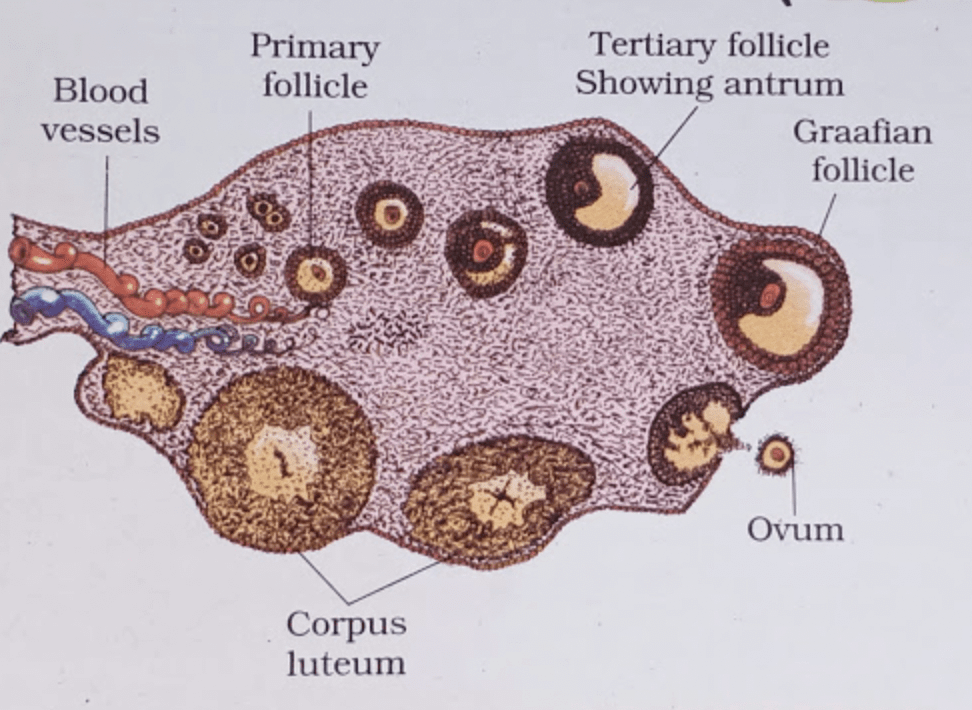 Q.27. DNA separated from one cell, when introduced into another cell is able to bestow some of the properties of former to the latter. What is this change called in technical terms? Describe the experimental evidences which led to the discovery of the above phenomenon.
Ans. Transformation
Griffith experiment
Avery, MaCleod and McCarty identified the biochemical nature of transforming principle i.e. DNA (brief explanation).
Detailed Answer :
Transformation is the technique. Avery, MacLeod and McCarty identified the biochemical nature of transforming principle i.e. DNA.
They worked to determine the biochemical nature of 'transforming principle' in Griffith's experiment.
They purified biochemicals (proteins, DNA, RNA etc.) from the heat killed S cells to see which ones could transform live R cells into S cells. They discovered that DNA alone is transformed. Proteases and RNases did not affect transformation. Digestion with DNase inhibited transformation, suggesting that the DNA caused the transformation. Thus, they concluded that DNA is the hereditary material.
OR
Name a blood related autosomal Mendelian disorder. Why is it called Mendelian disorder ? How is this disorder transmitted from parents to offsprings ?
Ans. Blood related autosomal Mendelian disorder is sickle cell anaemia. It is called Mendelian disorder due to alteration or mutation in a single gene. The defective haemoglobin undergoes polymerization under low oxygen tension and changes the shape of RBC from biconcave cells to sickle-shaped elongated cells. The disease is controlled by a single pair of alleles, HbA and HbS. Of the three possible genotypes, only individual homozygous for HbS show the disease. Heterozygous individuals (HbAHbS) are carriers.

Q.28. Biotechnology has helped farmers to get pest resistant cotton crops. Explain the technique adopted along with its mode of action. (Mention six points).
Ans. During treatment (after adding small amount of inoculum) primary effluent is constantly agitated mechanically in (large) aeration tanks and air is pumped into it, this allows the vigorous growth of useful microbes into flocs, the microbes consume the major part of the organic matter in the effluent, it reduces the BOD of the effluent, the effluent is then passed into settling tank where the bacterial flocs are allowed to sediment, major part of the activated sludge is pumped into aerobic sludge digester (and remaining water is released into natural water bodies).
Detailed Answer :
Sewage treatment involves following phases :
(i) Primary Treatment : In this, physical particles like debris and soil, sand, silt, etc. are removed by : (a) sequential filtration (b) sedimentation.
The substances that settle down forms primary sludge and the effluent is primary effluent.
(ii) Secondary Treatment : Biological treatment in which primary effluent is passed to large aeration tanks and is constantly agitated and supplied with air/O2. This causes creation of flocs or association of useful aerobic bacteria and fungal filaments into a mesh-like structure.
In this process, the microbes use up organic matter in the polluted water and hence reduce the BOD (Biological Oxygen Demand).
Once the BOD is sufficiently reduced, it is allowed to pass to a settling tank where flocs are allowed to settle down. This sediment is called activated sludge. A small part of the activated sludge is pumped back into the aeration tank to serve as the inoculum. The remaining major part of the sludge is pumped into large tanks called anaerobic sludge digesters. Here, other kinds of bacteria, which grow anaerobically, digest the bacteria and the fungi in the sludge. During this digestion, bacteria produce a mixture of gases such as methane, hydrogen sulphide and carbon dioxide. The effluent from the secondary treatment plant is generally released into natural water bodies like rivers and streams.z
Section 'C'
Q.29. A farmer noticed that nematode infection in tobacco plants has resulted in the reduction in the yield. Suggest a strategy which provides cellular defence for providing resistance to this pest. Explain the technique.
Ans.
Strategy based on the process of RNA interference (RNAi) - as a method of cellular defence can be used.
This method involves silencing of a specific mRNA due to a complementary dsRNA molecule that binds to and prevents translation of the mRNA (silencing).
The source of this complementary RNA can be from an infection by viruses having RNA genomes or mobile genetic elements (transposons) that replicate via an RNA intermediate.
Using Agrobacterium vectors, nematode-specific genes are introduced into the host plant. The introduction of DNA produces both sense and anti-sense RNA in the host cells.
Two RNA's being complementary to each other form a double stranded (dsRNA) that initiate RNAi and thus, silence the specific mRNA of the nematode.
As a consequence, the parasite cannot survive in a transgenic host expressing specific interfering RNA. The transgenic plant therefore gets protected from the parasite.
Q.30. State any two criteria for determining biodiversity hotspots. Name any two hotspots designated in India.
Ans. Criteria for determining biodiversity hotspots are :
High level of species richness.
High degree of endemism.
Hotspots in India - Western Ghats, Himalaya (Indo-Burma Sunderland to be accepted)
Section 'D'
Q.31. Arrange the terms given below in their order of occurrence describing their structure and function in the early development of the human embryo: Implantation; cleavage; inner cells mass; trophoblast; blastomeres; endometrium; morula; blastocyst.
Ans. Correct order = cleavage, blastomeres, morula, blastocyst, trophoblast, inner cell mass, endometrium, implantation.
Cleavage : Mitotic division starts as the zygote moves through the oviduct towards the uterus and form (2/4/8/16) daughter cells called blastomeres. Embryo with 8 to 16 blastomeres is called a morula. Morula continues to divide and transforms into a blastocyst. Blastomeres in blastocyst are arranged into an outer layer called trophoblast and an inner group of cells attached to trophoblast called the inner cell mass. The trophoblast layer then gets attached to the endometrium and inner cell mass differentiates as the embryo. Ultimately blastocyst becomes embedded in the endometrium of uterus. This is called Implantation.
OR
(i) Geitonogamy and xenogamy, both require pollinating agents, yet they are very different from each other. Explain how.
(ii) Describe the characteristics of flowers that are pollinated by wind.
Ans. (i) Geitonogamy is transfer of pollen grains from the anther to stigma / pollination of another flower of same plant // self-pollination and genetically same pollen to the stigma.
Xenogamy is transfer of pollen grain from anther of one flower to stigma of another flower of another plant of the same species / pollination of a flower of a different plant // cross pollination and genetically different type of pollens to the stigma.
(ii) (a) Pollen grains are light, non-sticky
(b) Well exposed stamens
(c) Large and feathery stigma
(d) Flowers often have a single ovule in each ovary / inflorescence

Q.32. Transcription in eukaryotes is more complex process than in prokaryotes. Justify and compare the initiation, elongation and termination in bacterial cells with eukaryotes.
Ans. Transcription is more complex in eukaryotes due to following reasons:
(a) In prokaryotes, only one type of RNA polymerase is involved whereas in eukaryotes, three types of RNA polymerases are involved.
(b) Description of processing of hnRNA involved introns/ exons/ splicing is involved in eukaryotes.
(c) Description of capping and tailing
(d) Diagram
Detailed Answer :
Transcription is more complex in eukaryotes because:
(a) In eukaryotes, there are three RNA polymerase enzyme in the nucleus. RNA polymerase I transcribes r-RNAs, RNA polymerase II transcribes the precursor of mRNA called as heteronuclear RNA and RNA polymerase III catalyzes transcription of t-RNA.
(b) The primary transcript contains both exons and introns and are non-functional. It is subjected to a process called splicing where the introns are removed and the exons are joined in a definite order to form mRNA.
(c) The heterogenous nuclear RNA undergoes 2 additional process called capping and tailing. In capping, methyl guanosine tri-phosphate is added to the 5' end of hnRNA. In tailing, adenylate residues are added to the 3' end of hnRNA. The fully processed hnRNA is called mRNA and is released from its nucleus to its cytoplasm.
(d)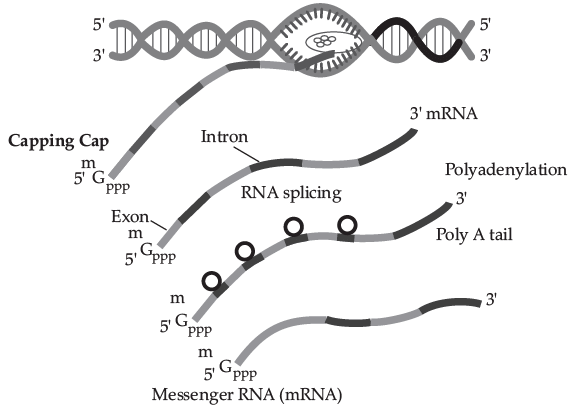 OR
Observe the representation of genes involved in the lac operon given below –



(a) Identify the region where the repressor protein will attach normally.
(b) Under certain conditions repressor is unable to attach at this site. Explain.
(c) If repressor fails to attach to the said site what products will be formed by z, y and a?
(d) Analyse why this kind of regulation is called negative regulation ?
Ans. (a) Operator region O
(b) In presence of an inducer- Lactose.
(c) z- β galactosidase
y- Permease
a- Transacetylase
(d) It is called negative regulation as it involves constitutive (all the time) repressor. The operon is always in off position due to presence of repressor and is switched on only in presence of an inducer. Inducer lactose or allolactose interacts with repressor making it inactive.

Q.33. Identify and name the disease in which the patient's cells lose the property of contact inhibition. State its possible causes and explain any three methods to accurately detect the pathological and physiological changes that take place due to the disease in living tissues.
Ans. Disease : Cancer
Probable Causes : Physical/ Environmental- Exposure to X – rays/ gamma rays/ UV rays; Chemicals/ Nicotine in tobacco/ other carcinogens.
Biological- Viral oncogenes/ Mutations
Detection and diagnosis :
(i) Cancer detection is based on biopsy and histopathological studies of the tissue; blood and bone marrow tests for increased cell counts in the case of leukemias. In biopsy, a piece of the suspected tissue cut into thin sections is stained and examined under microscope (histopathological studies) by a pathologist.
(ii) Techniques like radiography (use of X-rays), CT (computed tomography) and MRI (magnetic resonance imaging) are very useful to detect cancers of the internal organs. Computed Tomography uses X-rays to generate a three-dimensional image of the internals of an object. MRI uses strong magnetic fields and non-ionising radiations to accurately detect pathological and physiological changes in the living tissue.
(iii) Antibodies against cancer-specific antigens are also used for detection of certain cancers.
(iv) Techniques of molecular biology can be applied to detect genes in individuals with inherited susceptibility to certain cancers. (Any three methods)
OR
A patient has been tested positive to ELISA Test. Identify the disease and the pathogen responsible, give reasons for the reduced/weak immunity of the patient and trace the path, spread and effects of this pathogen in the human body.
Ans. Disease : AIDS (Acquired Immuno Defeciency Syndrome)
Pathogen : Human Immuno deficiency Virus (HIV).
Reason : Due to decrease in the number of helper T-lymphocytes, the person starts suffering from infections that could have been otherwise overcome such as those due to bacteria especially Mycobacterium, viruses, fungi and even parasites like Toxoplasma.
The path of this pathogen and its spread and effect on the human body :
After getting into the body of the person, the virus enters into macrophages where RNA genome of the virus replicates to form viral DNA with the help of the enzyme reverse transcriptase.
This viral DNA gets incorporated into host cell's DNA and directs the infected cells to produce virus particles.
The macrophages continue to produce virus and in this way acts like an HIV factory.
Simultaneously, HIV enters into helper T-lymphocytes (TH), replicates and produce progeny viruses.
The progeny viruses released in the blood attack other helper T-lymphocytes.
This is repeated leading to a progressive decrease in the number of helper T-lymphocytes in the body of the infected person.
During this period, the person suffers from bouts of fever, diarrhoea and weight loss.