Class -XII
Biology
Time - 3 hrs
M.M. - 70 Marks
General Instructions :
(i) All questions are compulsory.
(ii) The question paper has four sections: Section A, Section B, Section C and Section D. There are 33 questions in the question paper.
(iii) Section–A has 14 questions of 1 mark each and 02 case-based questions. Section–B has 9 questions of 2 marks each. Section–C has 5 questions of 3 marks each and Section–D has 3 questions of 5 marks each.
(iv) There is no overall choice. However, internal choices have been provided in some questions. A student has to attempt only one of the alternatives in such questions.
(v) Wherever necessary, neat and properly labelled diagrams should be drawn.
Section 'A'
Q.1. State the function of filiform apparatus found in mature embryo sac of an angiosperm.
Ans. Filiform apparatus helps to guide path of pollen tubes into synergid.
OR
Write the location and function of Leydig cells in humans.
Ans. Leydig cells are present in seminiferous tubules. They synthesize and secrete androgens.

Q.2. How many meiotic divisions are required to produce 76 seeds in a Guava fruit ?
Ans. 95.

Q.3. What is point mutation? Give one example.
Ans. Arising due to change in a single base pair of DNA. Example : sickle cell anaemia.
Detailed Answer :
Point mutation is a gene mutation, which arises due to a change in a single base pair of DNA. e.g. sickle cell anaemia.
OR
Which one out of Rho factor and Sigma factor acts as the initiation factor during transcription in a prokaryote ?
Ans. Sigma factor (s).

Q.4. State the chromosomal defects in individuals with Turner 's syndrome .
Ans. Monosomy of sex chromosome/XO condition/Absence of one X chromosome (in female).

Q.5. Mention one difference to distinguish an exon from an intron.
Ans. Exon : Coded/expressed sequence of nucleotides in mRNA.
Intron : Intervening sequence of nucleotides not appearing in processed mRNA.
Detailed Answer :
The exons are the coding segments or sequences of mRNA while the intron are the non-coding segments or intervening nucleotide sequences of mRNA which are removed during splicing through processing of mRNA.

Q.6. Differentiate between aneuploidy and polyploidy.
Ans. Aneuploidy is chromosomal abnormality in which one or more chromosomes are gained or lost. Polyploidy is when an entire extra set of chromosomes is added. (It may be triploid or tetraploid)

Q.7. Name the scientist who suggested that the genetic code should be made of a combination of three nucleotides.
Ans. George Gamow.

Q.8. Name two enzymes that are essential for constructing a recombinant DNA.
Ans. Restriction enzymes / polymerase enzymes / ligase (Any two)

Q.9. The Amazon rain forest is referred to as 'the lungs of the planet'. Mention any one human activity that causes loss of biodiversity in this region.
Ans. The Amazon rain forest is so huge that it is called the lungs of the planet. Cutting down of forest for cultivation of soya beans and its conversion to grasslands for raising beef cattle caused loss of biodiversity in this region.

Q.10. Which of the three forests- Temperate, Mangroves and Tropical Evergreen is more vulnerable to invasion by outside animals and plants ?
Ans. Tropical Evergreen Forests.

Q.11. Name two inter-specific interactions where one partner is neutral i.e. not affected.
Ans. Amensalism and commensalism.

Q.12. Assertion (A) : Bt-toxins are released as inactive crystals in the bacterial body.
Reason (R) : It is converted into an active protein (due to alkaline pH of the gut of the bollworm).
(a) Both assertion (A) and reason (R) are true and reason (R) is the correct explanation of assertion (A).
(b) Both assertion (A) and reason (R) are true but reason (R) is not the correct explanation of assertion (A).
(c) Assertion (A) is true but reason (R) is false.
(d) Assertion (A) is false but reason (R) is true.
Ans. (b) It is converted into an active protein (due to alkaline pH of the gut of the bollworm). The toxin binds to midgut cells / creates pores / causes cell swelling and lysis that kills the bollworm.

Q.13. Assertion (A): Clown fish maintains a commensalistic relation with the sea anemone.
Reason : In this interaction, one species benefits and the other is neither harmed nor benefited.
(a) Both assertion (A) and reason (R) are true and reason (R) is the correct explanation of assertion (A).
(b) Both assertion (A) and reason (R) are true but reason (R) is not the correct explanation of assertion (A).
(c) Assertion (A) is true but reason (R) is false.
(d) Assertion (A) is false but reason (R) is true.
Ans. (a) Clown fish maintains a commensalistic relation with the sea anemone. In this interaction, one species benefits and the other is neither harmed nor benefited. Sea anemone has stinging tentacles that provide protection to Clown fish from predators. The Sea anemone does not appear to derive any benefit from the clown fish.

Q.14. Assertion : In Ophrys one petal of the flower bears an uncanny resemblance to the female bee.
Reason : Two closely related species competing for the same resource can coexist simultaneously.
(a) Both assertion and reason are true, and the reason is the correct explanation of the assertion.
(b) Both assertion and reason are true, but the reason is not the correct explanation of the assertion.
(c) Assertion is true but reason is false.
(d) Both assertion and reason are false.
Ans. (c) Assertion is true statement, but reason is false.

Q.15. With reference to the given schematic representation of (a) Spermatogenesis and (b) Oogenesis answer any of the four questions.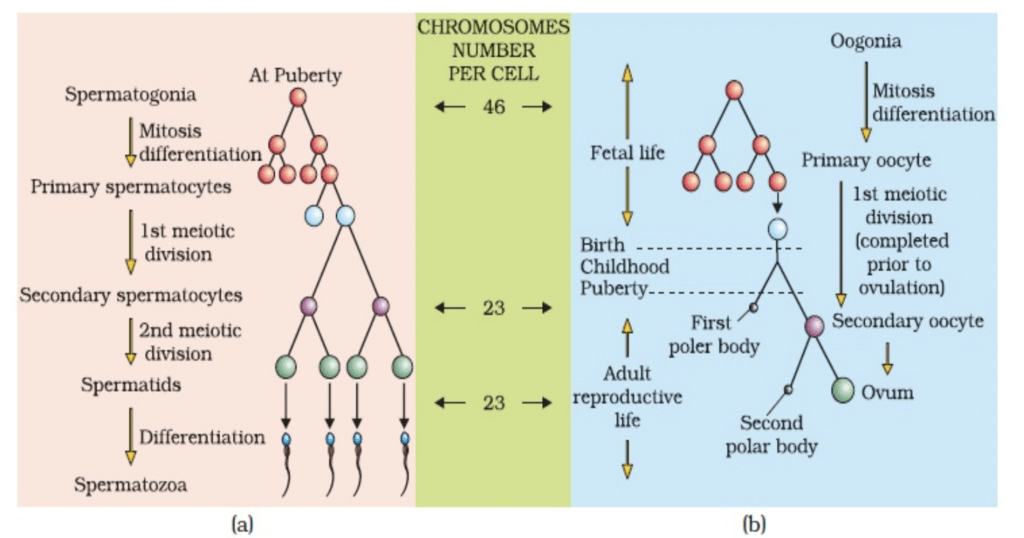 (a) About 300 million spermatozoa may be present in a human male ejaculation at one time. Calculate how many spermatocytes will be involved to produce 300 spermatozoa.
(b) How many chromatids are found in Primary oocyte in a human female ?
(c) How any chromatids are found in First polar body in a human female?
(d) The immature male germ cell undergoes division to produce sperms by the process of spermatogenesis.
Choose the correct one with reference to above.
(i) Spermatogonia have 46 chromosomes and always undergo meiotic cell division.
(ii) Primary spermatocytes divide by mitotic cell division.
(iii) Secondary spermatocytes have 23 chromosomes and undergo second meiotic division.
(iv) Spermatozoa are transformed into spermatids.
(e) Which among the following has 23 chromosomes?
(i) Spermatogonia
(ii) Zygote
(iii) Secondary oocyte
(iv) Oogonia
Ans.
(a) Each primary spermatocyte will undergo meiosis-I and meiosis-II which will result in 4 spermatozoa 300 million/4 = 75 million.
(b) Since replication has occurred by this stage 46 × 2 = 92 chromatids.
(c) Meiosis –I is completed by this time

= 46 chromatids.
(d) (ii) Primary spermatocytes divide by mitotic cell division.
(e) (iii) Secondary oocyte

Q.16. Rajesh was doing gel electrophoresis to purify DNA fragments. Given below is the sketch of the observations of the experiment performed by him. Study the observations and answer any of the four questions asked below.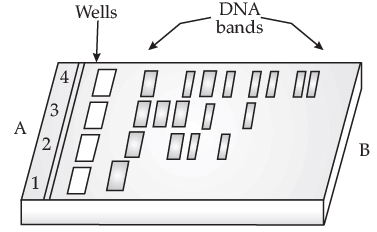 (a) Mark the positive and negative terminals.
(b) At which end he would have loaded the samples and where ?
(c) What is the criterion for DNA fragments movement on agarose gel during gel electrophoresis?
(i) The larger the fragment size, farther it moves.
(ii) The smaller the fragment size, farther it moves.
(iii) Positively charged fragment move to farther end.
(iv) Negatively charged fragment do not move.
(d) Elaborate the step he would have followed to visualize DNA bands.
(e) How are the separated DNA fragments finally isolated ?
Ans. (a) Positive terminal-'B' and negative terminal-'A'.
(b) He would have loaded the samples near end A, in the wells.
(c) (ii) In agarose gel electrophoresis of DNA molecule smaller molecules travel faster than larger molecules. The movement of DNA fragment is inversely proportional to number of base pairs. Separation of DNA occurs by its length.
(d) After staining the DNA with ethidium bromide followed by exposure to UV radiations the DNA bands appear coloured.
(e) By elution separated bands of DNA are cut out from the agarose gel and extracted from the gel piece.

Q.17. Why is 'Saheli' considered an effective contraceptive for women to space children ?
Ans. 'Saheli' is considered as an improved form of contraceptive for human females because :
(i) It is a non-steroidal preparation.
(ii) It has lesser or no side effects.
(iii) It has a high contraceptive value.
(iv) It is once a week pill.

Q.18. Karyotype of a child shows trisomy of chromosome number 21. Identify the disorder and state the symptoms which are likely to be exhibited in this case.
Ans. Disorder : Down's Syndrome
Symptoms : The affected individual is short statured with small round head; has furrowed tongue; partially open mouth; Palm is broad with characteristic palm crease; Physical, psychomotor and mental development is retarded. (Any three symptoms)

Q.19. Name the plant source of ganja. How does it affect the body of the abuser ?
Ans. Ganja is obtained from Cannabis sativa / hemp plant.
It is hallucinogenic, alters perception, causes illusion and damages cardio vascular system.

Q.20. Explain with the help of a suitable example the naming of a restriction endonuclease.
Ans. EcoRI.
The first letter of the name comes from the genus and the next two from the name of the species of the bacterium i.e. prokaryotic cell. Thus Eco stands for the genus and species of the prokaryotic cell from which the enzyme was isolated i.e. E. coli, R stands for strain. 'I' follows order in which enzyme was isolated.
OR
Name the source organism of Taq polymerase. Explain the specific role of this enzyme in PCR.
Ans. Thermus aquaticus, it remains active during the high temperature, (induced to denature double stranded DNA) and catalyses polymerisation of DNA.

Q.21. How does Monarch butterfly defend itself from predators ? Explain.
Ans. Monarch butterflies are highly distasteful to their predators. This butterfly species accumulates a chemical by feeding on a poisonous weed during its caterpillar stage.

Q.22. What are sticky ends? State their significance in recombination DNA technology.
Ans.
Restriction enzymes cut the strand of DNA a little away from the centre of the palindrome sites, but between the same two bases on the opposite strands. This leaves single stranded portions at the ends. These overhanging stretches on each strand are called sticky ends.
They form hydrogen bonds with their complimentary counterparts and facilitate the action of DNA ligase enzyme.
OR
Explain the procedure by which PCR aids in early detection of cancer.
Ans.
A single stranded DNA or RNA is tagged with a radioactive molecule (probe).
It is allowed to hybridize to its complementary DNA in a clone of cells followed by detection using autoradiography.
The clone having the mutated gene will hence not appear on the photographic film,
because the probe will not have complementarity with the mutated gene.
Hence, cancer induced mutation can be detected.
Q.23. Differentiate between commensalism and mutualism by taking one example each from plants only.
Ans. Commensalism : In this interaction, one species is benefitted and the other species is neither benefitted nor harmed. e.g. an orchid growing as an epiphyte on the branch of a mango.
Mutualism : In this interaction, both the interacting species are benefitted. e.g. Lichens exhibit mutualistic relationship between a fungus that absorbs water and nutrients from soil and give it. photosynthesizing algae /cyanobacteria.

Q.24. If the advise is not followed by the patient, there is an apprehension that the patient might contract a disease that would destroy the immune system of his/her body. Diagrammatically explain how the immune system would get affected and destroyed.
Ans.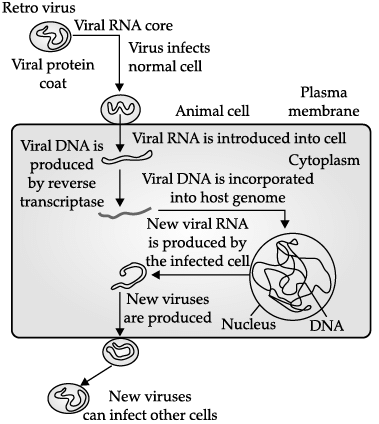 Q.25. (i) State the role of DNA ligase in biotechnology.
(ii) What happens when Meloidogyne incognita consumes cells with RNAi gene ?
Ans. (i) The linking of antibiotic resistance gene with the plasmid vector became possible with the enzyme DNA ligase, which acts on cut DNA molecules and joins their ends. This makes a new combination of circular autonomously replicating DNA created in vitro and is known as recombinant DNA.
(ii) When Meloidogyne incognita (parasite) consumes cells with RNAi gene, parasite cannot survive and this prevents infestation. The introduced RNAi gene DNA forms both sense and anti-sense RNA. Two strands being complementary to each other bind and form ds RNA, leading to RNAi. Thus, the mRNA of nematode is silenced and the parasite cannot survive there.

Q.26. A fully developed foetus initiates its delivery from the mother 's womb. Justify the statement.
Ans.
The signals for parturition originate from the fully developed foetus and the placenta which induce mild uterine contractions called foetal ejection reflex.
This triggers the release of oxytocin from the maternal pituitary.
Oxytocin acts on the uterine muscles and causes stronger uterine contractions, which in turn stimulates further secretion of oxytocin.
The stimulatory reflex between the uterine contraction and oxytocin secretion continues resulting in stronger and stronger contractions.
Parturition is induced by a complex neuroendocrine mechanism involving cortisol, oestrogens and oxytocin.
This leads to expulsion of the baby out of the uterus through the birth canal – parturition.
27. (a) Match the microbes listed under Column-A with the products mentioned under Column-B.



(b) Why does 'Swiss cheese' develop large holes ?
Ans. (a) The correct matches are as follows :
(A) Penicillium notatum – (iii) Antibiotic
(B) Tric hoderma polysporum – (iv) Cyclosporin A
(C) Monascus purpureus – (i) Statin
(D) Saccharomyces cerevisiae – (ii) Ethanol

Q.28. (a) Draw a labelled schematic diagram of a replication fork showing continuous and discontinuous replication of DNA strands.
(b) State a reason why is the replication continuous and discontinuous in the diagram drawn.
Ans. (a)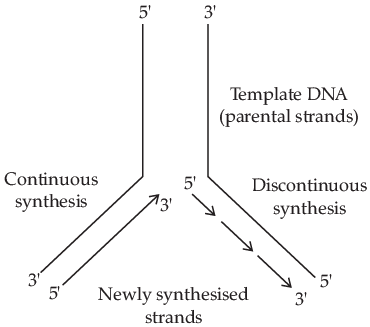 (b) 2 strands are anti parallel, DNA polymerase acts only in one direction i.e. 5' → 3'

Q.29. Effluent from the primary treatment of sewage is passed for secondary treatment. Explain the process till the water is ready to be released into natural water bodies.
Ans. The technique involves the use of a popularly known bio pesticide Bt toxin produced by bacteria Bacillus thuringiensis.
(a) Bt toxin protein when ingested by the insect gets converted to its active form due to alkaline pH of the gut.
(b) The activated toxin binds to the surface of midgut epithelial cells.
(c) It creates pores in these cells that cause swelling and lysis and eventually kills the insect.
(d) The genes (cry genes) encoding this protein are isolated from the bacterium and incorporated into crop plants like cotton. The proteins encoded by these cry genes control the pest.
(e) Specifically, cry I Ac and cry II Ab control cotton bollworm (Helicoverpa armigera), an insect belonging to Lepidoptera, which earlier used to destroy the whole crop.

Q.30. The graph given below represents three categories of organismic responses - L, M and N to cope with stressful conditions. Identify the categories L and M.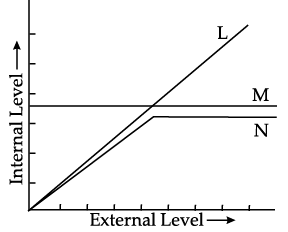 Given below are examples of some of the activities performed by animals.
Categorise these activities into the appropriate kind of the organismic response (L, M or N) as shown in the graph with reasons. (i) In summers we sweat profusely. (ii) Sometimes desert lizards bask in the sun and sometimes they move into shade.
Ans. L : Conformers,
M : Regulators
(i) To regulate the body temperature – M/Regulators
(ii) To keep their body temperature constant by behavioural response for coping with variations in environment– L/Conformers
OR
Give reasons for the following :
(a) Very small animals are rarely found in polar regions.
(b) Mammals from colder climate generally have shorter ear and limbs.
(c) Initially we feel nausea and fatigue when we reach a high altitude such as Rohtang Pass and then, gradually, we feel normal.
Ans. (a) Since small animals have a larger surface area relative to their volume, they tend to lose body heat very fast when it is cold outside; then they have to expend much energy to generate body heat through metabolism. This is the main reason why very small animals are rarely found in polar regions.
(b) Mammals from colder climates generally have shorter ears and limbs to minimise heat loss. (This is called the Allen's Rule.)
(c) This is because in the low atmospheric pressure of high altitudes, the body does not get enough oxygen. But gradually we get acclimatised and stop experiencing altitude sickness.

Q.31. (a) Explain the hormonal regulation of spermatogenesis in humans.
(b) Draw the diagram of a human sperm. Label and write the functions of the components of its head.
Ans. (a) (i) Initiation by GnRH from hypothalamus which acts on Anterior Pituitary to release FSH & LH (Gonadotropins).
(ii) LH acts on cells of Leydig / Interstitial cells to secrete androgens.
(iii) Androgens in turn stimulate the process of spermatogenesis.
(iv) FSH acts on Sertoli cells and stimulates the secretions of some factors that stimulate spermiogenesis.
(b)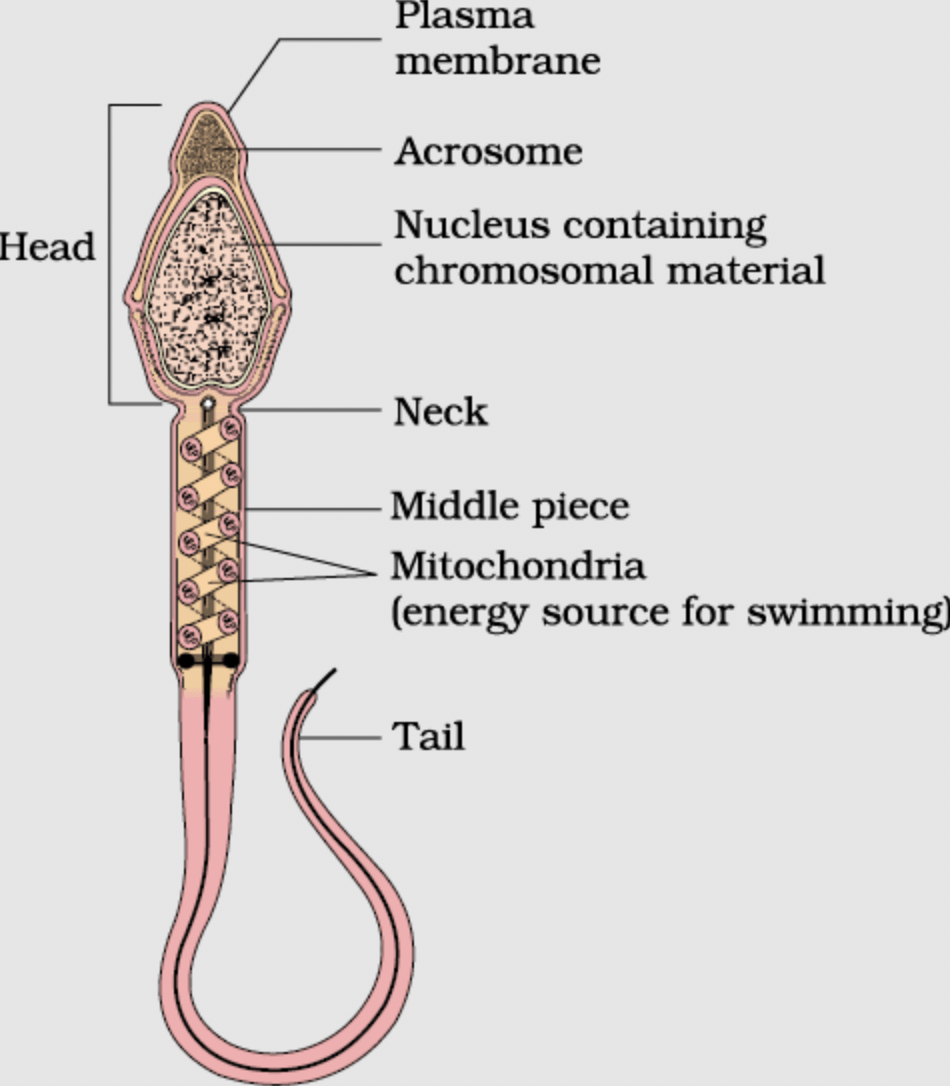 Function of plasma membrane : Envelopes the whole body of sperm.
Acrosome : Contains enzymes for fertilization.
Nucleus : Contains haploid chromosomal material.
OR
(a) What are the benefits of choosing a dioecious plant species for plant breeding experiments?
(b) How would you proceed to cross-pollinate a monoecious flower?
(c) Draw a labelled schematic diagram of T.S. of an anther of an angiosperm.
Ans. (a) (Unisexual) self pollination avoided, emasculation not required
(b) (i) Emasculation
(ii) Bagging
(iii) Pollination by spraying desired pollen
(iv) Rebagging
(c) T.S. of an anther of an angiosperm :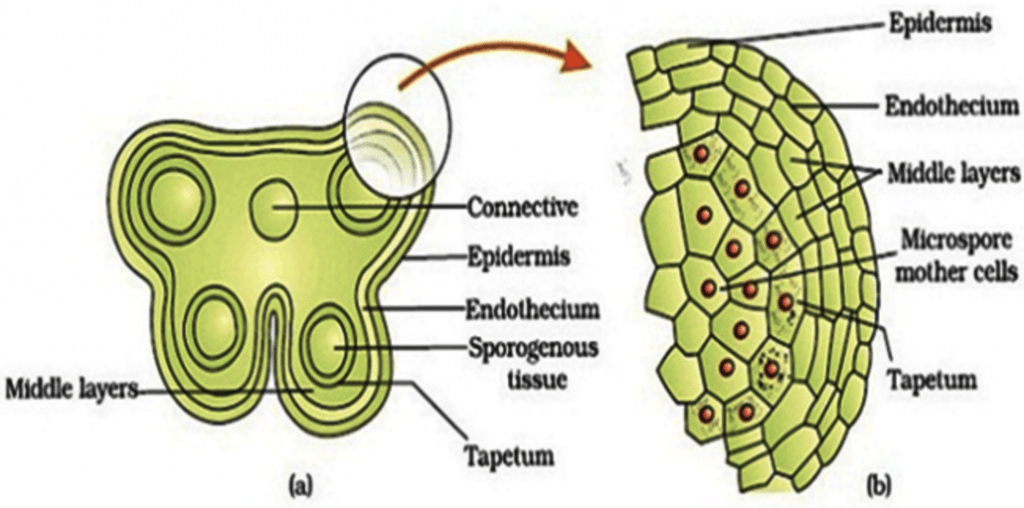 Q.32. Describe the dihybrid cross carried on Drosophila melanogaster by Morgan and his group.
How did they explain linkage, recombination and gene mapping on the basis of their observations?
Ans. According to Morgan and his group if genes were very tightly linked they showed very low recombination = 1 (shown in cross A) = 1
If genes were loosely linked they showed very high recombination = 1 (shown in cross B) =1
The group used the frequency of recombination between gene pairs on the same chromosome as a measure of distance between genes and 'mapped' their position on the chromosome = 1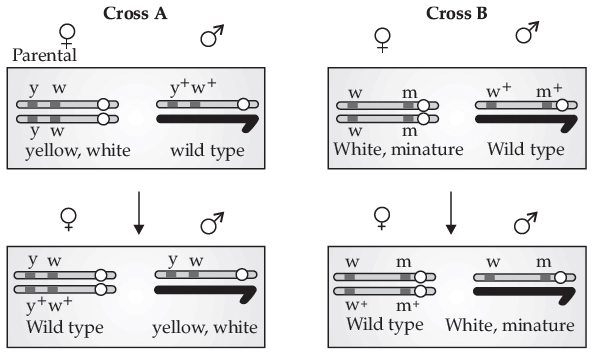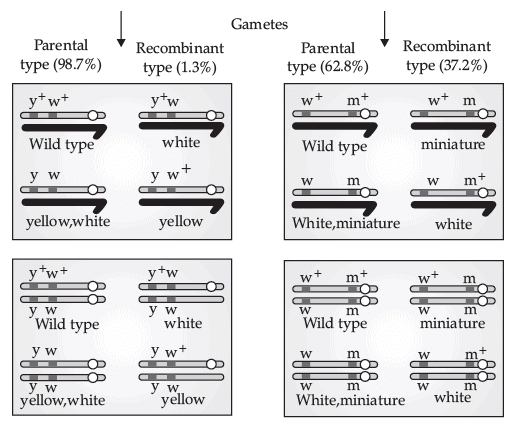 OR
(i) Why is haemophilia generally observed in human males ? Explain the condition under which a human female can be haemophilic.
(ii) A pregnant human female was advised to undergo MTP. It was diagnosed by her doctor that the foetus she is carrying has developed from a zygote formed by an XX-egg fertilized by Y-carrying sperm. Why was she advised to undergo MTP ?
Ans. (i) Haemophilia is caused due to the recessive gene on X chromosome.
Y has no allele for this / if a male is XhY then he is haemophilic / if male inherits Xh from the mother he is haemophilic (with the genotype XhY).
If female inherits XhXh, one from the carrier mother and one from her haemophilic father then she can be haemophilic.
(ii) Embryo has (trisomy of sex chromosome) XXY / Klinefelter's syndrome.
Advised MTP since child will have the following problems :
Male with feminine traits / like gynaecomastia / under developed testes / sterile.

Q.33. What are transgenic animals? How such animals are helpful to humans?
Ans. Transgenic animals : Animals that have their DNA manipulated to possess or express an extra gene.
Importance of transgenic animals are :
(a) To study normal physiology and development : Transgenic animals are used to study how genes are regulated, and how they affect the normal body functions and its development. E.g. study of complex factors such as insulin-like growth factor.
(b) To study the contribution of genes in the development of a disease : Transgenic models help for investigation of new treatments for human diseases. E.g. transgenic models for many human diseases such as cancer, cystic fibrosis, rheumatoid arthritis and Alzheimer's.
(c) Biological products : Some medicines contain biological products, but they are often expensive. Transgenic animals are used to produce useful biological products by introducing genes which codes for a particular product. E.g. In 1997, Rosie (first transgenic cow) produced human proteinenriched milk.
(d) Vaccine safety testing : Transgenic mice are being developed and used in testing the safety of vaccines before they are used for humans. For example, polio vaccine was tested in mice.
OR
(a) How does Bacillus thuringiensis act as a biocontrol agent for protecting Brassica and fruit trees? Explain.
(b) List the components of biogas.
(c) What makes methanogens a suitable source for biogas production?
Ans. (a) Bacterium B acillus thuringiensis (Bt) are available in sachets as dried spores, mixed with water and sprayed onto vulnerable plants, these are eaten up by the insect larvae, the toxins are released in the gut and larvae gets killed.
(b) Methane, H2S, CO2 , H2.
(c) Methanogens grow anaerobically, on cellulosic material, produce large amount of methane, along with CO2 & H2.