CAT 2019 analysis - The slot 1 question paper was of moderate difficulty. The VARC section was more difficult and lengthy compared to the other sections. Shiksha brings to you question paper analysis of the CAT 2019 exam in detail. The CAT 2019 analysis includes in-depth evaluation of the question paper, difficulty level, question paper break up, paper review, expected sectional and overall CAT cut offs and number of good attempts that will get a candidate excellent score.
CAT 2019 exam was held at 376 centres in 156 cities across India. The candidates must analyse their performance after the exam with the help of CAT analysis by experts to assess how much will they score and their admission chances in top MBA institutes in India.
CAT 2019 Analysis: Highlight
Overall, the CAT 2019 question paper was easier than 2018
VARC section was toughest of all the three sections
There were 5 RC passages in both the slots. One-two passages were tricky and complicated
DILR and QA sections can be considered easy as compared to VARC
QA had many questions from Arithmetic, Algebra and Geometry
An overall raw score of 157-160 can fetch 99 percentile
Section-wise break up of questions in CAT 2019: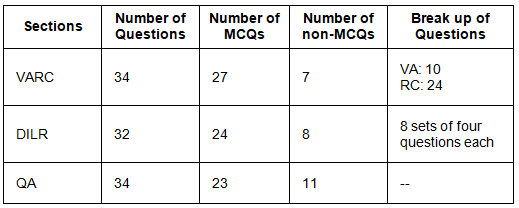 Section-wise CAT 2019 Analysis
➤ Verbal Ability & Reading Comprehension
The VARC section was tougher than the other two questions. There were five RC passages. Four passages had five questions and one passage had four questions. One of the RC passages was complicated and verbose; which made it difficult for many candidates to comprehend.
➤ Data Interpretation & Logical Reasoning
The DILR section of CAT 2019 was the easiest in the last three years. The composition of this section was 24 MCQs and eight non-MCQs. There were eight sets of four questions out of which three DI sets.
➤ Quantitative Ability
The Quant section of CAT 2019 had 23 MCQs and 11 non-MCQs, but the candidates faced no problem in solving them as the section was easy. The questions were on the expected lines and from Time, Work and Distance, P&L, Ratios, Equations, AMA & SI-CI, Geometry, Mensuration, Numbers, Algebra, Trigonometry and Permutations & Combinations.
CAT 2019 Analysis for Slot 1 & Slot 2: Understanding CAT Exam Pattern