CAT Exam 2023 Eligibility Criteria

To submit the CAT exam 2023 application form, candidates must meet certain eligibility criteria set by the exam administrators. Below are the outlined CAT 2023 eligibility criteria to ensure a successful attempt on the exam date:
Graduation: An undergraduate degree in any discipline from a recognized board or similar in any relevant subject is required to apply for the CAT exam.
Minimum Marks: Applicants must have a college grade point average of approximately 50%. The minimum cumulative grade for SC/ST candidates is 45%.
Age Limit: There is no maximum age for appearing in the CAT exam.
Final Year Applicants: Students who are in the final year of their graduation can apply for the exam but will only get admission if they reach the basic mark eligibility requirements after graduating from college. Those who have finished their final assessment and are waiting for results are eligible to apply.
CAT Syllabus 2023

The CAT syllabus is broad. As the conducting IIMs do not have a set syllabus for the CAT exam, MBA candidates can familiarize themselves with the likely CAT 2023 syllabus by reviewing past years' question papers, sample papers, and mock tests. The CAT 2023 syllabus is likely to cover topics from sections such as Quantitative Aptitude (QA), Verbal Ability & Reading Comprehension (VARC), and Data Interpretation & Logical Reasoning (DILR). The questions in the exam are primarily based on middle school-level math and English topics. The table below summarizes the key topics from the CAT syllabus: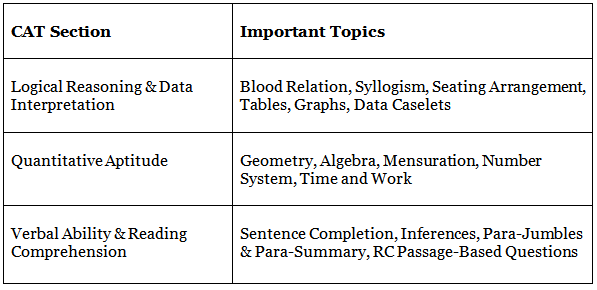 CAT 2023 Exam Pattern

CAT 2023 question paper will comprise 66 questions of 198 marks in total. There is a sectional limit of 40 minutes for each of the three sections, including VARC, DILR, and QA. The CAT exam pattern 2023 can be found below.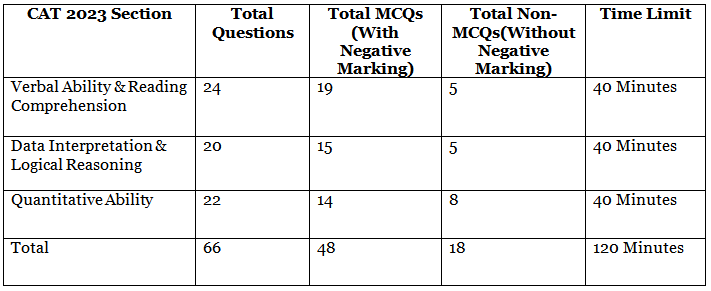 CAT Exam 2023 Best Books

CAT books 2023 are crucial elements of exam preparation. MBA aspirants must refer to them for the CAT syllabus and study them thoroughly to have a conceptual clarity of important CAT topics. They are a great source of knowledge about all the necessary concepts. Candidates preparing for the CAT exam must have a list of the best books for CAT 2023 given below:
Quantitative Aptitude for MBA Entrance Examinations- Abhijit Guha
How to prepare for Quantitative Aptitude for CAT- Arun Sharma/TATA McGRAW HILL
Higher Algebra- Hall and Knight
Course in Mental Ability and Quantitative Aptitude- Edgar Thorpe
Word Power Made Easy- Norman Lewis
How to Prepare for the Verbal Ability and Reading Comprehension for the CAT- Arun Sharma & Meenakshi Upadhya