CAT 2023 Exam

CAT 2023 exam will most likely be conducted by IIM Calcutta or IIM Lucknow on November 26, 2023, in three slots across India. The official CAT exam dates 2023 will be announced in July 2023 and the CAT 2023 application process will begin in August 2023.
Candidates planning to pursue MBA from a top-notch B-School in India, must appear for the CAT 2023 as about 1,200 MBA colleges accept the scores for admission to their PG management programmes. The top MBA colleges accepting CAT scores for admission include the IIMs, MDI, SPJIMR, IMT, FMS, IM, IITs, GIM, GLIM, LIBA, NITIE, MICA, IRMA, KIIT SOM, BIMTech, AMU, JMI, BHU among others.
CAT 2023 Exam Highlights

The following table displays some of the major highlights of the CAT exam 2023: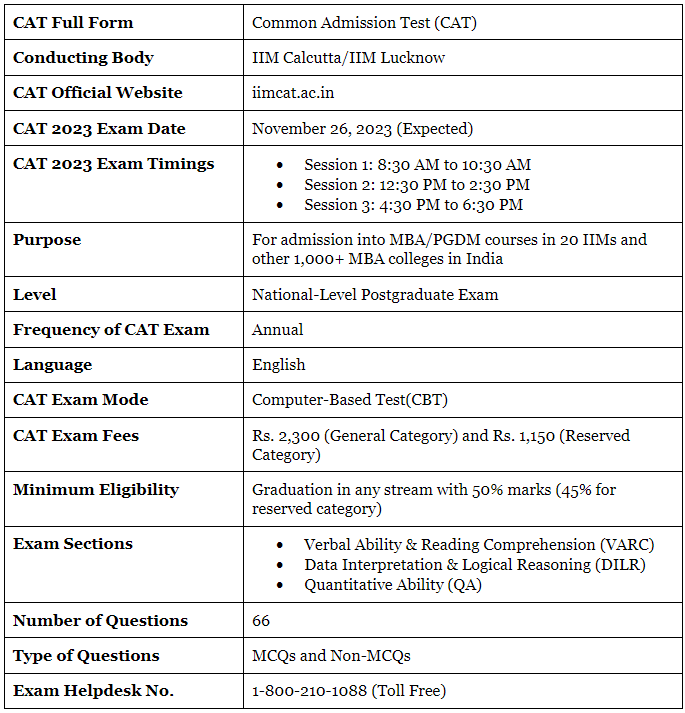 CAT 2023 Conducting Body

The 2023 CAT exam will be administered by IIM Calcutta/IIM Lucknow. The Indian Institutes of Management (IIMs) take turns conducting the CAT exam annually. The conducting institute is also responsible for all other aspects of the exam, including the release of the official notification, online registration, conducting the exam, announcement of results, and screening of qualified students for admission.
Aspirants can take a look at the past years conducting bodies of CAT.