Anion of carbon is known as carbanion. Carbanion carriers three bond pairs and one lone pair, thus making the carbon atom negatively charged. So carbanion may be represented as

(A) What are Carboanions:
Hybridisation and gemometry: Alkyl carbanion has three bond pairs and one lone pair. Thus hybridisation is sp3 and geometry is tetrahedral (shape: pyramidal).

Note: Geometry of allyl and benzyl carbanion is almost planar and hybridisation is sp2.
(i) There are eight electrons in the outermost orbit of carbanionic carbon hence its octet is complete.
(ii) It behaves as charged nucleophile.
(iii) It is diamagnetic in character because all eight electrons are paired.
(iv) it is formed by heterolytic bond fission.
(vi) It reacts with electrophiles.
(B) Generation of Carbanions
Three principal ways in which carbanions are generated are
(a) Action of base on carbon acids.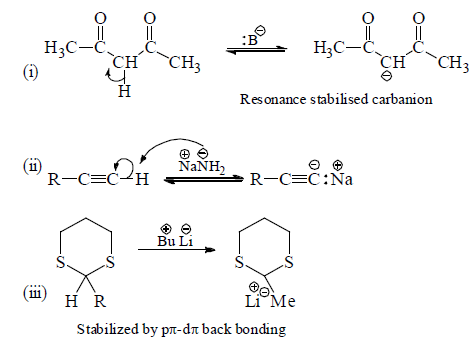 (b) A negative ion adds to C—C multiple bond.

(c) Action of active metals (Li, Na, K, Mg, etc.) on alkyl halide generates organometallic comopunds which behave as a carbanion.

Note: Compunds with direct carbon-metal bond are known as organometallic compounds.
Reactions in which product formation takes place by formation of carbanion as reaction intermediate:
In the following reactions formation takes place by the formation of carbanion as reaction intermediates.
(i) Condensation reactions of carbonyl compounds, i.e., Aldol condensation, Perkin reaction, Reformatsky reaction etc.
(ii) Condensation reactions of ester; Claisen condensation.
(iii) Witting reaction.
(C) Fate of Carbanion
(a) As a base it pickup acidic proton.

(b) As a nucleophile: This is one of the best method by the which C—C bond formation takes place.
e.g.,

(iii) It may pickup β -H to give elimination product

(D) Stability of carbanions: The stability of carbanion may be explained by
(i) Electronegativity of carbanionic carbon:
Stability ∝ Electronegativity of carbonic carbon
∝ % s-character of carbanionic carbon

(ii) Stability of Aromatic Carbanions:
(a) Anions in which negative charge is present on carbon of aromatic system is known as aromatic carbanions.
(b) Aromatic carbanions are most stable carbanions.
(c) Anions obeying Huckel rule are stable because they are aromatic and there is complete delocalisation of negative charge.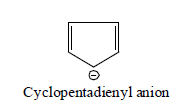 With aromaticity as the factor for stability, few carbanions and their stability order is:

Aromatic carbanion benzyl carbanion Allyl carbanion


(iii) Delocalisation or Resonance: Allyl and benzyl carbanions are stabilising by delocalisation of negative charge.

(iv) Inductive effect: Stability of carbanions depends on the +I or –I groups as follows:
(a) +I group


(b) –I group: Stability of carbanions∝– I power of the group
For example:

(v) Stablisation by Sulphur and Phosphorus: Attachment of carbanionic carbon of a sulphur and phosphorus atom causes an increase in carbanion stability.
The cause of stability is due to the delocalisation of negative charge of carbanion by vacant d-groups stabilise carbanion by resonance effect.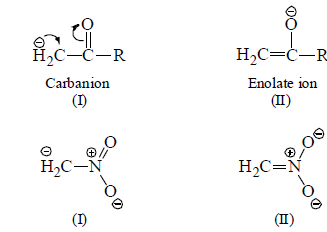 Contribution of structure (II) is more than (I) because in (II) negative charge is present on electronegative oxygen.
Some examples for illustration: