Chapter 1 Introduction (Part 1)
Basic Composition of Concrete:
Concrete basically consists of water, cement and aggregate.
Aggregate is characterised as coarse aggregate (size > 4.75 mm φ ,) where Φ is square opening of 4.75 mm × 4.75 mm and fine aggregate (size < 4.75 mm φ ).
The ratio of fine to coarse aggregate is generally 1 : 2 and it generally depends upon the fineness of sand.
Sands are classified in 4 zones. They are zone-1 (coarse), zone-2 (medium), zone-3 (fine), zone-4 (very fine).
The ratio of fine to coarse aggregate for finer sands is less than 1 : 2, for medium sands is equal to 1 : 2 and for coarse sands is greater than 1 : 2.
Strength and Durability of Concrete
These two important properties depend on water/cement ratio. W/C = 0.4–0.6 (by wt.) for majority of structural concrete. Under moderate conditions of exposure, concrete with W/C = 0.5, durability is very low.
In general there are five categories of exposure conditions viz. mild, moderate, severe, very severe and extreme. For these conditions of exposure, minimum cement content (kg/m3), maximum free water-cement ratio, maximum grade of concrete are specified both for plain and reinforced concrete (Refer IS : 456–2000, page 18 and 20).
STRENGTH OF CONCRETE
(a) Compressive Strength of Concrete
It is considered as a measure of the quality of concrete, because other desired qualities like permeability, durability etc. depend on its compressive strength.
Standard size of the cube = 150 mm.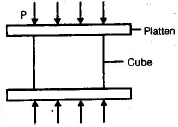 Strength obtained is greater for smaller specimen. Maximum size of aggregate must not exceed one fourth of the size of the cube. Maximum size of aggregate generally used is 20 mm.
Rate of loading specified is 14 N/mm2 per min. This strength is known as cube strength. fcu = P/A N/mm2
American practice is to test a cylinder instead of a cube. Standard size of cylinder is 150 mm dia × 300 mm high. Cylinder strength of concrete.
fc' = P'/A' N/mm2.
For the same concrete, cylinder strength of concrete is less than cube strength. [fc' ≈ 0.75 to 0.85 fcu].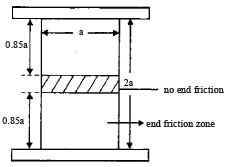 End friction restrains the specimen from failure. In case of cube, the end friction acts on the whole length, but in case of cylinder, since the height is taken twice, end friction works only upto 0.85a from each end, so its compressive strength is lower.
Cylinder strength is the true compressive strength.
Before, testing the cylinder, its top surface needs to be smoothened and the required plainness should be 0.05 mm (which is equal to that of plates).
In case of a cylinder we put a cap of 1.5–3 mm and it should be as strong as the cylinder.
Strength is reported to the nearest of 0.5 N/mm2.
One test consists of 3 specimens. Average of the strengths of the specimens of the strength of the sample.
(b) Variations in Strength.
If we test samples of same concrete, they will have different strengths due to the fact that no material is perfectly homogeneous.
Now accordingly we draw a histogram of strength vs frequency density where, frequency density.

If the number of samples is very large and the strength interval is reduced then this histogram changes into a curve known as probability distributive curve.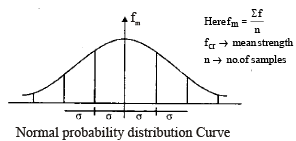 For most engineering materials this curve is symmetrical about the mean and this type of curve is known as normal probability distribution curve.
In the above diagram

where n < 30,σ is standard deviation.
Spread of the curve depends upon σ. So, σ is an index of the degree of quality control at site (for better control σ should be smaller).
Guidelines for Concrete Mix Design
Degree of control for concrete
Very Good
Good (Batching by wt.)
Fair (Batching by volume)
At ordinary sites, batching is done by volume. When batching is done by volume, degree of control is fair only.
Nominal mix – 1 : 2 : 4 : : cement : fine aggregate : Coarse aggregate
Volume of measuring box is equal to the volume of one bag of cement.
Volume of one bag of cement = 34.5 litres  Volume = 30 cm × 30 cm × 38 cm.
Nominal mix = 1 : 1½ : 3
For measuring this half bag we have another box of the dimension (15×15×19) cm3.
Equation of Normal Distribution Curve 
Taking mean as origin, Z =,then equation of the normal probability distribution curve
y = probability density
Area between any two x - ordinates gives the probability of strength falling in the that range, i.e. probability density. 
Total area under the curve = 1.

In the same way probability of strength falling below fm –3σ
= 1 – (0.5 – 0.341 – 0.136 – 0.022) = 0.001= 0.1%
Area under the curve to the left of any ordinate gives the probability of strength below which the test results are likely to fall.
If we want to know the strength below which 5% of the test results are likely to fall then: 0.05 = 1 – (0.5 – x) — x = 0.45
x lies between fm –σ and fm – 2σ .
It comes out to be fm– 1.65σ This is nothing but fck.
Characteristic Strength : It is the strength below which not more than 5% of the test result are expected to fall. fck = fm – 1.65 σ
where


and


These values are acceptable for n ≥ 30, other wise error will be too large.
If n < 30 , then

Concrete is designated by fck where fck is characteristic cube strength of concrete at 28 days.
Cement hydrates slowly over a long period so concrete gains its strength over a long time.
Hydration of cement takes place only when the capillaries are saturated with water.
Strength of concrete after 6 months = 1.2 fck

| | | | |
| --- | --- | --- | --- |
| Age | 7 days | 28 days | 6 months |
| rel. Strength | 0.70 | 1.0 | 1.2 |
GRADES OF CONCRETE
1. As per IS : 456–2000
(a) Nominal Mix Concrete
M5, M 10, M 15, M 20
(b) Plain Concrete
M 15, M 20, M 25
(c) Reinforced Concrete
M 20, M 25, M 30, M 35, M 40.
2. Other Categorisation
(a) Ordinary Concrete
M 10, M 15, M 20.
(b) Standard Concrete
M 25, M 30, M 35, M 40, M 45, M 50, M 55.
(c) High strength concrete
M 60, M 65, M 70, M 75, M 80.
(d) M refer for mix and number indicate the compressive strength of concrete at 28 days.
Compressive Strength of Concrete in a structure:
The strength was found to decrease with increase in size of specimen reason being there is a great probability of presence of a weak element in large volume of concrete.
Strength of 50 mm cube = 0.85 times the strength of 150 mm cube.
Compressive strength of concrete in a structure = 0.79 (End friction factor) × 0.85 (size factor) fck = 0.67 fck
where fck is characteristic cube strength of concrete after 28 days.
DO YOU KNOW?
Among the materials and mix variables, water cement ratio is the most important parameter governing compressive strength.
No factor of safety has been included in this strength formulae. It has to be included now.
Flexural Strength or Modulus Rupture
Flexural strength is the tensile strength of concrete in flexure (bending)
The tensile strength of concrete is closely related to compressive strength of concrete. As compressive strength also increases but at a decreasing rate.
Size of the beam — 100 × 100 × 500 mm long.
Distance between the support point and load point is known as shear span. Shear between two load points is zero and hence the failure occurs in the shear span.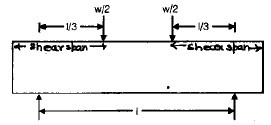 If the failure occurs in the shear span and distance > 20 mm the test is rejected. Bending moment at the section of failure.

where w = failure load in kN.

= 0.4 w N/mm2
As per IS : 456 – 2000

So, our IS code gives the value of strength on the higher side flexural strength is used to determine the load at which cracks will occur.
(i) Tensile Strength of Concrete or Strength in Direct Tension or Direct Tensile Strength
-Tensile strength is determined by splitting test size- 150 mm dia × 300 mm long.
Generally fct ≈ 0.6 fcr

-We generate tensile load by this method to find out tensile strength as it is difficult to apply direct pull on the specimen.
Stress Strain Curve
The peak stresses are cylinder strength of concrete.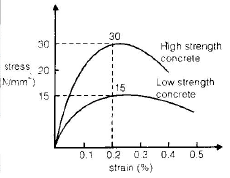 (a) Conclusions
The peak stress is reached at a strain of about 0.2%.
The descending part of the high strength concrete is steeper and the high strength concrete crushes at a lower strain, so high strength concrete is brittle.
Crushing strain is 0.4 – 0.6 %
The ascending part of the curve of all the concrete is similar and is generally second degree parabola.
The curve is approximately linear for about 0.6 times peak stress.
(b) Modulus of Elasticity of Concrete (Ec) & (Et)
Ec is obtained from the stress strain curve.
Ec =

Et = tangent modulus. It will depend upon the value of stress.

So we are interested in secant modulus as we want to know the strain corresponding to the given stress to determine the deformation.
Permissible compressive stress of concrete in bending = 0.33 fck
Ec = Secant modulus corresponding to a stress of 0.33 fck
As per IS : 456–2000


As per ACI


(c) Concrete Strain at Ultimate Strength:
Ultimate strength is the maximum stress attained before failure. So concrete strain at ultimate strength for concrete member axially loaded is 0.2%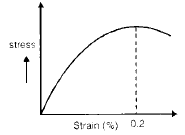 Concrete strain at flexural strength (Concrete strain in extreme compression fibre when it reaches maximum moment of resistance)
ec = 0.3 – 0.4%
In design ec = 0.35%
Soon, failure will occur at a strain of 0.4 – 0.6%
(d) Design Stress Strain Curve of Concrete
We ignore the curve beyond 0.35% as we are interested only in finding out the ultimate value of strength.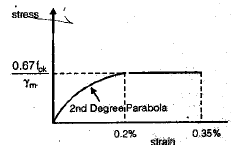 For design purpose γm in should be used
Probability of falling below fck is 5% so we provide factor of safety.
γm = Partial safety factor for material strength.
Design strength = (for any material)
γm = 1, if we are only considering loads
γm > 1 for ultimate values
For concrete, γm = 1.0, for serviceability limit state.
γm = 1.5 for limit state of collapse.
Reinforced Concrete
Concrete is weak in tension. Flexural strength = 15% of its compressive strength. So its strength in bending can be fully utilized only when its tension flange is reinforced. Concrete is allowed to crack. Tension is carried by steel bars and compression is taken by concrete itself.
A beam has a ductile failure if the tension steel yields before failure. This will happen only when the beam is under reinforced (& not over reinforced). If we over reinforce a beam then its failure will be a sudden one which is not desirable.
(a) Reinforcement
If wire is obtained by cold drawing a bar through sieve of dyes its surface is very smooth. So wires are called cold worked steel bars.
Carbon content of mild steel = 0.25%
To increase the strength, bars are allowed (Carbon, Nickel etc.). This is done by hot rolling.
Bars are also strengthened by cold working.
Hot rolled steel as definite yield point.
Grades of bars
1. Fe 250 250 N/mm2} Plain M.S. bars
2. Fe 415 415 N / mm2
3. Fe 500 500 N / mm2 }High Strength
fy is characteristic yield strength (5% probability of strength falling below Fe 415) is mostly used.
(b) Cold Worked Steel
Yield strength = 0.2% proof stress
0.2% proof stress is the stress corresponding to 0.2% strain on unloading.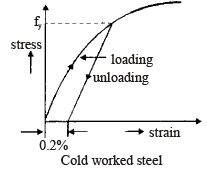 (a) Actual Stress-Strain Cuves for Steel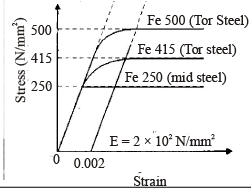 (b) Design Stress-Strain Curves for Steel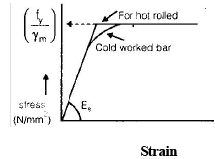 fy – characteristic yield stress
γm – partial safety factor for steel
γm – 1.0, for serviceability limit state
γm = 1.15, for limit state of collapse.
In design stress-strain curve, we ignore the increase in stress in strain hardening range. It is extended only upto 3%.
Strain in tension steel at ultimate strengths es = 0.4 to 1%
So in this range, increase in stress in quite insignificant, so we ignore it.
At ultimate strength, strain in steel is not likely to be more than 3%. In rare cases it is 3% otherwise it is less than 3%. Steel. reaches its ultimate strength at a strain of 9% but reinforced concrete member fails much earlier, so steel never reaches its ultimate strength in reinforced concrete member as concrete crushes much earlier.
This is why we don't designate the reinforced steel bars with their ultimate strength as it is never reached. We designate the bars by their characteristic yield strength.
Non-Destructive Testing Methods:
In the non destructive methods of testing the specimen are not loaded to fracture and as such the strength inferred can not be expected to yield absolute values of strength.
These methods, therefore attempt to measure some other properties of concrete from which an estimate of its strength, durability and elastic parameters are obtained. Such properties of concrete are hardness, resistance to penetration, rebound.
The electrical properties of concrete, its ability to absorb. scatter and transmit X-rays and g -rays, its response to nuclear activation and its acoustic emission allow us to estimate moisture content, density, thickness and its cement content.
Various non destructive methods:
(a) Surface hardness methods.
(b) Rebound test
(c) Penetration and pull out techniques
(d) Dynamic or vibration test
(e) Radio active and Nuclear Methods
(f) Magnetic and electrical methods
(g) Acoustic emission techniques