Chapter 3 - Sports and Nutrition, Chapter Notes, Class 12, Physical Education

Key Points :
Balanced Diet and Nutrition: Macro and Micro Nutrients.
Nutritive and Non-nutritive components of the diet.
Eating disorders - Anorexia Narvosa and Bulimia.
Effects of Diet on performance
Eating for weight control - A healthy weight, the Pitfall of dieting, Food Intolerance, and Food Myths.
Sports Nurtrition (Fluid & Meal in taking, pre, during and post Competition).
3.1 A. Balanced Diet:- A complete food, a diet contains adequate amounts of all the necessary nutrients required for proper growth & maintenance of the body.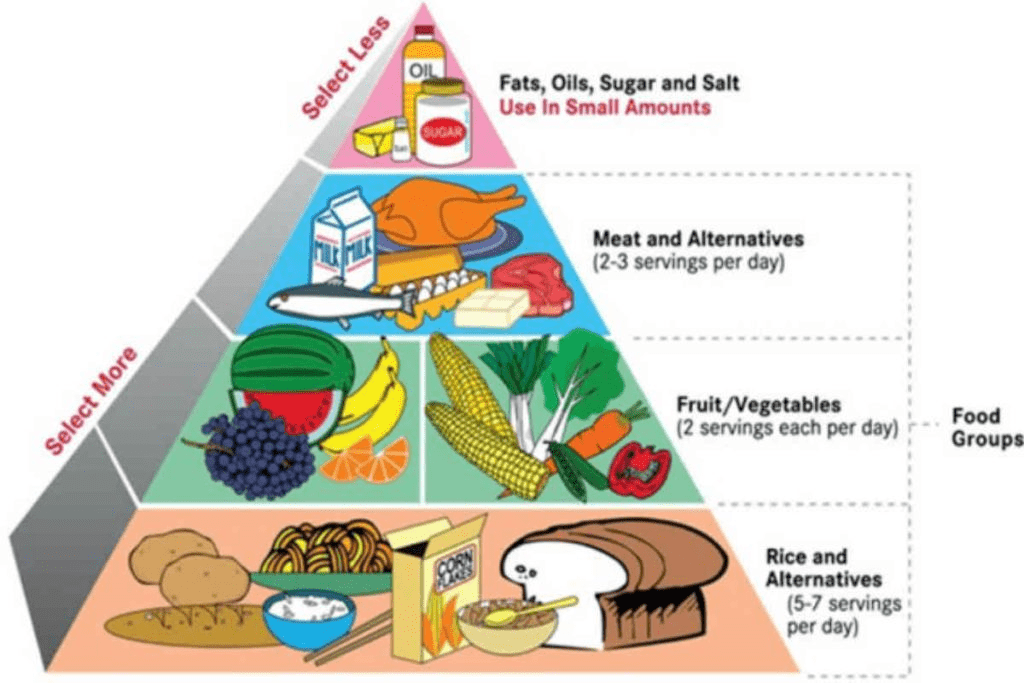 B. Nutrition:- It is the process of obtaining & consuming food or breaking down food & substances taken in by the mouth to use for energy in the body.

C. Nutrients :- The energic food in our diet consists of various types of essential chemicals for our body termed as nutrients:- e.g. Protein, fat, carbohydrates, vitamins & minerals.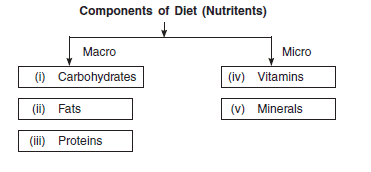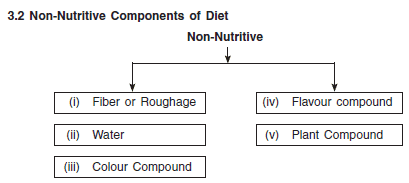 Macro Nutrients
The macro nutrients include carbohydrates, proteins and fats.
(i) Carbohydrates: Carbohydrates are the main source of energy in all activities that we do. The elements of carbohydrates are carbon, hydrogen and oxygen. Carbohydrates are organic compounds which are important for our digestive process. They require less water in diet. There primary function is to provide energy to the body, especially to the brain and nervous system. There are two main types of carbohydrates i.e. simple carbohydrates and complex carbohydrates.
(ii) Proteins: Proteins are the basic constituents of our cells. They are large molecules, so they cannot get directly into our blood. So, they turned into amino acid by our digestive system. There are 23 amino acid and only 9 are available in diet. Proteins form tissues, repair the broken tissues, regulate balance of water and oxygen etc. They are body building foods. Foods rich in proteins are eggs, meat, fish and dairy products as well as pulses, nuts and cereals
(iii) Fats: Fats contain hydrogen, carbon and oxygen. These are the most concentrated source of energy in food. Fats have a very high energy content. Foods rich in fats are butter, oil, sausage, cheese, fish, chocolate, olives and nuts. If we permanently take too little exercise, we become overweight or even ill. Many fats are unhealthy such as trans-fats in deep-fried foods.
Micro Nutrients
Micro nutrients are vitamins, minerals and secondary plant compounds.
(i) Vitamins: Vitamins are compounds of carbon which are essential for the normal growth and working of the body. They are required in very small quantities. Many of them can be stored in the body for months or even years but others need to be freshly absorbed every day. There are two groups of vitamins i.e. fat-soluble and water-soluble
(ii) Minerals: Minerals contain elements needed by our body in small quantities. But these are essential for proper growth and functioning of the body. A shortage of minerals can have severe effects on health. For example, a long-term shortage of foods containing iodine in people leads to thyroid gland diseases.
Iron: It is important for the formation of haemoglobin. Its deficiency leads to anaemia and sources are meat, eggs and dry fruits.
Calcium: It is needed for the formation of strong bones, teeth and also for clotting of blood and muscle contraction. Its deficiency causes rickets, asthma and sources are milk, egg yolk, cheese and orange.
Phosphorus: It is required for development of strong bones and teeth and also for making energy. Its sources are egg, fish, meat and unpolished rice.
Potassium: It is important for growth and keeping cells and blood healthy. Its deficiency weakens the muscles of the body and sources are carrot, beet root, onion, tomato, orange and mango.
Sodium: It is needed for the proper functioning of the nervous system. Its sources are milk and milk products, meat and eggs.
Iodine: It is essential for proper thyroid function. Its deficiency causes goitre and sources are seafood and salt.
Fluorine: It is important to make the enamel (polish) of the teeth hard and prevents dental caries.
Copper: It is helpful in red blood cells,connective tissue and nerve fibre formation and functioning.
Zinc: It is required for insulin production and also for functioning of male prostate, digestion and metabolism.
Nutritive and Non-Nutritive Components of Diet
Food components whether they are nutritive (providing calories) or non-nutritive (not providing calories) are needed to a multitude of food and beverages. They not only provide a sweet flavour to foods, they are also used to preserve foods (in jams or jellies), provide body bulk and texture (in ice-cream and baked goods), enhance other flavours (like salty) and aid in fermentation (in'breads and pickles).
The nutritive components of the diet are proteins, carbohydrates, fats, vitamins and minerals. Non-nutritive components do not contribute to the energy, calories or nutrition of the body. Some non-nutritive components are essential for the body while others harm the body. Colour compounds, flavour compounds, food addictives, a plant compound, water, roughage or fibre are some non-nutritive components of diet.
3.3 Eating Disorders - (i) Anorexia Nervosa & Bulimia.
A. Anorexia Nervosa - It is a serious & potentially life-threatening mental illness. The eating disorder is characterized by self-starvation & excessive weight loss. It is caused by genetic predisposition & a combination of environmental, social & cultural factors.

B. Bulimia Nervisa:- It is eating Disorder characterized by recurrent binge eating followed by compensatory behavior such as purging or consuming a large amount of food in a short amount of time followed by frantic efforts to avoid gaining weight. By Self induced vomiting, excessive use of laxatives, enemas or diuretics or excessive exercise.
Treatment:- Psychological Therapy, medication, Hospital treatment Balanced Diet Ealing Roughafe Education, etc.
3.4 Effects of Diet on performance.
Good diet and nutrition can improve spending performance. Any diet which has all constituents of food, necessary for the maintenance and growth of the body in sufficient amount is important for all people busy in simple work or in highly competitive sports.
3.5 Eating for weight control:-
(i) A healthy weight is a weight that lowers your risk for health problems, Generally,
body mass index (BMI) and waist size are good ways to achieve a healthy weight.
Methods to calculate BMI = Weight in Kg/(Height in m)2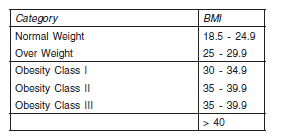 Eating for weight control :- Factors to control body weight
Balanced diet
Drinks lots of water
Eating lot of fibrous food
Regular Medical Checkup
Avoid Fats
Medicine only by doctors advice
Physical Activity
Avoid Drinking
Avoid junk food
Meals in small shifts
Follow Hygenic Habits
Do not Diet
Never try slimming pills
Avoid overeating
Balancing the intakes of calories and expenditure of calories.
B. PITFALL OF DIETING
An individual who is overweight wants to reduce weight they starve for reducing weight many times skip meals to lose weight, sometimes take slimming pills.
Extreme Reduction of Calories.
Restriction on some nutrients
Skipping meals
Intake of calories through drinking
Underestimating the calories.
Intake of tabelled foods.
Not preferring physical activities.
low energy diet.
Taking fewer liquids
Starving
C. Food Intolerance
Food intolerance is that when a person has difficulty in digesting a particular food.
Symtoms: Nausea, Vomiting, Pain in joints, headache and rashes on skin,
Diarrhea, sweating, palpitations, burning sensations on the skin stomach.
Causes :
Absence of activity of enzymes responsible for breaking down the food elements. These are usually innate sometimes diet-related or due to illness.

Management :
Change in diet causing reaction some therapies like fructose intolerance therapy, lactose intolerance therapy, lissamine intolerance therapy can be applied.
D. Food Myths/Dieting Myths

(i) Myth:- Low fat or No fat diet are good.
Fact:- Body needs fats for energy, tissue repair and to transport vitamin A.D, E.K. Just cut down on salivated fat eating unsaturated fats.
(ii) Myth Crash :- Dieting or Fasting may loose weight.
Fact:- It may be true in the short term but ultimately it hinders weight loss. Loosing over the long term burns off fat whereas crash dieting or fasting
not only removes fat but who leans muscles.
(iii) Myth :- Food eaten late night is more fattening.
Fact:- It doesn't make much change.
(iv) Myth :- Low fat milk has less calcium that full-fat milk.
Fact:- Skimmed and semi-skimmed actually have more calcium because it is in watery part and not in the creamy part of milk.
(v) Myth:- Vegetarian cannot build muscles.
Fact:- Vegetarian can built muscles as meat eaters by getting their proteins from vegetables such as cheese nuts pulses. Etc.
(vi) Myth:- Healthy food is expensive.
Fact:- Tinned, stored, packed food is expensive. Whereas local & seasonal food is inexpensive.
3.6 Sports Nutrition (Fluid & Meal in taking, pre, during the post Competition)
Eating Diet before exercise:

1. The meal should be taken at least three to four hours and snacks at least one to two hours before exercise, to give us time for digestion.
2. The diet should include starches such as cereal, bread, and fruit, to give us a slow, steady release of energy.
3. We should avoid simple sugars because they increase insulin levels, which in turn reduces our blood glucose and make us feel tired.
4. To avoid dehydration, include plenty of fluids in the diet.
5. As fat and protein take a longer time to digest, avoid such diets before exercise.
Eating Diet during exercise:
1. Take small sips of water and other fluids even if you do not feel thirsty.
2. Drinking liquid glucose to save your own limited stores of glycogen.
Eating Diet after exercise:
1. Drink lots of water and other fluids to replace any loss of fluid.
2. The food should be rich in carbohydrate within an hour of exercising even if we do not feel hungry, to restore glycogen stores quickly.