Chapter 4 - Posture Correct Posture, Chapter Notes, Class 12, Physical Education

Key Points :
Concept of correct postures - standing and sitting.
Advantages of correct posture.
Causes of Bad Posture
Common Postural Deformities - Knock Knee; Flat Foot; Round Shoulders; Lordosis, Kyphosis, Bow Legs, and Scoliosis.
Physical activities as corrective measures.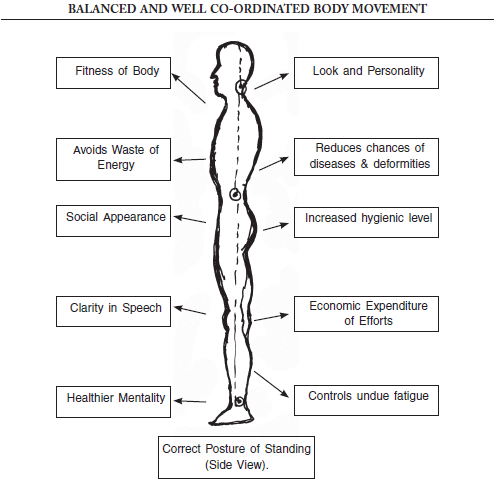 4.1 Definition: Good or Correct posture is one in which the body is so balanced as to produce least fatigue

Meaning: Correct or good posture in the position of the body held without any sense of effort. The efficiency of the body depends upon good posture. It is directly related to the health status of an individual. By good posture the various organs of the body get rest, the body does not yet easily tired and the person remains in good health.

A. Correct Sitting Posture : Incorrect sitting posture the backbone should be so the natural curve should be visible. The upper region of backbone should be straight against the back of the chair. Head should in line to hip and shoulder. Arms should be balanced, the waist should touch the back of the chair. Thigh should in straight line resting on seat legs should rest vertically on feet.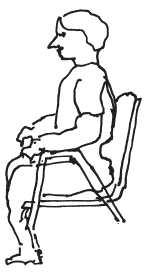 B. Correct Standing Posture: In the correct standing posture, feet apart about 8 to 12 inches Feet should be parallel to each other and balanced evenly on both feet. Hold the head straight, chin parallel to floor, keep shoulder hips and knees in a straight line. From side view ear, shoulder, hip, knee and ankle should be centered along an imaginary straight line. The center of gravity (C.G.) Should be with the center of Gravity.
4.2 Advantages of Correct Posture :
(i) Good physical Appearance
(ii) Grace & Efficiency of movement-
– Physical Fitness
– Hygiene Value
– Social Value
– Economic Value
– Prevent Disorders & Diseases
– Change in mental Attitude
– Lessen the Fatigue
– Improves Speech
– Psychological Balance
– Improves Appetite
– Reduce Postural Deformities
– Better Skill perfection
– Better Selection of Players
– Good Body Balance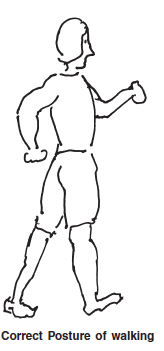 4.3 Causes of Bad Posture
(i) Accident
(ii) Diseases
(iii) Lack of Nutritional Diet
(iv) Wrong Postural Habit
(v) Improper Treatment
(vi) Psychological Stress
(vii) Lack of Sufficient Strength
(viii) Age Factor
(ix) Poor Eyesight
(x) Bad Shoes or Clothing
(xi) Obesity
(xii) Taking Heavy Weight on one side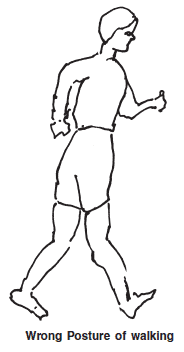 4.5 Corrective Measures
A. Kyphosis - It causes hump at back of body shoulder comes forward and neck drops forward - It is also called round upper back.
B. Round Shoulders - It is the postural defect in which shoulders are projected forward.
Corrective measures -
(i) Chakra Asanas
(ii) Dhanur Asanas
(iii) Bhujangasana
(iv) Ushtt Asanas
(v) Backward Bending
(vi) Use pillow and sleep straight
(vii) Holding the horizontal bar regularly for some line
C. LORDOSIS - Inward curvature of the spine, the abdomen is ahead of body and shoulder comes outward and sideward, Bodyweight shifted backward.
Corrective Measures - Forward Bending Asanas.
(i) Paschimottanasana
(ii) Halasanas
(iii) Forward Bending
(iv) Alternate Toe Touching
(v) Stoop Walking (Long Stride Walking)
(vi) Proline Lyons.
SCOLIOSIS: It is the problem of the spine in which vertebral column bends to sideward.
Corrective measures -
(a) Ardh Chakra Asanas
(b) Trikon Asanas
(c) Tarr Asanas
(d) Chin-ups
KNOCK KNEE: In this thigh bends inward and knees strike each other while walking & running.
Corrective measures :
(a) Vriksh Asanas
(b) Akara Dhanur Asanas
(c) Padmasana
(d) Pillow Walking
(e) Outward walking
(f) Horse Riding
(g) Walking Calipers
BOW LEGS : This is the defect of legs in which legs bend outward. The space between knees widens up and legs take curve shape.
Corrective measures :
(a) Ardh chakra Asanas
(b) Garud Asanas
(c) Ardha Matsyendra Asanas
(d) walking Inward
(e) Walk on bend toe of the feet
FLAT FOOT: In this default of feet person gives a complete print of their foot sole over the plane surface. In flat foot the inner curve of foot bulges more than normal.
Corrective measures :
(a) Tarr Asuras
(b) Walking on sand
(c) Regular running
(d) Good quality shoes
(e) Pressure over foot
(f) Writing with foot
(g) Rope skipping
(h) Sit down hold a wad of paper by toes
(i) Jumping on toes regularly
(j) Performing up and down the heels regularly