VARIOUS DEVICES OF REFRIGERATOR
POSITIVE DISPLACEMENT COMPRESSOR
Ex.: Reciprocating compressor, Rotary compressor, Scroll compressor, screw compressor
The fluid is subject to non flow processes.
Work is transferred through a hydrostatic force on the moving boundary.
They prevent reversal of flow.
NON POSITIVE DISPLACEMENT COMPRESSOR
The fluid is subject to flow process
Work is transferred by the change of momentum of fluid flowing at high speed over blades or vanes attached to a rotor.
They don't prevent reversal of flow.

Work done by compressor
= Area 1-2-3-4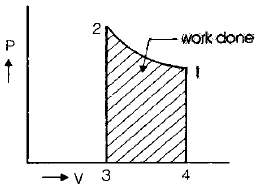 • Specific work done for reciprocating or centrifugal compressor
VARIOUS COMPRESSION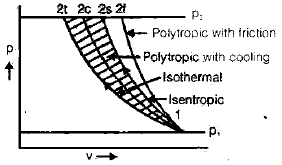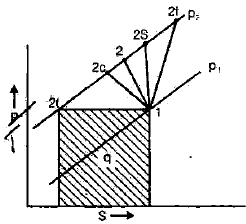 | | |
| --- | --- |
| Compression Process | Work done |
| Isentropic compression | |
| Isothermal compression | T(S2 - S1)(for idealgas) |
| Polytropic compression | |
Work done in isothermal compression is the least.
VOLUMETRIC EFFICIENCY OF RECIPROCATING COMPRESSOR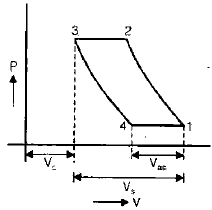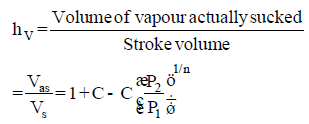 Clearance ratio (C) =


Work done with clearance volume

If P (Suction pressure) or clearance volume decreases hv decreases, consequently the refrigeration capacity and so COP of the refrigeration system decreases.
HERMETICALLY SEALED UNIT
In this type of unit motor, cylinder & crankcase are together enclosed.
They have no leakage, less noise and compactness
A separate pump is required for evacuation and changing of refrigerant.
A drier is installed in the suction line so as to absorb moisture to avoid moisture choking.
RECIPROCATING COMPRESSOR VS. CENTRIFUGAL OCMPRESSOR
Reciprocating compressors are suitable for low discharge and high condensing pressure.
Centrifugal compressor are suitable for high discharge and low condensing pressure.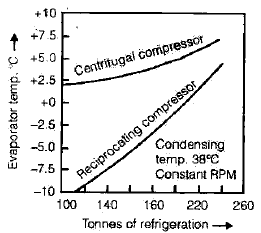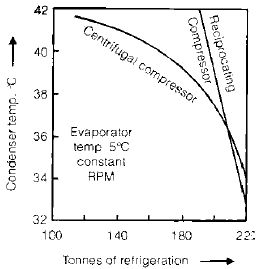 Condensers
In a vapour compression cycle heat is rejected in condenser after compression.
Sensible heat rejected during cooling (from superheated vapour to saturated vapour and from saturated liquid to subcooled liquid) is very less as compared to latent heat during condensation.
Heat rejection ratio


Qk = Q0 + W
Heat rejection ratio

TYPE OF CONDENSERS
Air Cooled Condenser
Refrigerant flow inside the tube, Air flows outside the tube
They are used in domestic refrigerators, window type air conditioner, water cooler (small capacity machines).
Water Cooled Condenser
Water flows inside the tube and refrigerant condenses in the shell.
These are used with cooling towers, spray system which works on the basis of evaporative cooling.
Evaporative Condenser
Here the refrigerant first rejects its heat to water and then water rejects its heat to air so an evaporative condenser is a combined form of condenser & cooling tower.
They require a large amount of refrigerant due to longer piping.
It is used in ammonia plants.

The vertical tube of condenser should not be very long and horizontal tube should not have big diameter otherwise condensate film will be thicker so lowering the heat transfer coefficient.
The fins are always provided on air side in air cooled compressor because air side heat transfer coefficient is much lower than refrigerant side coefficient and total heat transfer coefficient is lower than the lower side heat transfer coefficient as shown


The air present in condenser (even very small amount) terribly decreases the heat transfer coefficient at the wall so purge valves are used to remove air.
The main disadvantage of an air cooled condenser is that it operates at higher condenser temperature than water cooled condenser, Higher condenser temperature causes more work from compressor.
Cooling Tower: It work on the principle of evaporative cooling.

Capacity of cooling tower increases as the wet bulb temperature decreases.
TYPE OF COOLING TOWER
Natural Draft Cooling Tower
Spray type cooling tower
Splash dick or baffle type cooling tower
Mechanical Draft Cooling Tower
Forced draft type cooling tower
Induced draft type cooling tower
Advantages of mechanical draft cooling tower over natural draft cooling tower.
Smaller in size
Cooling capacity is controlled by controlling the amount of forced air.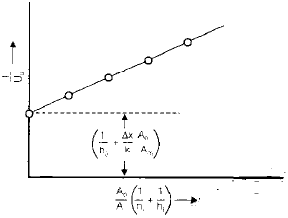 It is used to determine the condensing coefficient ho under actual operating conditions for any condenser.
EXPANSION DEVICES
It expands refrigerant from condenser pressure to evaporator pressure.
It supplies liquid refrigerant to the evaporator at the rate at which refrigerant is evaporated in evaporator.
Process of expansion is throttling process.
Type of Expansion Devices
Variable Restriction Type
Automatic Expansion Valve: It maintains a constant degree of superheat in the evaporator . It is suitable for varying load requirement.
Thermostatic Expansion Valve: it maintains a constant degree of superheat in the evaporator. It is suitable for varying load requirement like refrigerator, air conditioning etc.
High Side Float Valve: It maintains the liquid at a constant level in the condenser.
Low Side Float Valve: It maintains liquid at a constant level in the evaporator.
Constant Restriction Type of Expansion Device
Capillary Tube: The pressure drop and so the enthalpy drop is directly proportional to the length and inversely proportional to the diameter of capillary tube.
It is suitable for no-off control i.e. compressor stops after required pressure built up and this expander starts the compressor when pressure drops.
It does not have moving part so very simple & least expensive.
Evaporators
It removes heat from air, water or whatever to be cooled in the refrigeratin machines.
Flooded Evaporators
Refrigerant covers entire heat transfer surface.
Hear refrigerant flows outside the tube. Float valve expansion device is used with it.
It is used in chillers
Here pool boiling occurs
Dry Evaporators
Here a part of heat transfer surface is used for superheating the vapour.
Thermostatic expansion valve or capillary tube is used with this evaporator.
Here refrigerant flow inside the tube
It is used in domestic refrigerator, ice plants.
In this evaporator, forced convection boiling occurs.
Here horizontal tube coil is used.
It has more heat transfer coefficient
Here vertical tube coil is used
It has lower heat transfer coefficient.