GAS CYCLE REFRIGERATION
DRAW BACK IN CARNOT CYCLE WHEN GAS IS USED AS REFRIGERANT
Due to isentropic compression, very high pressure and due to isothermal heat rejection very high volume of gas is developed.
Isothermal heat transfer with a gas is not possible practically due to very small specific heat of the gas.
Small irreversibilities in a gas cycle causes much increase in work due to narrowness of the cycle.
REVERSED BRAYTON OR JOULE OR BELL COLEMAN CYCLE
In this cycle, the two isothermal process of carnot cycle is replaced by is two isobaric process.
These changes decrease the refrigerating effect and increase the work done.
This cycle is used for aircraft refrigeration.
Its COP is less than that or vapour compression cycle.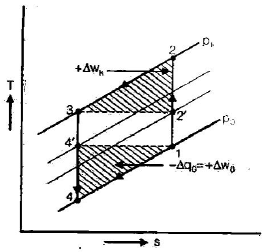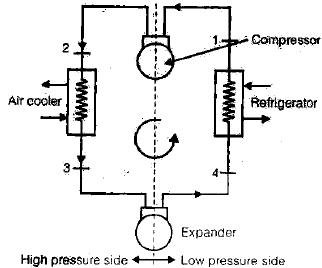 Refrigeration effect
q0 =Cp (T1 - T4 )
Heat rejected



Isentropic compressor work



Isentropic expander work



Net work =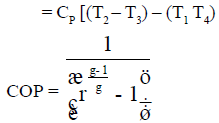 r = Pressure Ratio =


If Pk increases or P0 decreases pressure ratio (r) increases and so COP of the cycle decreases
Minimum pressure is generally fixed as being atmospheric pressure.
It the maximum pressure increases, refrigerating effect and work done both increases but COP decreases, as increase in work done is more than that of refrigerating effect.
Application to Aircraft Refrigeration
The gas cycle is exclusively used in aircraft refrigeration systems of military and commercial aircraft.
Only air is used as working substance in this application. Hence it's called Air
Refrigeratin Cycle.
Power per tonner of refrigeration is more compared to vapor compression system.
TYPE OF AIR REFRIGERATION CYCLE
Closed Cycle
It can work at suction pressure higher than atmospheric pressure.
It has more COP as pressure ratio is reduced.
It needs heat exchanger for refrigeration process.
Its weight & cost are more.
Open Cycle
It can work at atmospheric pressure as suction pressure.
Its COP is less
It does not require heat exchanger for refrigeration process as fresh air is directly led to conditional space.
Its weight & cost is less.
ADVANTAGE OF AIR REFRIGERATION CYCLE OVER VAPOUR COMPRESSION CYCLE
Leakage of refrigerant is tolerable.
In open type system no heat exchanger is required.
Refrigerant being air is available in mid atmosphere.
Cabin pressurization and air conditioning can be done simultaneously.
Initial compression of the air is obtained by ram effect.
Ram Effect
Conversion of high kinetic energy of the ambient air into enthalpy and pressue rise in an air craft is called ram effect.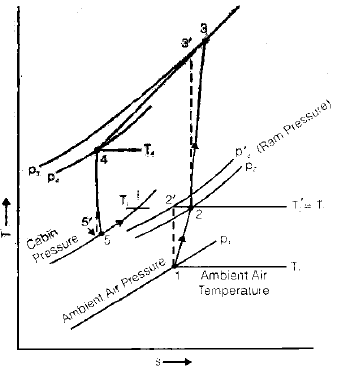 Ram Efficiency =