VAPOUR ABSORPTION SYSTEM
In this system, absorber, pump and generator combindely replaces compressor of vapour compression system. The refrigerant flows as
absorber ® Pump® Generator® Condenser® Expander® Evaporator
Absorber: Here lies a weak solution which after absorbing the refrigerant becomes rich solution.
Pump:it pumps rich solution raising its pressure to condenser pressure.
Generator: It distills vapour refrigerant from rich solution making it weak solution for recycling in absorber.
the cycle of rich solution flows as absorber ® pump ® generator ® valve ® absorber
COP =


Vapour absorption system may be considered as a combination of heat engine & refrigerating machine.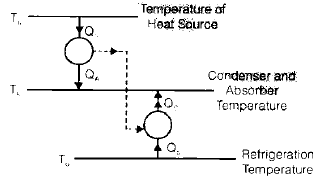 Maximum COP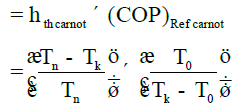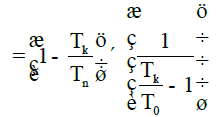 So for maximum COP

Th should be as high as possible
Tk should be as low as possible
T0 should be as high as possible
COP of vapour absorption system first increases with generator temperature
(Th). reaches an optimum then it decreases
REQUIREMENT OF REFRIGERANT ABSORBENT PAIR
Low viscosity to minimize pump work
Low freezing point
Chemical & thermal stability
Refrigerant should be highly soluble in absorbent
Their boiling point difference should be large.
Ex. Refrigerant NH3 + Absorbent H2O
Refrigerant H2O + Absorbent LiBr2
ELECTROLUX REFRIGERATOR
It works on 3 fluid System e.g.,
NH3 + H2O + H2
There is no solution circulation pump
Third fluid remains in the evaporator.
H2 is chosen as it is non corrosive & insoluble in water.
Two U bends are provided to prevent H2 from going to solution
The cycle runs on the basis of partial pressure variation.