Activity
Picture of the following objects are shown to the students. The children are asked to cross (x) the objects they should not play with and hence these objects should not be kept in their school bag.


Safety means staying away from harm. We get harmed by accidents. Accidents occur due to carelessness. Many accidents can be avoided if we are little careful.
Safety at Home
Be careful of the following: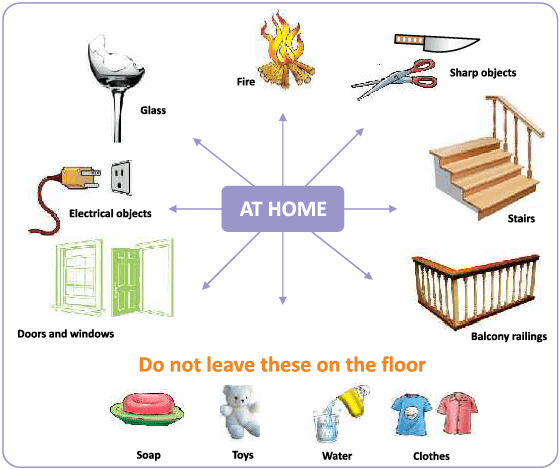 Observe safety rules:
Do not run on the stairs. You may fall.
Do not touch electric wires or switches with wet hands. You may get electric shock.
Do not play with matchsticks or fire. You may get burns.
Handle things made of glass carefully. You may hurt yourself.
Do not play with sharp objects (knives, blade etc.).You may get a cut.

Do not jump on bed. You may fall.

Do not throw fruit, vegetable peels, soap or toys on the floor. You may slip and fall.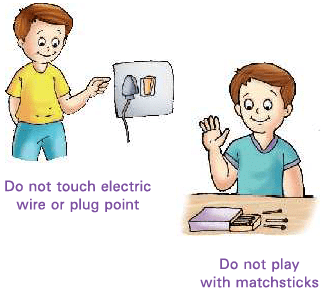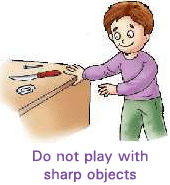 Amazing Facts
Never keep battery inside a toy. It is not safe.
Safety on Road
To avoid accidents follow safety rules:
Walk on the footpath.
Keep to the left.
Cross road at zebra crossing.
Watch traffic lights while crossing.
Do not play or run on the road.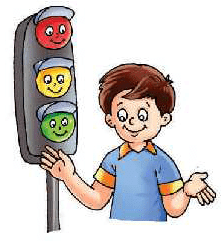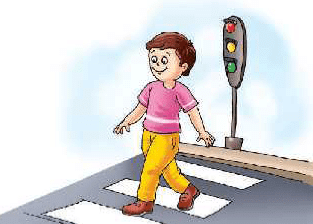 Amazing Facts
Never run while crossing the road. If you fall you may get hit.
Golden rules to cross road safely :
Look to left.
Look to right.
Look to the left again. Cross the road at zebra crossing only when the traffic light is green for you and there is no traffic on the road.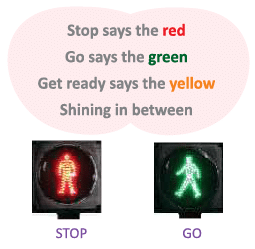 Going to School in the bus :
Wait in a queue to get into the bus.
Get in or off only when the bus stops.
Do not lean or put your arms out of the bus window.
Do not push each other.
Do not disturb the bus driver.

While Playing
Play only in the play-ground and not near the road.
Do not play on an open terrace.
Do not play with a match box.

While Swimming
Do not go alone for swimming.
Do not push or pull others into water.
Do not go into deep water.

Once Again!
We should be careful with sharp and electrical objects at home and while playing. 2
You should keep to the left while crossing the road.
You should never try to get on a moving vehicle.
You should not push anyone into water.