1. All the living organisms that we see around us are made up of cells. Therefore cells are the fundamental structural and functional units of living organism.
2. Some organisms like Amoeba, Chlamydomonas, Paramoecium, bacteria etc., are made up of one cell. Such organisms are known as unicellular or single celled organisms wherein all the functions vital for life are performed by the single cell.
3. Large number of other organisms are made up of numerous cells. Such organisms are called as multicellular organisms. Plants and animals are examples of multicellular organisms.
4. In multicellular organisms, different groups of cells (tissues) are present which perform specific functions. This is division of labour i.e., presence of different cells to perform different functions.
5. All cells whether they exist as one-celled organism or as part of multicellular organism perform certain similar basic functions such as respiration and nutrition which are essential for their survival.
6. The shape and size of cells are related to the specific function they perform.
7. Cell biology is the study of cells in all aspects of structure and function.
8. In 1665, Robert Hooke- an English scientist saw cells for the first time in a thin slice of cork taken from the bark of a tree (Quercus). With the help of self-designed crude microscope, he was able to see honeycomb-like structures. He named these structures as cellular or cells. Cellula is a Latin word for 'a little room.
9. In 1674, A, Van Leeuwenhoek- a Dutch scientist studied living cells (bacteria, protozoa, red blood cells etc.) for the first time with the help of an improved microscope made by him.
10. A Scottish botanist Robert Brown (1831) discovered nucleus in the cells of orchid roots.
11. In 1839, J.E. Purkinje coined the term 'protoplasm' for the fluid substance present inside the cell.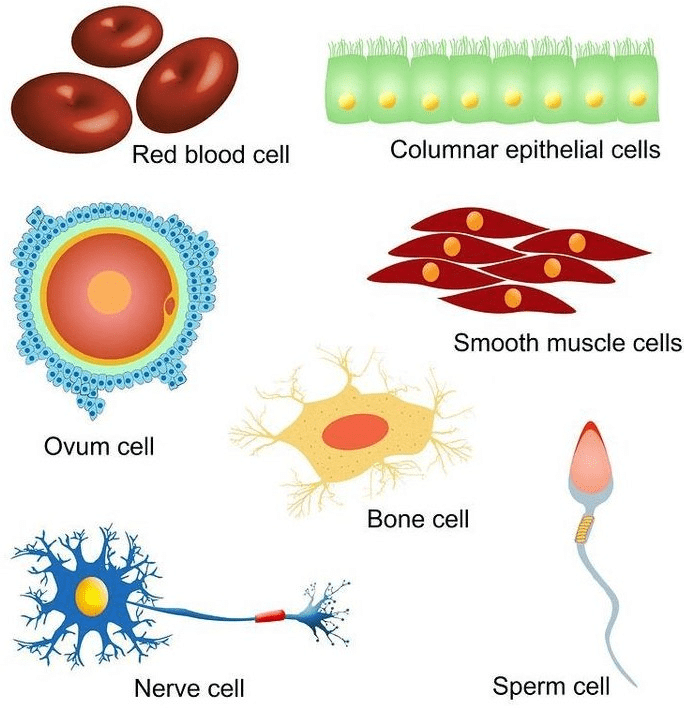 Various Cells in a Human Body
12. The cell theory was formulated by two German biologists: M.J. Schleiden, a botanist in 1838 and T. Schwann, a zoologist in 1839. According to this theory : All living organisms are made up of cells and their products; Cell is the basic structural and functional unit of life: An organism is the outcome of various activities performed by its cells. "All cells arise from pre-existing cells." This statement was given by Rudolf Virchow in 1855 and is a key point of the modified cell theory. Viruses are an exception to cell theory.
13. Light or compound microscope is a high-resolution instrument that uses glass lenses for magnification and visible light for observation. Magnification is due to the power of objective lens (10X, 45X, 100X) and eye piece (10X, 15X).
14. Electron microscope is a very large instrument that uses electro-magnets for magnification and electrons for illumination. The instrument was developed by Knoll and Ruska in 1940. With the help of electron microscope, it was possible to observe and understand the complex structure of the cell and its various organelles as its magnification is 1,00000 to 5,00000.
15. Cells have specific cytoplasmic components within it. These are known as cell organelles. Each kind of cell organelle performs a specific function.
16. A typical cell is formed of three parts:
(i) Plasma membrane
(ii) Nucleus
(iii) Cytoplasm
17. Plasma membrane or cell membrane is the outermost covering of the cell that separates the components of the cell from its external environment. It is a living flexible elastic selectively permeable membrane which is 6-8 nm in thickness. The membrane is made of bilayer of phospholipids and proteins. Small carbohydrates are attached at places to the outer surface of lipids and proteins.
18. The membrane is selectively permeable because it allows entry and exit of some substances while preventing passage to remaining substances.
19. Plasma membrane plays a vital role in providing flow of information amongst different cells of the same organism apart from being a mechanical barrier that protects the internal contents of the cell.
20. Substances like C02 or O2 can move across the cell membrane by a process called diffusion. In diffusion, substances move from their region of high concentration to a region of their low concentration.
21. The movement of water molecules occurs by the process of osmosis through tiny water channels present in the plasma membrane.
22. Osmosis is a special type of diffusion in which movement of water molecules takes place from the area of low solute concentration to the region of high solute concentration through a semi-permeable membrane.
23. Osmotic solutions are of three types namely hypotonic, isotonic and hypertonic.
24. When a cell is placed in a hypotonic solution then water will enter into the cell from a region of low solute concentration (external environment) to a region of high solute concentration (inside of the cell) through a semi-permeable membrane. The phenomenon is referred to as endosmosis. It causes swelling of cells. Prolonged inward movement of water results in bursting of animal cells whereas plant cells can resist bursting due to the presence of a thick cell wall, which is rigid.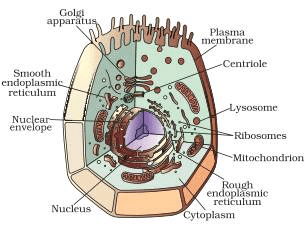 Animal Cell
25. When a cell is placed in isotonic solution then there is no net movement of water as the external solution has the same solute concentration as the solute concentration inside the cell. So the cells size remains the same.
26. When a cell is placed in a hypertonic solution then the cell loses water from the inside of cell having low solute concentration to the external environment having high solute concentration through a semi-permeable membrane. The phenomenon is referred to as exosmosis. It causes shrinking of cells. In plant cells, the shrinking protoplasm will contract away from the cell wall. It is called as plasmolysis. In animals, the whole-cell shrinks to give a wrinkled appearance. The phenomenon is termed as crenation.
27. The flexibility of the cell membrane enables unicellular organisms like Amoeba to engulf their food from external environment. This process is known as endocytosis.
28. Endocytosis is categorised as phagocytosis (engulfing of solid particles) and pinocytosis (engulfing of liquid particles).
29. In-plant cell, outside the plasma membrane, a rigid cell wall is present. It is made up of cellulose. Cell wall is a rigid, permeable protective covering present outside the plasma membrane in plant cells, fungi, some protists and prokaryotes. Plant cell wall is made of cellulose. Fungal cell wall is either made up of hemicellulose or chitin. Additional deposition of lignin (for strength), suberin (for impermeability) and cutin (surface coating) may be present. Cell wall possess numerous pores through which adjacent cells remain connected to each other with cytoplasmic bridges called as plasmodesmata.
30. Nucleus is the controlling centre of the cell which contains all the hereditary information of the cell.
31. In some organisms like bacteria, cyanobacteria the nuclear material is not enclosed by nuclear membrane and lacks membrane-bound cell organelles. Such cells are known as prokaryotic cells in which the nuclear material is represented by a single chromosome which is referred as nucleoid.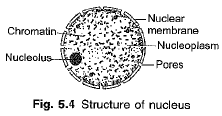 32. Some cells lack nuclei at the time of maturity e.g., RBC in mammals; sieve elements in plants. Cells without nucleus cannot survive for long.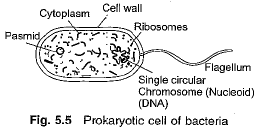 33. One nucleus is present in most of the cells but some cells have more than one nucleus. Such organisms are multinucleate e.g., Paramoecium. It has two nuclei - macro and micronucleus.
34. Nucleus is made up of three parts namely nuclear envelope, nucleoplasm and nucleolus.
35. The nuclear envelope is a double membranous covering which delimits nucleus from the cytoplasm. The outer nuclear membrane is connected with endoplasmic reticulum bearing ribosomes. Nuclear pores are present in the double nuclear envelope that facilitates exchange of materials between nucleus and cytoplasm.
36. Nucleoplasm is a colourless dense sap inside the nucleus in which chromatin and nucleolus are suspended. Nucleolus is a dense round structure present inside nucleus which is rich in RNA and protein. It is the site of ribosome formation. Chromatin is a granular network of DNA and protein. During cell division, chromatin becomes highly condensed thick and rod like, known as chromosomes.
37. Chromosomes contain information for inheritance cf characters from parents to offspring. This information is contained in DNA (Deoxyribose Nucleic Acid). Such functional segments of DNA which contain heredity information are called genes. They contain blueprint of the whole organisms apart from the information necessary for functioning, growth and reproduction.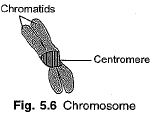 38. The protoplasmic mass of the cell inner to plasma membrane and excluding nucleus is called cytoplasm. Cytoplasm has two parts - cytosol and cell organelles. Cytosol is the fluid viscous part of cytoplasm in which number of metabolic reactions takes place.
Cell organelles are submicroscopic structures which are specialised to perform specific cellular functions.
Cytoplasm + Nucleus = Protoplasm
39. A cell having well-defined nucleus and membrane-bound cell organelles is termed as a eukaryotic cell. Such cells have more than one chromosome.
40. On the basis of membranous covering, cell organelles are of three types - double membranous (mitochondria, plastids, golgi apparatus, endoplasmic reticulum), single membranous (lysosomes, vacuole) and non-membranous (ribosomes).
41. Mitochondria are rod-shaped or sausage-shaped cell organelles which are known as powerhouse of the cell. They contain enzymes necessary for the oxidation of food during the process of respiration and for release of energy in the form of ATP (Adenosine triphosphate). ATP is also known as the energy currency of the cell. This energy is used by cell to perform various functions such a mechanical work and biosynthesis of new chemical compounds.
Mitochondria is bounded by double membranes. The outer membrane is porous and the inner membrane is deeply folded. These folds are known as cristae and they provide a large surface area for ATP- generating chemical reactions. Mitochondria have their own DNA, ribosomes and enzymes to manufacture their own proteins. So they are also known as semiautonomous bodies.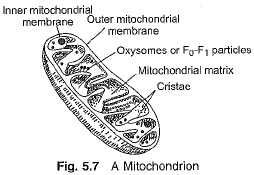 42. Endoplasmic reticulum consists of a large network of membrane-bound channels, tubules and vesicles. In structure, the ER membrane is similar to that of plasma membrane. ER is present in all cells except prokaryotes and mammalian RBC. Depending upon the presence or absence of ribosomes on the surface there are two types of ER-rough endoplasmic reticulum (RER) and smooth endoplasmic reticulum (SER), respectively.
43. RER is the site of protein synthesis.
44. SER helps in lipid synthesis. In liver cells SER takes part in detoxification of poison and drugs.
45. Proteins and lipids synthesised by ER help in building the cell membrane. This process is known as membrane biogenesis.
46. Functions of endoplasmic reticulum:
(i) Serves as channel for transport of material.
(ii) Provide mechanical support to cytoplasmic matrix.
(iii) Release and uptake of calcium ions during muscle contraction and relaxation.

47. Camillo Golgi discovered and described Golgi apparatus for the first time. It is an organelle of membrane-bound sacs, tubules and vesicles. Sacs of golgi apparatus are thin, curved and occur in stacks. They are arranged almost parallel to each other, and called cisternae. Tubules and vesicles occur on their periphery. The membrane of golgi apparatus develop connections with membranes of ER to form complex cellular membrane system.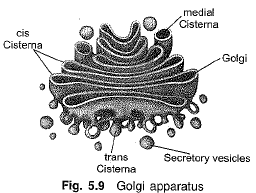 48. The main function of Golgi apparatus is to store, modify, pack and despatch the material synthesised by ER through vesicles. It is also involved in the formation of lysosomes. Components of cell wall are synthesised by golgi apparatus. They are involved in repair and synthesis of cell membranes.
49. Lysosomes are small spherical vesicles covered by single membrane which contains digestive enzymes for intracellular digestion and waste disposal. They are also known as 'suicidal bags' of the cell. When the cell gets damaged lysosomes burst to release enzymes for digestion of cellular components by a process called autolysis.
50. Lysosomes thus play an important role in removing dead and worn out cellular organelles. They help in the destruction of foreign particles thereby providing protection to the body. Lysosomes aid in intracellular digestion of food particles.
51. Plastids are large cell organelles found only in plant cells which are specialised to synthesise and store organic substances. These are of two types:
(i) Chromoplasts (coloured plastids).
(ii) Leucoplasts (white or colourless plastids).
52. Leucoplasts or colourless plastids are mostly present in storage cells of roots and underground stems. They are of three types - amyloplasts (starch storing), aleuroplasts (protein) and elaioplast (oil).
53. Chromoplasts or coloured plastids are coloured red, orange, yellow, green, etc., due to the presence of pigments (chlorophyll, carotenoids). They are mostly found in flower and fruits).
54. Plastids containing green pigment chlorophyll are known as chloroplasts. These are the sites of photosynthesis. Chloroplast is a double membrane organalle having stacks of chlorophyll-containing structures called thylakoid. Group of thylakoids is termed as grana. Thylakoids of one granum are connected to thylakoids of another granum through stroma lamellae. The space interior to the membranes is termed as stroma or matrix. Chloroplasts too have their own DNA, RNA and ribosome by which they can synthesise their own proteins. So they are referred to as semi-autonomous organelle


55. Vacuoles are membrane-bound non-cytoplasmic sac which occur in both plant and animal cells. They store sugars, amino acids, some proteins and various organic acids. The vacuoles in plant cells are larger in size as compared to animal cells. In-plant cells vacuoles are full of cell sap and provide turgidity and rigidity to the cell. The membrane of the vacuole is called as tonoplast and is similar in composition to the plasma membrane. It is also required in osmotic absorption of water.
In unicellular organisms like Amoeba, the sacs containing ingested food particles fuse with lysosomes to form food vacuoles. Digestion occurs inside the food vacuole. Contractile vacuoles occur in unicellular freshwater organisms like Chlamydomonas, Paramoecium. They are specialised to collect excess water and some wastes from the cell. Therefore they play an important role in osmoregulation and excretion.
56. Ribosomes are extremely small rounded bodies found either in free state in the cytoplasm or attached to the surface of ER. It comprises of RNA and proteins. They are present in prokaryotes as well as eukaryotes but are absent in mammalian RBC's. They are the site for protein synthesis.
57. The centrosome is a small naked organelle present near the nucleus in cells of animals. It has a sheath that encloses two centrioles placed at right angles to each other. Centrosome duplicates or divides before cells division. They form astral spindle fibres. Centrioles also produce basal bodies that form cilia and flagella.