Introduction
We are on the threshold of 21st century. Today the most commonly used word in this country is computer. We are living in a period of 'Computer revolution' or rather micro computer revolution. The base of a micro computer, has revolutionized many aspects of our lives they have computerized watches, Calculators, televisions, video games etc. A Computer is an electronic machine that solves the problems with speed and accuracy. It not only calculates and makes comparison faster but also stores information. It is a machine that processes data millions of times faster than human beings.
Meaning and Definition
A computer is an electronic device or Machine which performs Various functions and helpful in accounting. A Programmable machine that receives input, stores and automatically manipulates data, and provides output in a useful format.
According to Internal Standards organization
"A computer is a data processor that can perform substantial computations including numerous arithmetic and logic operations without intervention of human operator during the sun."
According to U.S. Institute
"A computer is a device capable of solving problems by accepting data , performing described operations on the data's and supplying the results of these operations."
Features/characteristics
(1) It can store large amount of information within it and can make it available to use when required.
(2) The Computer can do various operations on the data, technically it is known as 'data processing'.
(3) Performing calculation, such as addition, subtraction, multiplication, division etc.
(4) Performing - Logic/ comparing data: The computer can perform logic functions and can compare two numbers or alphabets and arrange them in desired sequence.
(5) Editing of Text: In application of word processing, the business documents can be prepared easily and efficiently.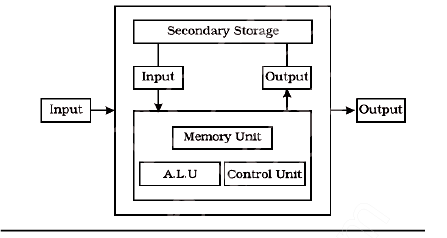 Hardware
The physical equipments and components of the computer system are called hardware. The word hardware refers to the actual machine in use. It is one which we can see and feel, the machine Parts – CPU , Key Board , Printer , Floppy drives etc. it Refers to objects that you can actually touch, like disks, disk drives, display screens, keyboards, printers, boards, and chips. In contrast, software is untouchable. Software exists as ideas, concepts, and symbols, but it has no substance.
Software
The term software implies the systems analysis and programming that have to be performed before a computer can be used. It refers to the various kinds of programs that cause the hardware to function in the desired way. In the other words, the set of instructions written to solve a problem on a computer is called software.

(1) Analog computers: - Analog computers are those which work on the basis of continuous measurement of physical quantities e.g. pressure, voltage, current, temperature, current, length etc. We can quote a number of instruments that work on the principles of analog computers.
:- Thermometer, speedometer, wall- clock, voltmeter, ammeter etc.
(2) Digital computers: - Digital computers are those which represent data in terms of discrete number and processes data using the standard arithmetic operations. These computers directly operate on numbers. These computers directly operate on numbers and produce precise results. These are used in a unlimited number of applications are for e.g. desk calculators and electronic computers.
(3) Hybrid computers: - In certain situations, a computer that combined the most desirable features of both digital and analog computers is employed. They are suited for situations were digital processing of data collected in analog form is desirable. For e.g. in a hospital intensive care unit analog devices may measure a patience.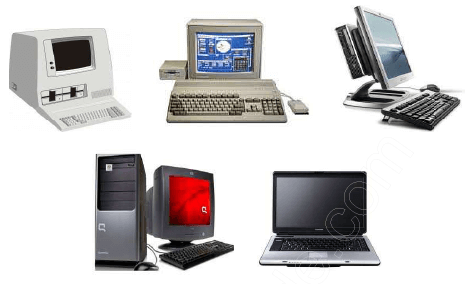 MANUAL vs COMPUTERIZED ACCOUNTING
Accounting records can be maintained manually or through the computer. The main purpose of both is to maintain the accounting records e.g. Journal, Ledger, Trial Balance, Cash Book Preparation of Cash flow statement and Financial statements etc. Not only for these, there are some other areas where it is helpful. For example : inventory control, payroll etc. Computerised accounting is better than the manual accounting because in computerized accounting there is no need of passing closing entries, it is automatically done through the accounting process.
Operating Softwares : Windows XP, Windows Vista, Windows 7, Mac, Linux etc.
Utility Softwares : Anti virus, Back up software, Scandisk softwares, Disk defragmenter etc.
Application Softwares : Flash, Photoshop, Firefox, Internet explorer, Notepad etc.
Humanware
(a) Operator : The main function of an operator is to operate or control the computer system.
(b) System Analyst : The main function of system analyst is to design the data processing system.
(c) Programmer : The main function of a programmer is to write the effective program and to implement the data processing system.