O, Plant, little plant, Just grow up into a tree give me shade and jewels, The treasure of tree.
Activity
Pictures of various food items are drawn below. The children should cross the items that we do not get from plants.




Plants as food :
Most of our food comes from plants. Plants give us vegetables, fruits, cereals, pulses and oils. So plants are very useful to us. In fact we eat a I most each and every part of a plant.
Vegetables :
We eat roots, stems, leaves and flowers of some plants as vegetables.


FRUITS

PULSES AND CEREALS


Amazing Facts
Sugar comes from the stem of sugarcane plant.
BEVERAGES ARE OBTAINED FROM :

Amazing Facts
Chocolate comes from cocoa beans.
DRY FRUITS
Some fruits a re dry with a hard cover. They are called dry fruits.


OILSEEDS


The seeds of many plants are used for making oil. Mustard and coconut are some examples.
My favourite
My favourite flower is rose.
The fruit I like the most is mango.
The vegetable I like the most is peas.
In cereals I like rice.
In pulses I love to eat kidney-beans.
Now its your turn.
What are your favourite things?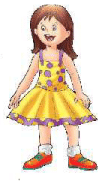 Once Again!
We eat the roots, stems, leaves, flowers and fruits of the plants.
We also get pulses, cereals and beverages from the plant.
Fruits which are dry and have a hard cover are called dry fruits.