What is Equality?
Equality is a condition in which adequate opportunities are given to all.
Equality is a key feature of democracy and influences all aspects of its functioning.
Democracy: A government in which the supreme power is vested in the people and exercised by them directly or indirectly through a system of representation usually involving periodically held free elections a government of the people, by the people, and for the people.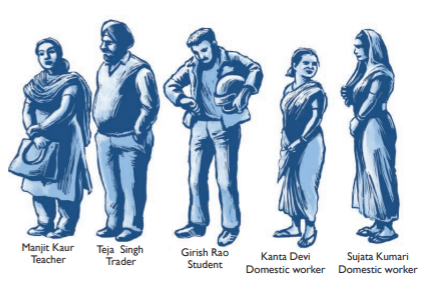 Equal Right to Vote
In a democratic country like India, adults, irrespective of their religion, caste education, status or place of birth, are given the right to vote under Universal Adult Franchise.
Universal Adult Franchise:
The right to vote is to be given to all the citizens of the country.
They should not be bifurcated on the grounds of religion, culture, gender, etc.
The idea of a universal adult franchise is based on the idea of equality.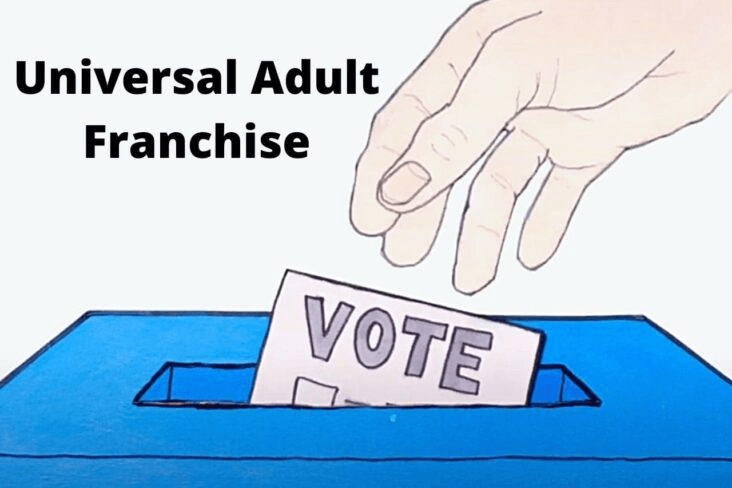 Try yourself:According to Universal Adult Franchise every adult has:
Other Kinds of Equality
Apart from being poor, people in India experience inequality, which is based on the caste system.
Caste System: Indian society is divided into four primary castes: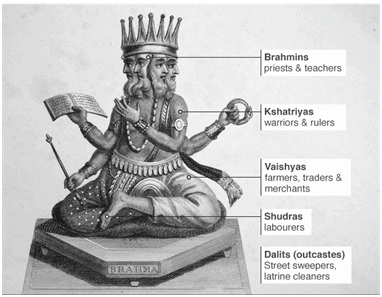 Dalit: Dalit, meaning "broken/scattered" in Sanskrit and Hindi. It is a term mostly used for the lower caste members in India. The term is used for those who have been subjected to untouchability.
Joothan: Joothan refers to scraps of food left on a plate, destined for the garbage or animals. India's untouchables have been forced to accept and eat joothan for centuries, and the word encapsulates the pain, humiliation, and poverty of a community forced to live at the bottom of India's social pyramid.
Areas in which Humans are not treated equally:
Caste
Colour
Religion
Race
Gender
Recognizing Dignity
When people are treated unequally, their dignity is violated. Dignity is the right of a person to be valued and respected for their own sake and to be treated ethically.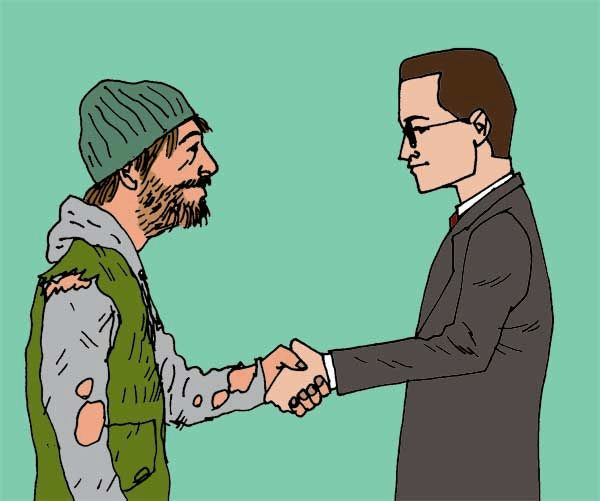 Whether Rich or Poor dignity of every person is important.
Does Equality Exist?
In reality, a difference exists between rich and poor.
The caste system is also rigid.
Dalits in India and minorities are denied the right to dignity and equality.
Against this what does the Constitution of India Say?
Constitution is the basic principles and laws of a nation, state, or social group that determine the powers and duties of the government and guarantee certain rights to the people in it
A written instrument embodying the rules of a political or social organization.
Fundamental Rights
Articles 12-35 of the Indian Constitution deal with Fundamental Rights.
These human rights are conferred on the citizens of India for Constitution tells that these rights are inviolable.
Right to Life, Right to Dignity, Right to Education, etc. all come under one of the six main fundamental rights.
Article 14 of the Indian Constitution deals with equality before the law and equal protection of laws while Article 15 declares that the state cannot discriminate against citizens only on the basis of religion, race, caste, sex, and also the place of birth.
Excerpt from Article 15 of the Indian Constitution:
Prohibition of discrimination on grounds of religion, race, caste, sex, or place of birth:
1. The State shall not discriminate against any citizen on grounds only of religion, race, caste, sex, place of birth, or any of them.
2. No citizen shall, on grounds only of religion, race, caste, sex, place of birth, or any of them, be subject to any disability, liability, restriction, or condition with regard to –
access to shops, public restaurants, hotels, and places of public entertainment; or
the use of wells, tanks, bathing ghats, roads, and places of public resort maintained wholly or partly out of State funds or dedicated to the use of the general public.
Example:
Omprakash Valmiki is a famous Dalit writer who has written an autobiography, Joothan
Problems Faced by Omprakash
Sat on the floor and was made to sit too far away from all.
Sometimes beat without any reason.
He was made to sweep the classroom and the ground during school hours because he was from a Dalit family.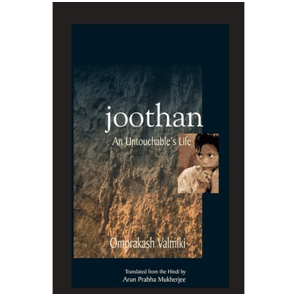 Problems faced by Ansari
Mr. and Mrs. Ansari were looking to rent an apartment in the city. They had the money and so paying the rent was no problem.
They were not being given a house on the pretext that they belonged to another religion and ate meat
They were not ready to change their identities.
Try yourself:Whose autobiography is 'Joothan'?

Equality in Indian Democracy

The Indian Constitution recognizes every person as equal. However, it does not mean that inequality does not exist in India.
Four provisions provide equality in India; equality before the law; no discrimination on the basis of caste, color, religion, race, gender. Everyone has access to all public places and untouchability has been abolished.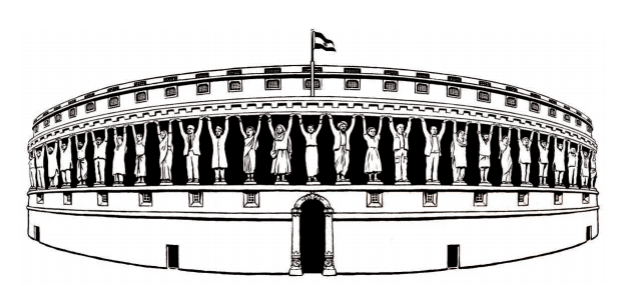 Parliament is the Cornerstone of Our Democracy
The government has tried to implement equality first through laws and second through government programs or schemes to help disadvantaged communities.

Programs like the mid-day meal scheme have been launched to improve the attendance and enrollment ratio of children in schools.

Mid-day Meal

Mid-day meal (MDM) is a wholesome freshly-cooked lunch served to children in government and government-aided schools in India.
On 28 November 2001, the Supreme Court of India passed a mandate stating, "We direct the State Governments/Union Territories to implement the Mid Day Meal Scheme by providing every child in every Government and Government-assisted Primary School with a prepared midday meal."
Benefits of the Midday Meal Programme:
It has helped increase the enrollment and attendance of poor children in school
Students earlier used to go home for lunch and never returned after that. This practice has been stopped.
It has also helped reduce caste prejudices because both lower and upper caste children in the school eat this meal together, and in quite a few places, Dalit women have been employed to cook the meal.
The midday meal program also helps reduce the hunger of poor students who often come to school and cannot concentrate because their stomachs are empty.
This lead to an increase in the literacy rate of a state and the removal of inequality among rich and poor children from schools.
B.R. Ambedkar: A Great Leader of the Dalits

"Man is mortal. Everyone has to die someday or the other. But one must resolve to lay down one's life in enriching the noble ideals of self-respect and in bettering one's human life... Nothing is more disgraceful for a brave man than to live a life devoid of self-respect." – B.R. Ambedkar
Issues of Equality in other Democracies
In many democratic countries around the world, the issue of equality continues to be the key issue around which communities struggle.
Inequality in the United States of America
The African–Americans whose ancestors were the slaves who were brought over from Africa, continue to describe their lives today as largely unequal.
This was, despite the fact that there was a movement in the late 1950s to push for equal rights for African– Americans.
Prior to this, African–Americans were treated extremely unequally in the United States and denied equality through the law. For example, when travelling by bus, they either had to sit at the back of the bus or get up from their seat whenever a white person wished to sit.
Try yourself:Civil Rights movement of USA was about:

Contribution of Rosa Parks in changing the Course of American History
Rosa Parks was an African–American woman. Tired from a long day at work she refused to give up her seat on a bus to a white man on 1 December 1955.


Rosa Parks

Her refusal that day started a huge agitation against the unequal ways in which African–Americans were treated and which came to be known as the Civil Rights Movement.
The Civil Rights Act of 1964

It prohibited discrimination on the basis of race, religion, or national origin.
It also stated that all schools would be open to African–American children and that they would no longer have to attend separate schools specially set up for them.
Still, the inequality continues and they are still poor and their children are not able to attend private schools. Some can only afford to go to government schools with fewer facilities.
Frequently Asked Questions
Q.1. What are the key elements of democracy?
Ans:
The key elements of a democratic government are people's participation, the resolution of conflict, and equality, and justice.
Equality is the main feature of democracy. It influences its functioning.
Q.2. Who is allowed to vote in India?
Ans:
In a democratic country, like India, all adults aged 18 years or above irrespective of their religion, education, caste, rich or poor are allowed to vote.
Q.3. What is universal adult franchise? What is the basis of it?
Ans:
Voting rights to all adults is called a universal adult franchise.
It is an essential aspect of all democracies.
The idea of a universal adult franchise is based on the idea of equality because it states that every adult in a country, irrespective of their wealth and the communities, he/she belongs to, has one vote.
Q.4. What is the position of equality in India, a democratic country?
Ans:
The Indian Constitution recognizes every person as equal.
This means that every person in the country, both male and female from all castes, religions, tribes, educational and economic backgrounds is equal.
Inequality still exists. But at least, in democratic India, the principle of the equality of all. persons are recognized.
Earlier no law existed to protect people from discrimination and, ill-treatment.
Now there are several laws that work to see that people are treated with dignity and as equals. !