Sectors of Economic Activities
Primary sector/Agricultural sector - use of natural resources - cultivation of cotton
Secondary sector/industrial sector, manufacturing sector
Tertiary sector/Service sector
(a) Development of primary and secondary sector
(b) generation of services rather than goods.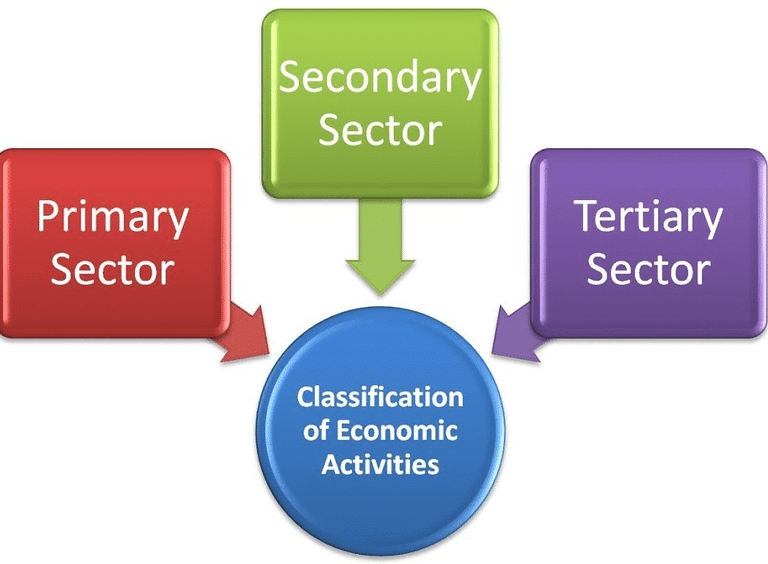 Comparing the Three Sectors
How do we count the various goods and services and know the total production in each sector
To include value of final goods and services including the value of all the intermediate goods
GDP - sum of production of three sectors in a year
Task of measuring GDP by a ministry with the help of various govt, departments of all States and Union Territories.


Historical Changes in Sectors
Initially primary sector
Changes in agriculture
Manufacturing and secondary sector
Change from secondary to the tertiary sector
Rising importance of tertiary sector - Hospitals, defence, transport, trade, storage, increase in income and new demands, development of IT
Still more people employed in the primary sector - under-employed/disguised unemployment
New employment - How to create: Loan by banks, construction of dams for irrigation; transport facilities and storage of crops; to promote local industries; tourism and MGNREGA 2005.
Division of Sectors as Organised and Unorganised
Organised - Factory Act, Minimum Wages Act and other facilities.
Unorganised - No such facilities and outside the control of government.
Need to protect workers in the unorganised sector.
Sectors in Terms of Ownership: Public and Private Sectors
Public and Private
Public sector

Production of electricity
Railways
Fair price shops
Primary responsibility of government

Private sector i.e., Reliance Industries