Human beings depend on plants and animals for survival. There are many kinds of plants, bushes, and trees in our surroundings. We enjoy various types of benefits from different types of plants.
Let us know some of the following uses of plants:
Food
Most of the food we eat comes from plants. We get fruits from many plants.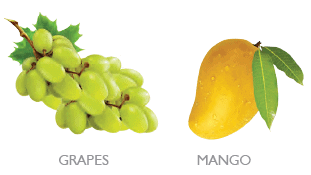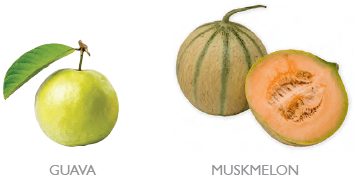 Common Fruits
Some fruits like grapes are dried in the sun and stored. These dried grapes are called raisins or kishmish.
We get vegetables from plants. Some vegetables can be eaten in raw form but some have to be cooked first.

Common Vegetables
Some commonly eaten vegetables are actually the fruits of their plants, for example, tomato and brinjal.
We also get cereals and pulses from the plants. Cereals and pulses are together called foodgrains. Some cereals are ground to get flour. We eat different kinds of food grains.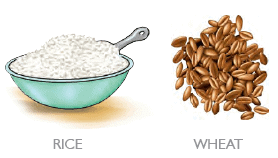 Common Cereals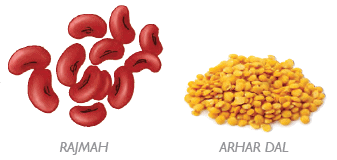 Common Pulses
We also get spices and nuts from plants. Spices add taste, colour, and aroma to our food. Nuts give us energy.
Common Spices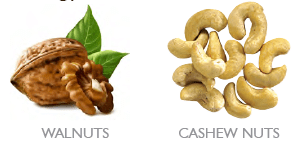 Common Nuts
Try yourself:See the picture and identify the fruit.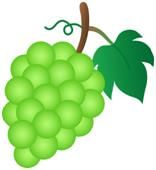 Oil
If we crush the seeds, nuts and fruits of some plants, we get oil.
We use oil for different purposes.
For example, we use mustard oil and groundnut oil to cook food.
We use coconut oil to oil our hair.
We also use oil to make soaps and shampoos.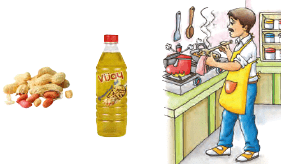 Wood
Wood from trees like teak, sheesham, and pine is used to make houses, and furniture like chair, table, door, window, and almirah.

Uses of Wood
Some Other Products From Plants
Fibers & Medicines
We get cotton, jute, flax, and coir from plants. They are made into fibers. These fibers are used to make clothes, ropes, sacks, baskets, and so on.

Medicines Plants like tulsi, neem, and eucalyptus are used for making medicines. Mint (pudina ) is used to cure stomach ache, clove is used to cure toothache while turmeric is a good antiseptic.
Paper, Rubber, and Gum
We get paper, rubber, and gum from trees like bamboo, rubber, and keekar, respectively.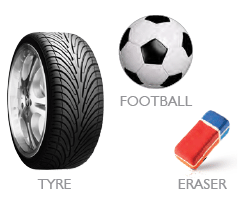 Rubber products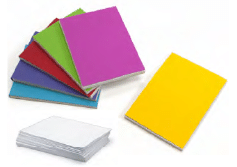 Paper products
Try yourself:Gum is used to make
Tea, Coffee, Cocoa, and Sugar
Tea is made from tea leaves. Coffee is made from coffee beans. Cocoa beans are used to make cocoa from which we make chocolates. Sugar is made from sugar cane.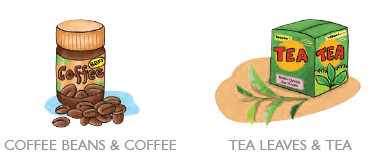 Perfumes
Flowers like rose, jasmine, and lavender are used to make perfumes.

Others Uses of Plants
Animals depend on plants for their food.
Many animals make their homes in the trees.
Plants keep the air fresh. They take in carbon dioxide gas from the air and give out oxygen gas.
Plants make our world beautiful.
We all depend on plants for our survival. We should take care of them. We should not pluck flowers or leaves. We should not harm the trees.