Chemical Process Industries
Introduction
Chemical industry is one of the oldest industries and playing an important role in the social, cultural and economic growth of a nation and in providing basic needs of humankind - food, shelter and clothing have become an indispensable part of our life. Figure M-I 1.1 illustrate the role of chemical industry in daily life. It is one of most diversified of all industrial sectors covering thousands of products. Chemical industry includes basic chemicals and its product, petrochemicals, fertilizers, paints & varnishes, gases, soap and detergent, perfumes, pharmaceuticals and covers thousands of products, which are finding use in our daily life from industrial to household goods. Structure of organic chemical industry is shown in Figure M-I 1.2. Various products are finding use in various fields packaging to agriculture, automobiles to telecommunication, construction to home appliances, health care to personal care, explosive, pesticides to fertilizer, textile to tire cord, chemicals to pharmaceuticals [Table M-I 1.1].
Indian chemical industry plays an important role in the overall development of Indian economy and contributes about 3% in the GDP of the country. It comprises large scale, medium scale and small units.
The chemical industry is a key contributor to the world economy and produces more than 8000 products, which is a vital part of agricultural and industrial development in India and has key linkages with several other downstream industries such as automotive, consumer durables, engineering and food processing [Chemical Engineering World, 2004]. Organic chemicals are one of the important sectors of the Indian chemical industry, which provide a vital development role by providing petroleum products, chemical feedstock, basic chemicals, intermediates, and important products like polymer, synthetic fibre, synthetic rubber, paints, varnish, pesticides and explosives, dyes, specialty chemicals. Major feedstocks for chemical industries are coal, petroleum, biomass, oils and fats, sulphur, salt, lime stone, rock phosphate etc.
Table M-I 1.1: Major Products of Chemical Industries and their Area of Application
| | |
| --- | --- |
| Group of Product | Areas |
| Plastics and | Agricultural water management, packaging, automobiles, |
| Polymers | telecommunications, health and hygiene, education |
| Synthetic rubber | Transportation Industry, Textile, Industrial equipment lining |
| Synthetic fiber | Non-oven and woven fibre in automobile , hosiery, textile |
| Soap and Synthetic detergents | Health and hygiene domestic as well as industrial |
| Industrial chemicals | Drugs & pharmaceuticals, pesticides, explosives, surface loading, dyes, lube additives, adhesive oil field, antioxidants, chemicals, metal extraction, printing ink, paints |
| Sugar & Alcohol | Food, Alcoholic Brewages, Chemical Feed Stock, Ethoxylate, biofuel |
| Pulp & Paper | Writing & Printing Paper, Culture Paper, News Printing Paper, Tissue Paper, Packaging Paper |
| Fertiliser | Agriculture, Chemical industry( ammonia and urea) |
| Agrochemicals | Pesticides |
| Mineral acids | Chemical industry- organic and inorganic |
Chemical Industry
Food : Fertilizer & Agrochemical
Clothing: Synthetic fibers, Dyestuffs, Textiles, Auxiliaries, Specialty Chemicals
Shelter: Polymer composites, Coating, New Performance Materials
Health Care: Pharmaceuticals, Polymers, Synthetics, Detergent
Quality of Life : Transportation, Education, Fuel, Electricity, Energy, Water supply, Management, Communication, Polymers & Industrial Chemicals
Figure M-I 1.1: Role of Chemical Industry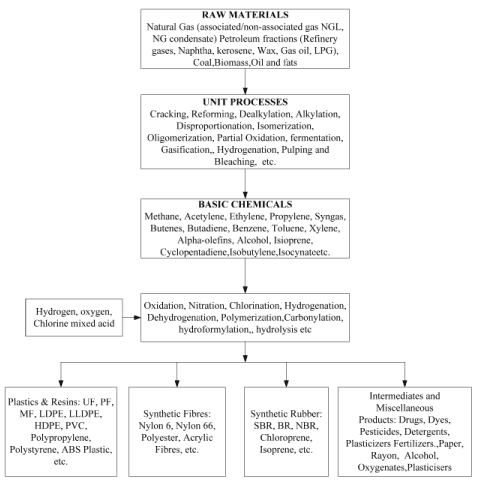 Figure M-I 1.2: Structure of Organic Chemical Industry
Chemical Industry and Technological Development in Chemical Industry
Chemical process industry has evolved considerably over the last century largely in response to changing societal requirements and changing raw material availability and environmental issues. Some of the major technological development in chemical industry are · Leblanck process to Solvay and modified Solvay process
Lead chamber to Contact process (single absorption and DDCA
Diaphragm process to Mercury and Mercury to Membrane
Wet to Dry cement Process
Coal chemicals to alcohol based chemicals to petroleum based chemicals and vice versa
Acetylene based chemicals to other routes
Claus to Super Claus process
Wood based paper to agro-based and waste paper based
Pulping to biopulping
Stone ground wood pulping to thermo mechanical pulping
Chlorine to oxygen bleaching and enzymatic bleaching
Sulphur to pyrite based sulphuric acid plant
Conventional aluminium and iron based catalyst to zeolite based catalyst
Coal based Fertilizer to Natural gas and Naphtha based Fertilizers
Coal and Alcohol based chemical to Petroleum based chemicals
Thermal cracking to Catalytic cracking
FCC to Deep catalytic cracking for olefin and Hydrocracking for processing heavier crude
Naphtha reforming to isomerisation
Acid catalyst to solid acid catalyst in alkylation process
Naphtha steam cracking to gas cracking
Conventional petroleum fuel to biofuel
Coal as fuel to coal as chemical
Coal gasification to Petrocoke and Biomass gasification
Chemical pesticide to bio pesticide
Chemical fertilise to biofertliser
Soap to detergent, Non biodegradable detergent to Biodegradable detergent
Natural gas to coal bed methane, shale gas, gas hydrate
Dimethyl terephthalate(DMT) to Purified terephthalic acid(PTA)
Conventional caprolactam to ammonium sulphate free caprolactam
Natural fibre to Synthetic Fibre
Natural rubber to synthetic rubber
Petroleum refinery to Natural gas refinery and Biorefinery
Petroleum refinery to Petrochemical refinery
Conventional gasification to underground gasification
Conventional drilling to horizontal drilling and hydrofracturing
Gas to liquid and Methanol to olefin technology
Coal to methanol and olefin
Conventional desulphurization to ultra desulphurization processes and biodesulphuristion
Polymer to biopolymer
Conventional Ziegler Natta catalyst to metallocene catalyst