Ligands in Coordination Chemistry
In coordination chemistry, a ligand is an ion or molecule (functional group) that binds to a central metal atom to form a coordination complex.
A ligand is an ion or molecule, which donates a pair of electrons to the central metal atom or ion to form a coordination complex.
The word ligand is from Latin, which means "tie or bind". Ligands can be anions, cations, and neutral molecules.
Ligands act as Lewis bases (donate electron pairs) and central metal atoms viewed as Lewis acid (electron pair acceptor). The nature of bonding between metal to ligand varies from covalent bond to ionic bond.
Classification of Ligands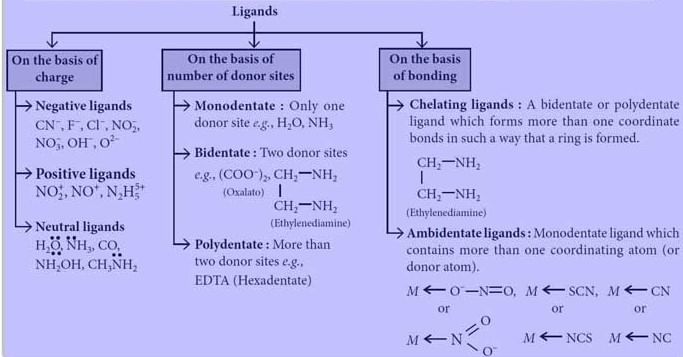 On the Basis of Charge
Occasionally ligands can be cations (NO+, N2H5+) and electron-pair acceptors.
Examples for anionic ligands are F–, Cl–, Br–, I–, S2–, CN–, NCS–, OH–, NH2– and neutral ligands are NH3, H2O, NO, CO.
Some other examples and their names are:
Negative ligands
F– fluoro
Cl– chloro
Br– bormo
I– iodo
OH– hydroxo
O2– oxo
O22– peroxo
O2– superoxo
H– hydrido
NH–2 imido
N–3 nitrido
N3– azido
S2O32– thiosulphato
CN– cyano
NO3– nitrato
Neutral ligands which are named as such:
(C6H5)3P triphenyl phosphine
(C2H5)3 P triethyl phosphine
C2H4 ethylene
C5H5N pyridine (py)
NH2 – NH2 hydrazine
CH3NH2 methylamine
Neutral ligands which are given special name:
CO carbonyl
H2O aqua
NH3 ammine
NO nitrosyl
CS thiocarbonyl
NS thionitrosyl
On the Basis of Number of Donor Sites
Ligands can be classified as monodentate or polydentate ligands (viz. Bidentate, tridentate) depending on the number of ligands donor atoms that attach to the metal ion or atom.
(1) Monodentate Ligands:
Monodentate ligands are also called "one-toothed" because they bite the metal atom only in one place.
A ligand that shares the electron pair of a single donor atom with a metal atom or ion is called a monodentate ligand.
The word monodentate comes from the Greek: monos and the Latin: dentis, monos means one and dentis means tooth, which literally means one tooth.
Therefore, it means that a monodentate ligand bites a metal cation or atom with one lone pair of electrons.
In general, the denticity of a ligand is the number of pairs of electrons shared with the metal atom or ion. Some common monodentate ligands are shown below:
| | | |
| --- | --- | --- |
| Ligand | Lewis structure | Name |
| Br– | | Bromide ion |
| F– | | Fluoride ion |
| Cl– | | Chloride ion |
| I– | | Iodide ion |
| H2O | | Water |
| NH3 | | Ammonia |
| OH– | | Hydroxide |
| CO | | Carbon monoxide |
| CN– | | Cyanide ion |
| SCN– | | Thiocyanate ion |
(2) Bidentate Ligands
Lewis base which donates two lone pairs of electrons to the central metal atom is known as bidentate ligands.
They are often referred to as a "chelating ligands". The complex which contains chelating ligands is called "Chelates".
These ligands have two donor atoms that can attach to a single metal cation or atom.
Bidentate ligands form one 5- or 6-membered ring with a metal ion or atom. Some examples of bidentate ligands are below:
| | |
| --- | --- |
| | Ethylenediammine (en) |
| | Acetylacetonate ion (acac) |
| | Phenanthroline (phen) |
| | Oxalate ion (ox) |


Troplonato

ethylenediamine (en)


propylenediamine (pn) or 1, 2-diaminopropane


butylenediamine (bn) or 2, 3-diaminopropane


isobutylenediamine (i- bn)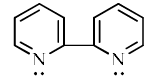 bipyridine or bipyridyl (bpy or bipy)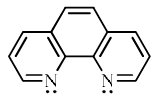 1, 10-phenanthroline Or o-phenanthroline (o-phen or phen)

o-phenylene bis dmethylarisine (diars)
Note: The ligands like CO32-, CH3COO-, NO2-, NO3-, SO32-, SO42-, NH2- NH2, O2N2, etc. have two donor atoms but in general, they act as monodentate ligands. They form either four or three-membered rings including metal cation or atom and there will be repulsion between donor atoms and their electron pairs which causes the ring to be strained and hence unstable.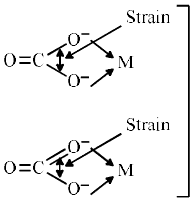 Four Membered ring

These ligands may behave as bidentate ligands when the size of the metal cation is large like lanthanoids. For example, NO3- behaves as a bidentate ligand in [Ce(NO3)6]2– in which the coordination number of Ce4+ is 12.
(3) Polydentate Ligands
The ligands that bond to metal cation or atom through electron pairs present on more than one donor atoms are called multidentate or polydentate ligands (many toothed ligands).
Polydentate ligands form one or more rings with a metal cation or atom.
Polydentate ligands are called chelating ligands (the word derived from chele meaning claw) because the interaction of two or more electron pairs to a metal ion resulting in the formation of one or more rings including metal ion resembles the grasping of an object by the claw of a crab.
The polydentate ligands in general, form five or six-membered rings including metal ions, which are called chelate rings, and the complexes containing chelate rings are called chelates.
The extra stability of chelates as compared to similar non-chelates is called the chelate effect.
Classification of Polydentate Ligands
Tridentate Ligands
Tridentate ligands have three lone pairs of electrons to the central metal atom or ion.
Some important examples of tridentate ligands are shown below:




Tetradentate Ligands
Molecules with four donor atoms are called tetradentate.
Some important examples of tetradentate ligands are given below: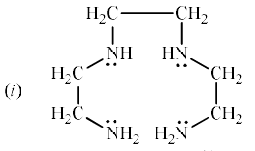 Pentadentate Ligands
Molecules with five donor atoms are called Pentadentate.
Important examples of pentadentate ligands are given below:


Hexadentate Ligands
Molecules with Six donor atoms are called Hexadentate Ligands.
The most important examples of hexadentate ligands is:

Since EDTA4– bonds to a metal ion through six donor atoms, therefore, it forms highly stable complexes and in general, is used to hold metal ions in solution.
EDTA4– ligand is used to trap metal ions such as Mg+ and Ca2+ ions in hard water.
EDTA4– is also used to treat metal, especially lead poisoning.
Six donor atoms of EDTA4– bond to Pb2+ ion to form very stable complex ion (figure 5) which is removed from the blood and tissues and excreted from the body with the help of kidneys as a soluble chelate, [Pb(EDT)]2–.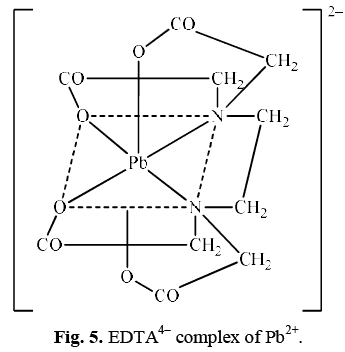 On the Basis of Bonding
Ambidentate Ligands
The monodentate ligands which have two or more different donor atoms can coordinate to a metal cation through either of the two different atoms. These ligands are called ambidentate ligands.
When ambidentate ligand coordinates to the metal cation through either of the two donor atom, two different compounds are obtained which are called linkage isomers. Examples of ambidentate ligands are:



But except


none of these has yet produced linkage isomers.NO -2 ligand, for example, can coordinate to a metal cation through either N or O atom as shown in Fig. 6.


Similarly, SCN– can coordinate with metal cation either through S or N atom as shown below:
M ←SNC– M ← NCS–
S-atom of SCN– N-atom of SCN–
Coordinated to metal ion coordinated to metal ion
Chelating Ligands
Chelating ligands (chelates) – Ligands that have two or more points of attachment to the metal atom or ion such as Bidentate, tridentate, tetradentate, pentadentate, hexadentate (EDTA) ligands.
Example: [Cr(ox)3]3- has oxalate ion as the chelating ligand.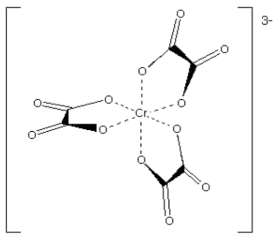 Example: [Ca(EDTA)]2- has EDTA ion as the chelating ligand.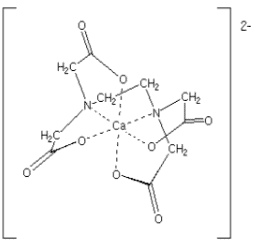 Bridging Ligands
The ligands in which one or two different donor atoms have atleast two pairs of electrons and share these electron pairs with two metal ions or atoms (one pair with one atom or ion) simultaneously are called bridging ligands.
The interaction of bridging ligand with metal ions or atoms can be represented
as M ← : L : → M.
The monodentate ligands having two lone pair of electrons on one donor atom which act as bridging ligands are

The monodentate ligands having two lone pairs on two different atoms (one pair on one atom) are