GOLD LEAF ELECTROSCOPE
This is an instrument for detecting and measuring static electricity or voltage.
A metal disc is connected to a narrow metal plate and a thin piece of gold leaf is fixed to the plate. The whole of this part of the electroscope is insulated from the body of the instrument. A glass-front prevents air draughts but allows you to watch the behavior of the leaf.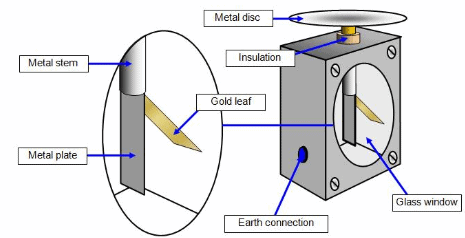 Fig: Gold leaf electroscopeWhen a charge is put on the disc at the top it spreads down to the plate and leaf. This means that both the leaf and plate will have the same charge. Similar charges repel each other and so the leaf rises away from the plate - the bigger the charge the more the leaf rises.
The leaf can be made to fall again by touching the disc - you have earthed the electroscope. An earth terminal prevents the case from becoming live.
The electroscope can be charged in two ways:
(a) By contact: A charged rod is touched on the surface of the disc and some of the charges is transferred to the electroscope. This is not a very effective method of charging the electroscope.
(b) By induction: A charged rod is brought up to the disc and then the electroscope is earthed, the rod is then removed.
The two methods give the gold leaf opposite charges.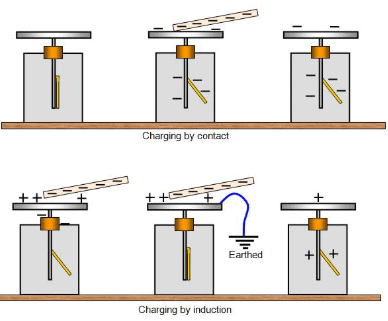 Charging by induction and contact
The above diagrams show you how the charges spread over the plate and gold leaf in different conditions.
CONDUCTORS AND INSULATORS
Any object can be broadly classified in either of the following two categories:
(i) Conductors
(ii) Insulators
(i) Conductors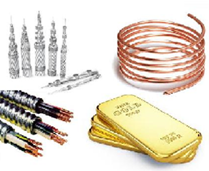 ConductorsThe materials or substances which allow electricity to flow through them are called Conductors. Conductors are able to conduct electricity because they allow electrons to flow inside them very easily.
The general property of conductor is to allow the transition of heat or light from one source to another. Metals, humans, earth and animal bodies fall in the category of conductors. This category generally comprises of metals but may sometimes contain non-metals too.
Example: Carbon in the form of graphite
Conductors have free electrons on its surface which allows current to pass through, that's why conductors are able to conduct electricity.

APPLICATIONS OF CONDUCTORS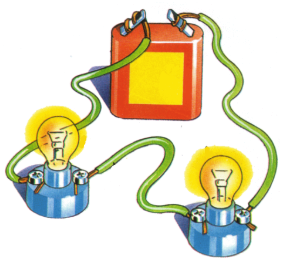 Use of conductors in lightning a bulb
Conductors are quite useful in many ways and used in many real life applications like:
Mercury is used in thermometer to check temperature of body
Aluminum is used in making foils to store food and also in production of fry pans to store heat quickly
Iron is used in vehicle engine to conduct heat
The plate of an iron is made up of steel to absorb heat briskly
Conductors are used in car radiators to eradicate heat away from the engine
(ii) Insulators:
InsulatorsThe materials or substances which resist or don't allow the current to flow through them are called Insulators. Insulators are mostly solid in nature and are used in a variety of systems. Insulators don't allow the flow of heat as well.
The property which makes insulators different from conductors is its resistivity. Wood, cloth, glass, mica, and quartz are some good examples of insulators. Insulators are also called Protectors as they give protection against heat, sound and of course passage of electricity.
Insulators don't have any electrons in its and that's why insulators don't conduct electricity.
Examples
Glass is the best insulator as it has the highest resistivity
Plastic is a good insulator and is used in making number of things
Rubber which is used to make tyres, fire-resistant clothes and slipper is a very good insulator
APPLICATIONS OF INSULATORS


An insulator is used to protect wire openings
Being resistive to flow of electron, insulators are used worldwide in a number of ways. Some are as follows:
Thermal Insulators, disallow heat to move from one place to another and is used in making thermoplastic bottles, in fireproofing ceilings and walls
Sound Insulators help in controlling noise level, as they are good in absorbance of sound and are used in buildings, conference halls, and buildings to make them noise free
Electrical Insulators, which hinders flow of electron or passage of current through them are extensively used in circuit boards, high-voltage systems and also in coating electric wire and cables
CHARGING OF BODIES
An object can be changed by addition or removed of electrons from it. In general an object can either be a conductor or insulator. Thus we are going to discuss the charging of a conductor and charging of an insulator in brief.
(i) Charging of Conductors
Conductors can be charged by:
(a) Rubbing or frictional electricity,
(b) Conduction & Induction (will be studied in later sections),
(c) Thermionic emission (will be studying the topic "heat"),
(d) Photoelectric emission (will be studied under the topic of modern physics).
(ii) Charging of Insulators
Since charge cannot flow through insulators, neither conduction or induction can be used to charge, insulators, so in order to charge an insulator friction is used. Whenever an insulator is rubbed against a body exchange of electrons takes place between the two.
This results in the appearance of equal and opposite charges on the insulator and the other body. Thus the insulator is charged.
Example: Rubbing of plastic with fur, silk with glass causes charging of these things.