RUBBER
1. Natural Rubber
Natural rubber is obtained from nearly five hundred different plants but the main source is a Brasiliensis tree. It is obtained in the form of milky sap known as latex. This latex is coagulated with acetic acid and formic acid. The coagulated mass is then squeezed.
The raw natural rubber is a soft gummy and sticky mass. It is insoluble in water, dilute acids and alkalies but soluble in non-polar solvents. It has low elasticity and low tensile strength. Natural rubber is a polymer of 2-methyl-1, 3-butadiene (isoprene). On average, a molecule of rubber contains 5000 isoprene units held together by head to tail. All the double bonds in rubber are cis, hence natural rubber is cis-polyisoprene.
Gutta - percha is a naturally occurring isomer of rubber in which all the double bonds are trans. Thus, gutta-percha is trans-polyisoprene.

It is harder and more brittle than rubber. It is filling material that dentists use in root canal treatment. In order to give strength and elasticity to natural rubber, it is vulcanized. Heating of rubber with sulphur or sulphur containing compound at 150oC for few hours is known as vulcanisation. The essential feature of vulcanisation is the formation of cross-linking between the polymeric chains. This cross-linking gives mechanical strength to the rubber. Vulcanisation process can be enhanced in the presence of certain organic compounds known as accelerator. The common accelerators are:

In addition, fillers such as carbon black and zinc oxide are usually added to the crude rubber before vulcanisation in order to improve its wearing characteristics.
Natural rubber is used for making shoes, water - proof coats and golf balls. Vulcanized rubber is used for manufacture of rubber bands, gloves tubing and car tyres.
SYNTHETIC RUBBER OR POLYMERISATION OF DIENES:
Polymers of 1, 3 - butadienes are called synthetic rubbers because they have some of the properties of natural rubbers including the fact that they are water proof and elastic.
Synthetic rubbers have some improved properties. They are more flexible, tougher and more durable than natural rubber.
1. Homopolymers-
Monomer of this class is 2-substituted-1, 3-butadienes.

Polymerisation is always carried out in the presence of Zieglar-Natta catalyst which gives stereo regular polymers.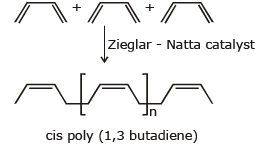 Neoprene was the first synthetic rubber manufactured on large scale. It is also called dieprene. Its monomer, chloroprene (2-chlorobutadiene) is prepared from acetylene.

Chloroprene undergoes free radical polymerisation to form neoprene (polychloroprene).

Many of the properties of neoprene are similar to natural rubber but neoprene is more resistant to action of oils, gasoline and other hydrocarbons. It is also resistant to sunlight, oxygen, ozone and heat. It is non-inflammable.
It is used for making automobile and refrigerator parts, hoses for petrol and oil containers, insulation of electric wires and conveyor belts.
2. Copolymers-
The following synthetic rubbers are example of copolymers.
| | |
| --- | --- |
| Synthetic rubber | Monomers |
| 1. Buna-S, SBR (Styrene-Butadiene rubber) | |
| 2. Buna-N, NBR (Nitrile-Butadiene rubber) | |
| 3. Butyl rubber | |
| 4. ABS; Acrylonitrile, Butadiene, Styrene | |
(a) Thiokol : Thiokol is made by polymerising ethylene chloride and sodium polysulphide.

Thiokol is a chemically resistant polymer. It is used in the manufacture of hoses and tank linings, engine gaskets and rocket fuel when mixed with oxidising agents.
(b) Buna–S (SBR : Styrene-butadiene rubber) : Buna-S rubber is a copolymer of three moles of butadiene and one mole of styrene. In Buna-S, 'Bu' stands for butadiene, 'na' for symbol of sodium (Na) which is a polymerizing agent and 'S' stands for styrene. It is an elastomer (General purpose styrene Rubber or GRS).

Buna-S is generally compounded with carbon black and vulcanised with sulpur. It is extremely resistant to wear and tear therefore used in the manufacture of tyres and other mechanical rubber goods. It is obtained as a result of free radical copolymerisation of its monomers.
(c) Buna-N : It is obtained by copolymerisation of butadiene and acrylonitirile (General purpose Rubber acrylonitirle or GRA).

It is very rigid and is very resistant to action of petrol, lubricating oil and many organic solvents. It is mainly used for making fuel tanks.
(d) Cold Rubber : Cold rubber is obtained by polymerization of butadiene and styrene at -18o to 5oC temperature in the presence of redox system. Cold rubber has a greater tensile strength and greater resistance to abrasion than SBR.