Cylohexane, Caprolactam, Nylon 6, Adipic Acid and Hexametrhylene Diamine, Nylon 66
Nylon 6 and Nylon 66 are tow important polyamides and find application in woven and nonwoven industries. Caprolactam is monomer for Nylon-6 while monomer for Nylon 66 is nylon 66 which is made from adipic acid and hexamethylene diamine. Nylons are exception all strong, elastic, abrasion resistant, lustrous, easy to wash, resistant to damage from oil and many chemicals, low in moisture absorbency. Characteristics of nylon 6 and nylon 66 is given in Table M-VIII 5.1. Nylon fibre find application in apparel, home furnishings, tire cord, hose, conveyer and seat belts, parachutes, racket strings, ropes tents thread, mono filament fishing line, dental floss Nylon 66 is preferred for tire cord because of high melting point. Melt spinning process is use for producing fibre stable and yarn.
Nylon 6 is the first synthetic fibre introduced in India starting with a modest volume of 175 tonnes in 1962 Installed capacity and production of nylon filament yarn and nylon industrial yarn is 36000 and 70000 tonnes and 33000, 86000 tonnes in 2010-11 respectively in India.
Table M-VIII 5.1: Major Synthetic Fibers and Their Characteristics
Name of the

synthetic fiber

Monomer

Basic

chemicals

Properties of the synthetic fiber

Characteristics

Densi

ty

Moist

ure

regain

Melting

point

Nylon 6

Phenol,

cyclohexa

ne,

toluene

1.14

4.5

213­221 oC

Resistant to weak acids, decomposed by strong mineral acid, swelling is low. Very good biological resistance, good resistance to heat. Good adhesion to rubber. Tenacity 4.3- 8.3 gm/ denier, elongation at breaks 18-45%.

Nylon 66

Adipic Acid

HOOC-(CH2)4-

COOH,

Hexamethylene

Diamine

H2N-(CH2)6-

NH2

Phenol, cyclohexane, butadiene, furfural
1.14
4.0-4.5
230 o C
Resistant to weak acid, decomposed by strong mineral acid. Chemically it is extremely stable. Good biological resistance. Tenacity 8.0 gm/denier, elongations at break 16-20%.
Cyclohexane
Cyclohexane is an important chemical intermediate derived from benzene. It is used for the manufacture of adipic acid and hexamethylene diamine used for manufacture of Nylon 66 and caprolactam used for the manufacture of Nylon 6. Major portion of 90% of the cyclohexane is used in the manufacture of nylon fiber and nylon molding resin and remaining 10% of cyclohexane ends up as solvents or in plasticizers. Cyclohexane is made by catalytic hydrogenation of benzene in liquid phase or vapor phase. Process flow diagram of manufacturing process is shown in Figure M-VIII 5.1.
UOP hydrogenation process uses liquid phase hydrogenation of benzene at 200-300oC in presence of platinum based catalyst promoted by lithium salt at 3 MPa pressure. In the IFP process cyclohexane is produced by liquid phase hydrogenation of benzene at 160-200oC and 4 MPa using Raney nickel catalyst.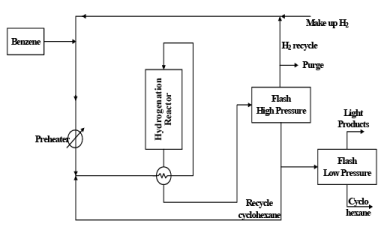 Figure M-VIII 5.1: Cyclohexane from Benzene
Caprolactam
Caprolactam is the principal raw material for Nylon 6, a versatile material used as fibers, industrial yarns and floor covering as well as for engineering plastics/films.
Nylon 6 was first made in 1899 by heating 6-aminohexanoic acid but commercially feasible synthesis from caprolactam was first discovered in 1935 by Paul Shalack.
Global caprolactam production and demand scenario is given in Table M-VIII 5.2.
Table M-VIII 5.2: Global Caprolactam Production and Demand Scenario
Year

Caprolactam Production ('000 Tonnes)

Caprolactam Demand ('000 Tonnes)

Fibers

Resins

Fibers

Resins

1990

2,463

499

-

-

2010

2,559

1,845

2,463(56%)

1,941(44%)
Process of manufacturing caprolactam involves three basic steps.
Manufacture of Cyclohexanone
Manufacture of Hydroxylamine Sulphate
Manufacture of Caprolactam
Manufacture of Cylohexanone
In subsequent stages cyclohexane is oxidised in multi compartment reactor at a temperature of 158-160 oC and 10 atm pressure where the liquid flows in series from one chamber to another using cobalt salt as catalyst. The product stream is treated with sodium hydroxide to neutralise acids, saponify esters and to decompose peroxides. Sodium salts which are immiscible with the main product stream are separated in a gravity settler.
Organic phase containing cyclohexane, cyclohexanol, cyclohexanone are fed to series of three distillation columns where these are separated. Cyclohexane is separated as top product from the last column. Cyclohexanol separated in the last column as bottom product is dehydrogenated to cyclohexanone in presence of zinc carbonate and calcium carbonate catalyst at 400 oC. The unconverted cyclohexanol and cyclohexanone after removal of light ends recycled to third distillation column for recovery of cyclohexanone.
Hydroxylamine Sulphate
Production of hydroxylamine sulphate involves. Production of ammonium carbonate by absorption of CO2 in 24% aqueous ammonium solution. Production of nitrous oxide from mixture of NO and NO2, which is produced by combustion of ammonia in presence of platinum catalyst at 85 oC. Absorption of nitrous gases from the ammonia combustion in ammonium carbonate to yield ammonium nitrite
Caprolactam
Manufacture of caprolactam involves Production of cyclohexanone oxime by reacting cyclohexanone with hydroxylamine sulphate in a multi compartment reactor. During this process ammonium sulphate is formed as byproduct. Caprolactam & aqueous ammonium sulphate are sent to a series of extractors where toluene is used as a solvent. Various routes of caprolactam is shown in Figure M-VIII 5.2.. Ammonium sulphate collected from the extractor bottom is purified, crystallised, centrifuged and dried. Caprolactam solution is concentrated in multiple effect evaporators and finally purified. Flow diagram for the manufacture of caprolactam is given in Figure M-VIII 5.3 .
1. Original Process:

2. Allied Chemical Phenol Process:

3. Cyclohexane Process, Via Cyclohexanone:

4. Toyo Rayon Photonitrosation:

5. SNIA Viscosa Toluene Process:

6. Union Carbide Process via Caprolactam:
Cyclohexane —► Cyclohexanol —► Cyclohexanone —► Caprolactone —► Caprolactam
7. Du Pont Process, via Nitrocyclohexane:
Cyclohexane —► Nitrocyclohexane —► Cyclohexanone Oxime —► Caprolactam
8. Techni-Chem Process:

Figure M-VIII 5.2: Various Routes for Caprolactam



Figure M-VIII 5.3: Manufacture of caprolactam