ELECTROPHlLlC REDUCING AGENTS
Whereas nucleophilic reducing agents react fast with electron-deficient carbonyl groups, the reactivity of electrophilic reducing agents such as R2AIH and BH3, characterized by their coordination with the carbonyl oxygen prior to hydride transfer, favor reductions of electron-rich carbonyl groups.

Diisobutylaluminum Hydride (DIBAL-H)
Diisobutylaluminum hydride (DIBAL-H) can be obtained commercially neat or in hydrocarbon solvents.
Reductions with DIBAL-H must be carried out in the absence of air and moisture. DIBAL-H is a very versatile reagent for the selective reduction of appropriately substituted esters or nitriles to the corresponding aldehydes and for the reduction of lactones to lactols.
Reduction of Esters to Aldehydes
In contrast to LAH reductions of esters, nitriles and lactones, where two hydrides are utilized, reductions of these compounds by DIBAL-H at low temperature can be stopped after the transfer of one hydride to the carbonyl carbon. Hydrolytic workup of the tetrahedral intermediates furnishes the corresponding aldehydes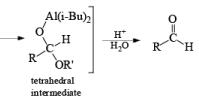 Reduction of Vinyl Esters to Allylic
Alcohols DIBAL-H is the reducing agent of choice for regioselective reduction of a,p-unsaturated esters to allylic alcohols.86 Horner-Wadsworth-Emmons olefination followed by DIBAL-H reduction provides a tandem synthesis of (E)-allylic alcohols.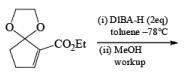 Borane Tetrahydrofuran and Borane Dimethyslulfide
Diborane, B2H6, is a gas and is difficult to handle. However, borane complexed with donors such as THF or dimethylsulfide are commercially available and have become valuable reagents for the reduction of various functional groups. BH3. SMe2 is soluble in and unreactive toward a wide variety of aprotic solvents such as THF, Et2O, CH2Cl2, and hydrocarbons.
An attractive feature of BH3·THF and BH3·SMe2 is the facile reduction of carboxylic acids to primary alcohols. The reduction involves initial formation of a triacylborate with concomitant evolution of 3 H2, followed by fast hydride transfer to the carbonyl carbon to furnish, after workup, the corresponding primary alcohol


Both BH3.THF and BH3.SMe2, allow the selective reduction of a –COOH group in the presence of other functional groups.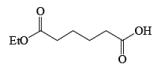 A summary of reactivities of BH3·THF toward various functional groups is shown in Table. Reduction of saturated carboxylic acids with the borane derivative, thexylchloro-borane, provides a direct route to aldehydes without their prior conversion to carboxylic acid derivative. The aldehydes initially formed were isolated either as their bisulfite adducts or as their hydrazones, from which the aldehydes were regenerated.

Table: Selectivity in BH3.THF Reductions.





Hydroboration Involves
ective addition of B-H Regiosel
cis-Addition of B-H
Addition of B-H from the less-hindered face
Organoborane: Commercially available BH3·THF and BH3. SMe2 are the reagents of choice for hydroboration of alkenes. Except for a few very hindered double bonds, virtually all alkenes undergo hydroboration. The presence of a functional group may interfere with hydroboration. In such cases, it is often necessary to use a sterically hindered organoborane. Borane is a trifunctional molecule and reacts with alkenes to give three types of organoboranes:
1. R3B, trialkylboranes: Found in monomeric form
2. R2BH, dialkylboranes: Found in dimeric form
3. RBH2: Found in dimeric form Unhindered alkenes such as monosubstituted alkenes react rapidly with BH3 to produce R3B. While, moderately hindered alkenes and certain cycloalkenes also form R3B. However, control of the stoichiometry and reaction conditions permits the preparation of R2BH.

Preparation of Selective Hydroborating Agents: The mono- and dialkylboranes are themselves useful hydroborating agents for sterically less hindered alkenes. Some important mono- and dialkylboranes synthesis are given below.
Disiamylborane (Sia2BH, 1, 2-dimethylpropylborane): A dialkylborane with a large steric requirement, is prepared by hydroboration of 2-methyl-2-butene with either H3B·THF or H3B·SMe2. The reagent should be used immediately after preparation. Disiamylborane provides for cherno-, regio- and stereoselective hydroborations.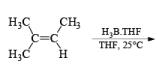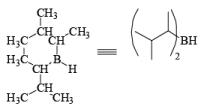 9-Borabicyclo [3.3.1.] nonane (9-BBN): Hydroboration of 1, 5-cyclooctadiene with one equivalent of H3B·THF or H3B·SMe2 will provide 9-BBN.
Regiochemistry of Hydroboration Reaction: Generally, boron attacks positions of highest electron density and lowest steric congestion. An important feature of the hydroboration reaction is the regioselectivity observed with unsymmetrical alkenes. The direction of B-H addition to the double bond is influenced by inductive, resonance, and steric effects of the substrate and by the nature of the hydroborating agent. Although the mechanism of hydroboration is complex, the reaction can be depicted to involve interaction of the vacant p-orbital of boron with the pi-orbital of the alkene. This leads to a partial negative charge on boron and a partial positive charge on the carbon. Transfer of a hydrogen with its electron pair from boron to the carbon that can best accommodate the partial positive charge proceeds via a four-center-type transition state.


Regiochemistry of Alkene Hydroboration: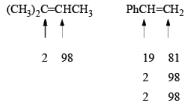 DIASTEREOSELECTVITY REDUCTIONS OF CYCLIC KETONES
Generally, the diastereoselectivity in reductions of cyclic ketones with nucleophilic hydrides is determined not only by the steric congestion of the ketone but also by the nature of the nucleophilic reducing agent, as shown by the reduction of 3-methylcyclohexanone with various nucleophilic reducing agents. Meerwein-Ponndog-Verley (MPV) reduction, involves treatment of a ketone with aluminum triisopropoxide [Al (OCHMe2)3]. This is an equilibration process favoring the more stable stereoisomer, which in the case of an alkyl-substituted cyclohexanone is the equatorial alcohol.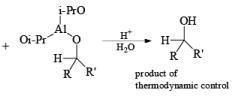 Table: Reduction of 3-Methylcyclohexanone.


SOME IMPORTANT REDUCTION
Starting Material
Product
Reducing agent
RCH=CHCOR'
(R = aliphatic or ar omatic residue)
RCH2CH2COR'
H2/PtO2, H2/Pt, H2/P, H2/Rh H2/(Ph3P)3RhCl, Ni-Al/NaOH, Ni-Zn, AlH(OR)2, AlH(NR2)2, Ph3SnH, CuH, NaHFe2(CO)8 Electr oreduction Li/PrNH2, C8K, ZnHg/HCl
RCH=CHCH(OH)R'
LiAlH4, LiAlH(OMe)3, AlH3, AlH(isoBu)2, LiBH3Bu, NaBH4, NaBH3CN, 9-BBN, iso-PrOH/Al
(O-iso-Pr)3
RCH2CH2CH(OH)R'
LiAlH4, NaBH4
RCH=CHCH2R'
(1) TosNHNH2, (2) NaBH3CN
or BH3.BF3
(3) NH2NH2/KOH
(4) ZnHg/Conc. HCl
RCH=CHCO2R'
RCH2CH2CO2R'
H2, Pd, Raney Ni, H2/(Ph3P)3 RhCl, Bu3SnH
RCH=CHCH2OH
LiAlH4
RCH2CH2CH2OH
LiAlH4
RCOR'
RCH2R'
(1) Et3SiH/BH3, ZnHg (2) TosNHNH2, (3) Na BH3CN or BH3.BF3 (4) NH2NH2/KOH
(5) ZnHg/Conc . HCl
O2N—ArCO2H
H2N—ArCO2H O2N—ArCH2OH
NH4SH
BH3
RCOCl
RCHO
H2/Pd(BaSO4) + S, Et3SiH/Pd,
LiAlH(OCMe3)3, CuH, (1) (EtO)3P,
(2) NaBH4
RCH2OH
LiAlH4, NaAlH4,
Na AlH2(OCH2CH2OMe)3, AlH3, Na BH4,(OMe)3, Bu4NBH4, ter tBuMgCl
RCOCO2R'
RCH(OH)CO2R'
H2/PtO2, Raney Ni, NaBH4, NaHg,
AlHg, iso-PrOH/Al(O-iso-Pr)3
RCH2CO2R'
2R"SH; Raney Ni des ulf urization,
(NaBH3CN)
RCOCH2OH
(1) LiN (iso-Pr)2, (2) LiAlH4
(1) HC(OR) 3, (2) LiAlH4
AlH3, BH3
Na/ROH
O2N—CONR2
H2N—CH2NR2
AlH3
RCOCONHR'
RCH(OH)CONHR'
Biochemical re duction
RO2C—CONH2
RO2C—CH2NH2
BH3
RC ≡ N
RCHO
Raney Ni/Na3PO2, Raney Ni/HCO2H, NaAlH(OEt)3, LiAlH(OEt)3 LiAlH(OBu)3, (AlH(is o-Bu) 2), SnCl2
RCH2NH2
H2/Rh, H2/Pt, H2/Raney Ni, H2/NiB2, LiAlH4, LiAlH(OMe)3, AlH3, BH3, Na/ROH
Fe , SnCl2
H2/Pd deact., H2/Raney Ni, H2/Ni2B Et3N.HCO2H/PdBH3, AlH(iso-Bu)2 MgH2, Electroreduction (Ni)
LiAlH4, LiAlHMe (iso-Bu)2 Electroreduction Na, Li, K/NH3, H2/PtO2, Pd, Ni
—CH2—CH2—
N2H2