Different Forms of Hydrogen
Atomic Hydrogen-

It is very reactive and its half-life period is 0.33 s.
Nascent Hydrogen-
Freshly prepared hydrogen is known as nascent hydrogen and is more reactive than ordinary hydrogen. It causes the reduction of certain compounds which is not possible with ordinary hydrogen. It can never be isolated.

The activity of nascent H depends upon the reaction by which it is obtained.
Adsorbed Hydrogen-
Adsorption of hydrogen at the metal surface is called occlusion. This hydrogen brings out many chemical changes such as reduction and hydrogenation. Occlusion decreases with rising temperature.
Ortho and Para-Hydrogen-
When in a hydrogen molecule, the nuclear spins are in the same direction, it is known as orthohydrogen. On the other hand when the nuclear spins are in the opposite direction, it is known as parahydrogen. At room temperature hydrogen consists of 75% ortho and 25% parahydrogen.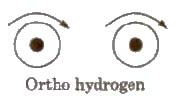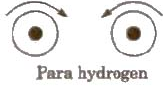 Hydrogen Economy-
The hydrogen economy is the use of liquid hydrogen as an alternate source of energy. The technology involves the production, transportation, and storage of energy in the form of liquid hydrogen. Large-scale production of hydrogen can be done by electrolysis of water or by thermochemical reaction cycle. Storage of hydrogen in liquid form can be done in vacuum insulated cryogenic tanks or in a metal or in all alloy like iron-titanium alloy as an interstitial hydride. Hydrogen fuel has many advantages over conventional fuels in that it is non-polluting and it liberates a large amount of energy on combustion.
Photohydrogen is used to obtain renewable energy from sunlight by using microscopic organisms such as bacteria or algae.
Hydrides-
The compounds of hydrogen with metals and non-metals are called hydrides.
Ionic Hydrides-
These are formed by elements of group I, II, (except Be and Mg) by heating them in hydrogen.
These are white colorless solids (crystalline) having high m.p. and b.p. easily decomposed by water, CO2 or SO2.
CaH2 + 2H2O → Ca(OH)2 + 2H2
CaH2 + 2CO2 → (HCOO)2Ca
They are strong reducing agents. Alkali metal hydrides are used for making LiAlH4, NaBH4, etc and for removing last traces of water from organic compounds.
Molecular or Covalent Hydrides-
These are formed by elements of p-block having higher electronegativity than hydrogen.
Electron-deficient hydrides: These are the hydrides which do not have a sufficient number of electrons needed to form normal covalent bonds, e.g., BH3, AlH3, etc.
Electron precise hydrides: These are the hydrides which have an exact number of electrons needed to form normal covalent bonds. e.g. hydrides of group 14 (CH4, SiH4, etc.)
Electron-rich hydrides: These are the hydrides which have a greater number of electrons than required to form normal covalent bonds. e.g., hydrides of group 15, 16, 17, (NH3, PH3 ,H2S, HF, HCl, etc). The excess electrons in these hydrides are present as lone pairs of electrons.
Metallic or Interstitial Hydrides
The transition metals and rare earth metals combine with hydrogen to form interstitial hydrides. They exhibit metallic properties and are powerful reducing agents. They are non-stoichiometric hydrides and their composition varies with temperature and pressure. For e.g., LaH2.76, TiH1.73.
Metals of group 7, 8 and 9 do not form hydrides and this region of the Periodic Table is called hydride gap.
Polymeric Hydrides and Complex Hydrides
Polymeric hydrides are formed by elements having electronegativity in the range of 1.4 to 2.0. e.g., (BeH2)n, (AlH3)n, etc. In complex hydrides, H– acts as a ligand and is attached to a central metal atom, e.g., LiAlH4, LiBH4, etc.